Around two thousand Londoners gathered in Trafalgar Square early on Monday evening in an effort to persuade Scots to reject independence when the country goes to the polls on Thursday.
People, including a few bemused tourists, congregated under Nelson's Column to wave Scottish and Union flags as David Cameron made one last plea for Scotland to vote 'No'. In a speech in Aberdeen, the prime minister said he would "utterly heartbroken" if Scotland votes to leave the UK.
TV historian Dan Snow who organised the central-London event was joined by activist Bob Geldof and comedians Eddie Izzard and Al Murray to give passionate speeches about the union. With the vote too close to call, Snow, whose referendum campaign Let's Stay Together has drawn endorsements from dozens of high profile figures, said the rally was to show Scotland "that England cares".
Geldof told the crowd that he wanted to tell Scottish voters that "we're all f***ing fed up of Westminster" but that the United Kingdom was worth saving. "This argument needs to be had amongst us all. You can't just selfishly resolve it unto yourself by taking an easy opt out clause," he said.
Izzard, who has been a strong supporter of the Let's Stay Together Campaign, added: "We would really love you to stay with us. You will make your own decisions it's totally up to you but if you vote No thank you then you will get more powers, so why not try it? Rather than separating from us forever."
While Westminster politicians and some Londoners tried to love-bomb Scotland in an effort to prevent independence, Alistair Darling, the leader of the pro-Union Better Together campaign, said the atmosphere had "soured" over the last few days.
He told Sky News that the animosity between some Yes and No voters had become "deeply depressing". The former Labour chancellor pointed the finger of blame at the nationalists. "We don't have CyberNats," he said, referring to aggressive online Yes supporters.
Alex Salmond, who is engaged in the final few days of of campaigning across Scotland, said he felt the debate had been "peaceful and joyous".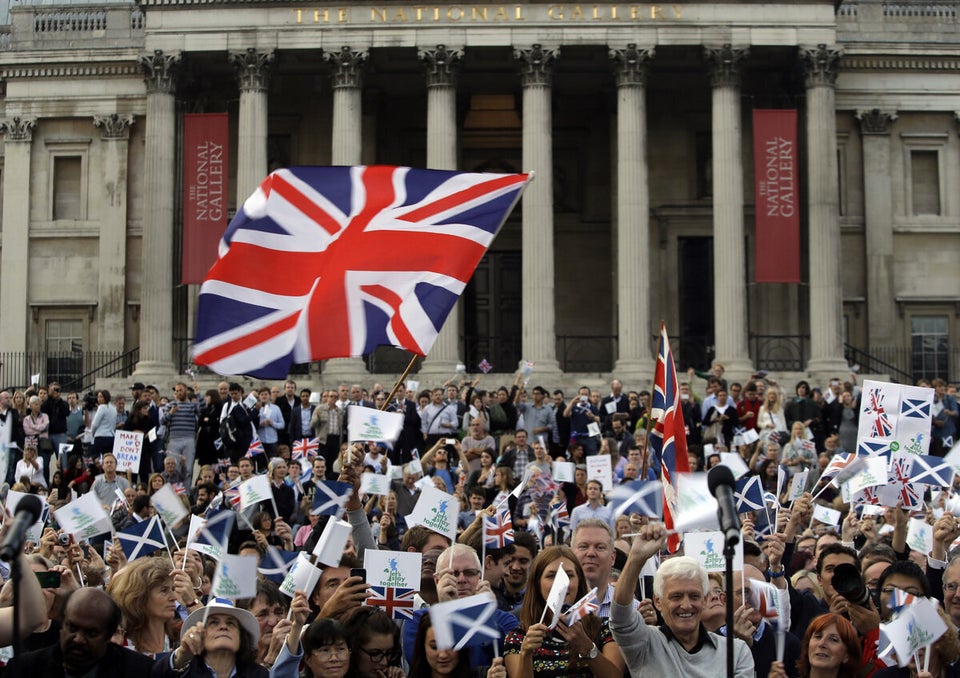 Trafalgar Square Rally