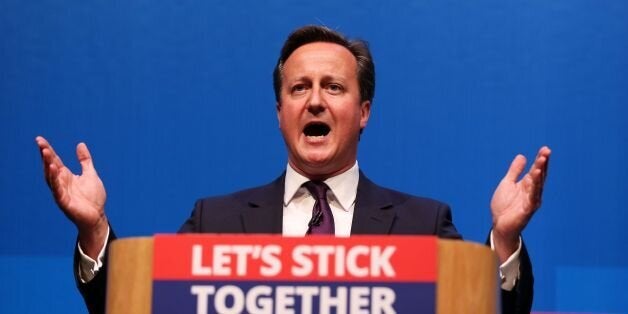 David Cameron has spoken for the millions across the UK he says would be "utterly heartbroken" if Scotland votes to leave the UK. The Prime Minister issued a warning that Thursday's referendum is a "once and for all" decision as he made a last-ditch trip north to urge voters to save the union.
Speaking in Aberdeen, The Prime Minister warned that if Scots vote for independence it would result in a "painful divorce". He said: "On Thursday, Scotland votes, and the future of our country is at stake. On Friday, people could be living in a different country, with a different place in the world and a different future ahead of it.
"This is a decision that could break up our family of nations, and rip Scotland from the rest of the UK. And we must be very clear. There's no going back from this. No re-run. This is a once-and-for-all decision. If Scotland votes Yes, the UK will split, and we will go our separate ways forever."
The Prime Minister said the country had "only become Great Britain because of the greatness of Scotland". He said: "I speak for millions of people across England, Wales and Northern Ireland - and many in Scotland, too who would be utterly heart-broken by the break-up of the United Kingdom. Utterly heart-broken to wake up on Friday morning to the end of the country we love."
Mr Cameron, who was in Edinburgh last week, made the plea to keep Scotland in the UK as he returned to Scotland with just days of campaigning left. He urged Scots to save the "greatest example of democracy the world has ever known", appealing to voters on the "British values of fairness, freedom and justice".
He said: "It would be the end of a country that launched the Enlightenment, that abolished slavery, that drove the industrial revolution, that defeated fascism, the end of a country that people around the world respect and admire, the end of a country that all of us call home. And we built this home together."
Mr Cameron said that Scotland leaving the union would be like "painstakingly building a home - and then walking out the door and throwing away the keys". The Prime Minister said he understood why a Yes vote might be appealing to many in Scotland but warned that the Nationalists were painting a picture that was "too good to be true". He said: "Independence would not be a trial separation, it would be a painful divorce."
Mr Cameron insisted that a No vote would be a vote for "real, concrete change" with major new powers for Scotland on tax, spending and welfare. He said: "Real change is Scotland's for the taking. The power to set your own course and make your own decisions, with the security of being in the UK, without the risks of going it alone. It's the best of both worlds."
The Prime Minister likened the four nations of the UK to a family and pleaded with Scots not to break that family apart. He said: "The United Kingdom is not one nation. We are four nations in a single country. That can be difficult, but it is wonderful.
"Scotland, England, Wales and Northern Ireland, different nations, with individual identities competing with each other even at times enraging each other while still being so much stronger together. We are a family of nations." He added: "A family is not a compromise, or a second best, it is a magical identity, that makes us more together than we can ever be apart, so please - do not break this family apart."
Mr Cameron insisted the Yes campaign was not a positive or optimistic vision, arguing that it was instead about "dividing people, closing doors, making foreigners of our friends and family". He said: "The optimistic vision is of our family of nations staying together, there for each other in the hard times, coming through to better times."
A No vote would mean change and a "bigger and broader and better" future for Scotland, he said. The Prime Minister made one final appeal to the hearts of Scottish voters, saying "We want you to stay. Head and heart and soul, we want you to stay.
"Please don't mix up the temporary and the permanent. Don't think: 'I'm frustrated with politics right now, so I'll walk out the door and never come back'.
"If you don't like me - I won't be here forever. If you don't like this Government - it won't last forever. But if you leave the UK - that will be forever."
He added: "In two days, this long campaign will be at an end. And as you stand in the stillness of the polling booth, I hope you will ask yourself this. Will my family and I truly be better off by going it alone? Will we really be more safe and secure?
"Do I really want to turn my back on the rest of Britain, and why is it that so many people across the world are asking: why would Scotland want to do that? Why? And if you don't know the answer to these questions - then vote No. From all of us: vote to stick together, vote to stay, vote to save our United Kingdom."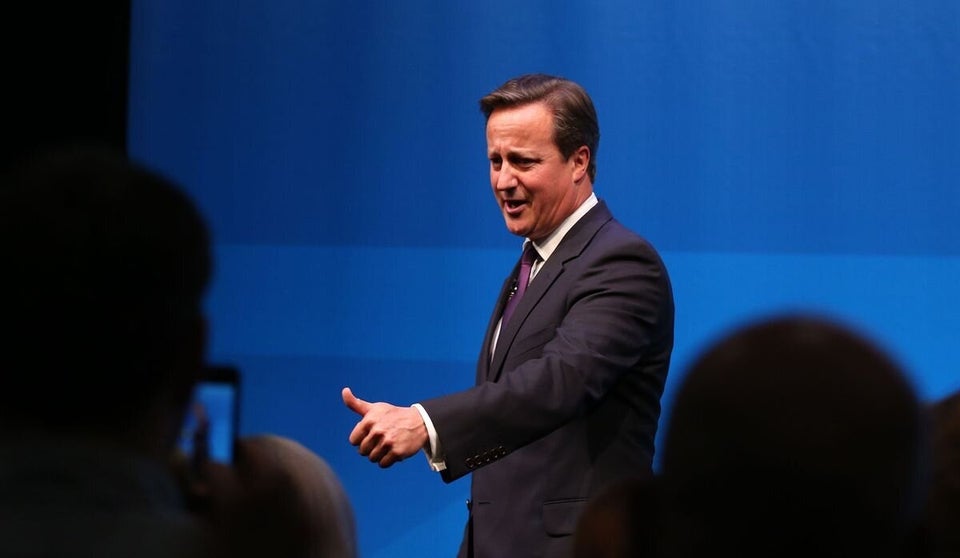 Scottish Independence referendum