Celebrities (not from Scotland) including Bob Geldof have faced a furious backlash after urging Scottish voters not to break up the UK "family" at a London rally, that spectators said would leave First Minister Alex Salmond "rubbing his hands with glee."
Around two thousand Londoners were joined by Geldof and comedians Eddie Izzard and Al Murray early on Monday evening, gathering in Trafalgar Square in an attempt to persuade Scots to reject independence when the country goes to the polls on Thursday.
One source at the "stage-managed" rally told the Huffington Post UK "I've never seen so many posh boys in suits at a protest."
The rally was supposed to show Scotland "that England cares", but based on the Twitter reaction this morning, Scotland isn't much interested in the thoughts of Geldof, an Irishman; Izzard, who was born in Yemen and Al Murray from Buckinghamshire.
Taking to the stage, Geldof told the crowd that he wanted to tell Scottish voters that "we're all f***ing fed up of Westminster" but that the United Kingdom was worth saving.
"This argument needs to be had amongst us all. You can't just selfishly resolve it unto yourself by taking an easy opt out clause," he said.
Deputy Prime Minister Nick Clegg was also in attendance at the event, Tweeting a picture of himself "showing support for keeping our family of nations together."
Izzard, who has been a strong supporter of the Let's Stay Together Campaign, added: "We would really love you to stay with us.
You will make your own decisions it's totally up to you but if you vote No thank you then you will get more powers, so why not try it? Rather than separating from us forever."
Comedian Murray added that his favourite aspect of Britain was that "it's vague."
"I like being British, it's so vague," he said. "The clue is in the name Brit-ish. We're ish'. "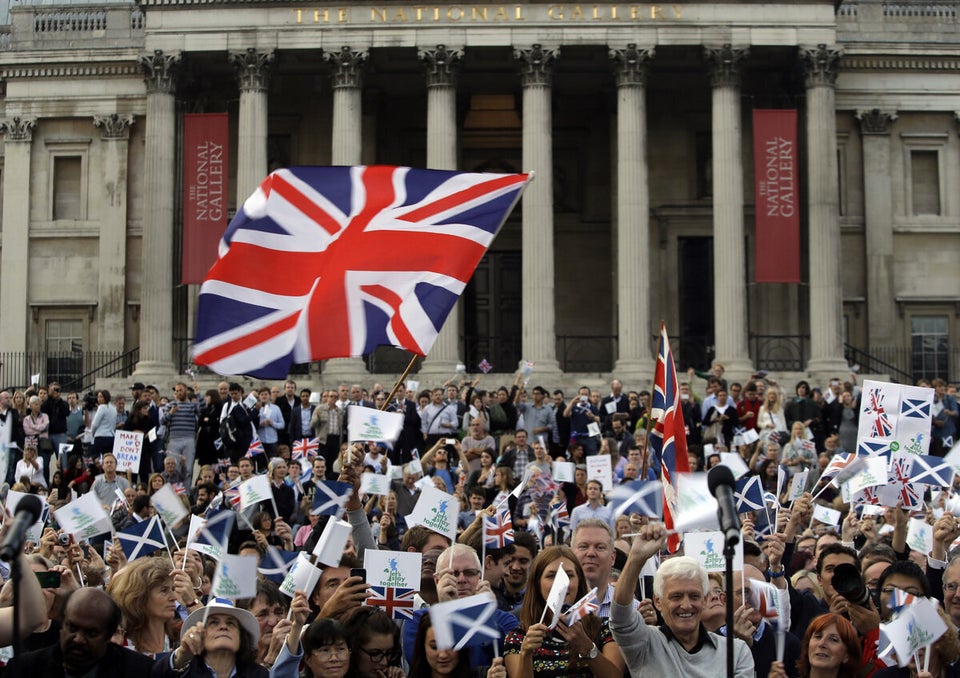 Trafalgar Square Rally
While Westminster politicians and some Londoners tried to love-bomb Scotland in an effort to prevent independence, Alistair Darling, the leader of the pro-Union Better Together campaign, said the atmosphere had "soured" over the last few days.
He told Sky News that the animosity between some Yes and No voters had become "deeply depressing". The former Labour chancellor pointed the finger of blame at the nationalists. "We don't have CyberNats," he said, referring to aggressive online Yes supporters.
Alex Salmond, who is engaged in the final few days of of campaigning across Scotland, said he felt the debate had been "peaceful and joyous".