Millions of banknotes have been rushed to Scotland amid growing fears a Yes vote on Thursday could trigger a run on the country's ATMs, it has been reported.
As the future of the union hangs in the balance, Scottish businesses near the border have also purportedly been moving their money into English accounts in Cumbria.
Fearing people will run to withdraw money and put it into English banks, the cash has been moved to ensure the banks and , ATMs do not run out.
The Bank of England prints bank notes and circulates them in high-security vans to where they are needed, depending on the demand.
One source told the The Independent there had not yet a surge in withdrawals: "We have seen a big rise in customers coming in and asking us what would happen, but there is no sign of any significant flow of deposits from north to south."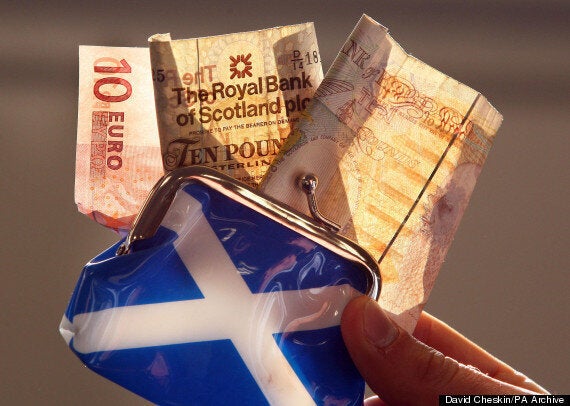 Another said: "We are, of course, monitoring the situation very closely from hour to hour."
Rob Johnson, the chief executive of Cumbria's Chamber of Commerce, said many firms were transferring funds from banks registered in Scotland to those headquartered in England.
"It's inevitable that people would start to do this because uncertainty is something businesses can't handle … It's not about businesses being pro or against independence, it's businesses saying: 'There are some real issues here and we don't know what's happening.'"
The dramatic developments come as Spanish Europe Minister Íñigo Méndez de Vigo told the BBC that an independent Scotland would "almost certainly" have to use the Euro as its currency if it joined the EU - and warned this could take five years.
Figures in US politics also waded into the increasingly intense debate today, with a White House spokesman reiterating support for a "united" UK.
"I will certainly respect their right to cast their own ballot without interference from people on the outside," press secretary Josh Earnest said.
"But, you know, as the president himself said, we have an interest in seeing the United Kingdom remain strong, robust, united and an effective partner."
Alan Greenspan, a former chairman of US Federal Reserve, said the consequences of independence would be "surprisingly negative for Scotland, more so than the Nationalist party is in any way communicating".
He said the SNP's forecasts were "so implausible they really should be dismissed out of hand".
The Bank of England declined to comment about the specifics of any contingency plans when approached by the Huffington Post UK.
Speaking last month, governor Mark Carney said: "It's never good to talk about contingency plans in public other than to assure that we have contingency plans.
"In terms of our responsibilities for financial stability - we have a wide range of tools and plans."
The last time there was a run on a bank in the UK was in September 2007, when Northern Rock fell into trouble and before it was bailed out.
Long queues formed outside the bank branches and customers were estimated to have withdrawn £1 billion from the bank in a day - a total of 5% of the bank's total deposit.
Popular in the Community