Scottish independence would make the whole UK more vulnerable to attack, senior military figures have warned, saying breaking up Britain would "weaken us all".
In an "open letter to the people of Scotland" 14 former forces chiefs insisted a No vote this week is "critical for all our security".
"A vote for separation would undermine both Scotland and the rest of the United Kingdom's defence," the letter says, printed in The Sun.
"The division of the UK may or may not be politically or economically sensible, but in military terms we are clear: it will weaken us all."
The letter argued that Scotland's bid for independence is risking "the most successful alliance in history."
"This unity has guarded our borders and given us the space to prosper in a troubled world," it read.
The letter is signed by seven ex-Chiefs of Defence Staff - Lords Boyce, Guthrie, Inge, Vincent, Stirrup, Craig and Richards.
Three former First Sea Lords have also put their name to it - Lord West, Admiral Sir Mark Stanhope and Admiral Sir Jonathan Band - as well as three former Army heads - Lord Dannatt, General Sir Mike Jackson and General Sir Roger Wheeler - and an ex-RAF boss, Air Chief Marshal Sir Richard Johns.
The 14 gave short shrift to Scottish First Minister Alex Salmond's plan for a Scottish defence force.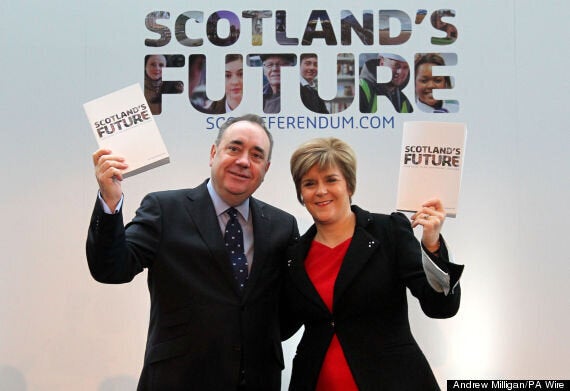 Scotland's First Minister Alex Salmond and Deputy First Minister Nicola Sturgeon
"As former Chiefs of the Royal Navy, British Army and Royal Air Force, we know it is fiction to talk about regional Armed Forces.
"We train as one, fight as one and are under one command. We are not, and have never been, structured for division."
It would be a "tragedy" if Scotland votes for independence tomorrow, leader of the No campaign Alistair Darling has said.
The Better Together leader said the promise of further devolution from the main Westminster parties would offer a "better change" than the uncertainty of independence.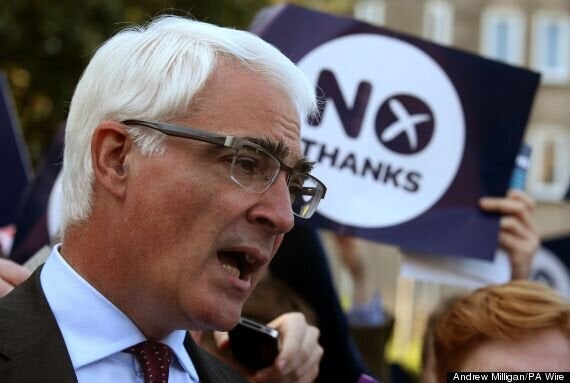 The Better Together leader Alistair Darling
He said some people involved in the increasingly bitter referendum campaign had "stepped over the line" and an effort would be needed to "calm things down" after the results come in.
Darling told BBC Radio 4's Today programme a No vote would offer "faster, more secure, better change within the United Kingdom than the years of wrangling that would follow if we were to vote to leave the UK tomorrow".
He acknowledged that, despite the show of unity by David Cameron, Ed Miliband and Nick Clegg, there was a "difference between the parties" over the extent of the powers that would be devolved, but pointed out that had also been the case before the establishment of the Scottish Parliament and the most recent transfer of competences to Holyrood.
Darling stressed that the stakes were high, and there would be no turning back from the results of tomorrow's vote.
"This is to settle the matter for a generation because I don't think there's any appetite in Scotland for another referendum," he said.
"It's not like a general election where you can give the government a good kicking if you don't like them.
"If we vote to go tomorrow, there's no coming back. And I think that is something that is very much concentrating minds as we actually go to the time when the polls open."
Setting out the case for the union he said: "We have all built the UK together and we have benefited from that strength that comes from acting together, pooling and sharing resources, in good times and bad times.
"I think it would be a tragedy if that relationship were broken."
Salmond has invited Darling to be part of his "Team Scotland", which would negotiate the terms of independence after a Yes vote.
The Labour former chancellor insisted he would continue to play a role in Scottish political life if there was a Yes vote, but attacked Salmond's rhetoric.
He said: "A lot of people who are Scottish, live in Scotland, find it deeply offensive.
"What he is actually doing here, this is like an awful lot of some of the nastiness going on in this campaign, is to suggest that somehow you can only be Scottish if you support Alex Salmond.
"That is not true. There are patriotic, fiercely patriotic, Scots, there are many people living in Scotland, who are doing the right thing by saying no thanks."
Darling condemned some of the actions of Yes campaigners and said all parts of Scottish society would need to heal the divisions caused by the referendum contest.
He said: "Unfortunately there are some who have stepped over the mark. Frankly, to have people demonstrating outside the BBC, some thousands of people holding up placards of journalists they disapprove of - you don't expect to see that in this country.
"What sort of Scotland would that be if that sort of behaviour - which the First Minister of Scotland has condoned, he said it was joyous - some people find that quite frightening.
"It's going to take a lot of work, on both sides, and not just politicians - people right across every section of society."
He added: "We have got to calm things down because we have got to live together in what is a comparatively small country."