Cameron, Ed Miliband and Nick Clegg have all made "a vow" to give Scotland 'devo max', if it stays British.
While Alex Salmond has said Scots should not trust Westminster to keep its word, the pledge for enhanced devolution has upset those in parliament too.
Tory backbenchers are threatening "a rebellion on a scale not seen before" against Cameron if he goes ahead with a more generous funding settlement for Scotland without creating an English parliament, The Times (£) reported.
But what does Cameron's only Scottish MP think about the prospect of offering England devolution to compensate?
When asked about Scottish devolution's ramifications for England, David Mundell was wary of committing himself, sensing the only Scottish Tory MP's comments could become an unwelcome headline.
"I don't think it's for me to tell the English people what to do," he began.
He noted successful devolution in England with elected mayors but said there was "a strong argument that England's interests can be encouraged within the House of Commons".
"I have previously expressed the view that, in my personal experience, I didn't see there was any demand for an English parliament," he said.
"Only two people wrote to me to tell me how wrong I was."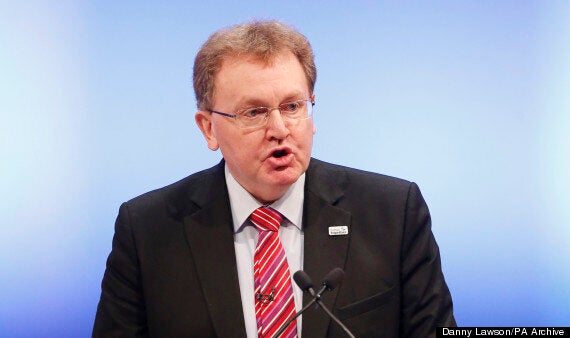 David Mundell says he does not think there is the support for an English parliament
Since 2005, Mr Mundell, 52, has been the only Conservative MP north of the border and the first since the Tories' electoral wipeout in 1997.
He represents the Dumfriesshire, Clydesdale and Tweeddale constituency - a large, predominantly rural seat that stretches from the English border to not far from Edinburgh.
He spoke to HuffPost UK while he was literally between doorsteps, out campaigning for a No vote, with just hours to go until the polls open and Scotland votes on whether it should become independent.
Mr Mundell was one of Cameron's earliest supporters in his leadership bid and was rewarded with being made Shadow Secretary Of State for Scotland.
But in the compromise of coalition after the election, he did not take up the post. Instead, it went to Lib Dems Danny Alexander, then Michael Moore and then the current incumbent Alistair Carmichael.
Mr Mundell instead took up the more junior post of Under-Secretary of State for Scotland. But he is still supportive of Cameron and declined to join in the criticism of the prime minister from within the party for failing to do more for the No campaign.
Cameron has visited "quite a lot in recent weeks" and "got the balance right" in terms of how often he should visit and how loudly he should campaign, Mr Mundell said.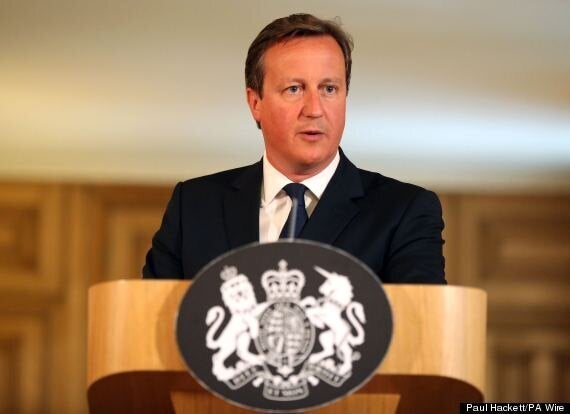 David Cameron is facing public anger from some of his MPs - but not from David Mundell
This is a particularly tough time to be Tory in Scotland. The party has become the pantomime villains of the heated debate about the referendum.
Scottish First Minister Alex Salmond has emphasised this Westminster government's stance on welfare, immigration and health as a reason for breaking away, insisting, among other things, that only an independent Scotland can protect the NHS.
One street poster urges people to vote Yes "before another 100,000 children fall into poverty".
On polling day today, Yes campaigners have carried signs urging people to "end Tory rule forever"
Mr Mundell also said he felt the campaign had "gone on too long" and believed the SNP chose the date for the referendum to help it make the campaign about attacking the Tories.
Mr Salmond announced an autumn 2014 date for the poll back in January 2012, saying it would allow enough time to for people to make a "considered" decision.
Commentators have also noted the symbolism of holding the election in the year that marks seven centuries since the Scottish victory over the English at the Battle of Bannockburn.
Mr Mundell said he thought it was deliberately held this late to make it as close to next year's general election as possible, when people's minds would be more focussed on its outcome and the Yes campaign could use dislike of the Tories to convince them to vote for independence.
He pointed out the first party conferences are next week, which mark the starting gun of the election campaign in earnest.
"I'd rather it had taken place earlier. The campaign's gone on too long. I don't believe this Bannockburn stuff," he said.
"I think the rationale (for the date) was to get it as close as it could be to the next general election so it's about policies and what the next (UK) government could be and not about the constitutional arrangements for Scotland."
He added: "They have tried to turn the referendum into a debate about the future government, a party political debate where they have said 'if you don't want a Conservative government, vote independence'."
Mr Mundell insists support for his party is "robust" in Scotland, pointing out that around 412,000 Scots voted blue at the last general election, compared with 465,000 for the Lib Dems which translated into 11 MPs for Nick Clegg's party and only one for Cameron's.
But he conceded the Tories have not been immune to the abuse being doled out to many campaigners, a depressing feature of the intense campaign.
He said he was once physically threatened by a "a very large man" who "got in my face".
On the morning of the day he spoke to HuffPost UK, his volunteers were branded "traitors" by shouting opponents for campaigning for a No vote, he said.
Labour MP Jim Murphy - Mr Mundell's Better Together ally but party rival - has claimed the social media sites affiliated to the Yes campaign have coordinated the abuse he suffered on the campaign trail - though he stopped short of implicating anyone specific.
Mr Mundell is less forgiving. He blames Mr Salmond in part for what has happened.
Mr Salmond has previously said he does condemn abuse "on all sides" and claimed he too has been on the receiving end.
But he described a mass-demonstration against BBC Scotland for alleged pro-union bias - which was called "intimidation" by the journalists' union for calling for BBC Political Editor Nick Robinson to be sacked - as "joyous and peaceful" earlier this week, and hinted he agreed that the corporation is biased.
Mr Mundell criticised Mr Salmond for not condemning abuse strongly enough.
"I think Alex Salmond could've been clearer that he didn't want that sort of behaviour early on," he said.
"That would've been helpful. There are quite a lot of examples of people getting completely carried away."
Deputy First Minister Nicola Sturgeon did criticise the BBC protest and Mr Salmond "should have said the same," Mr Mundell said.
He also said all Mr Robinson had done to earn Mr Salmond's ire was ask the first minister "difficult questions".
When asked what one word he would choose to described Mr Salmond, he paused to think.
"Obsessed," he said. "He is determined to break up Britain and to do whatever and to say whatever to achieve that.
"That obsession means he finds the argument to justify his position, rather than bases his position on an argument."
Those are strong words for Mr Mundell, a man known as "fluffy" for being warm and approachable.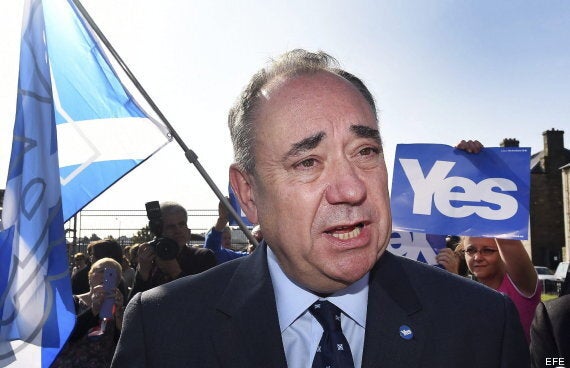 Alex Salmond should have done more to oppose abuse and intimidation on the referendum campaign trail, David Mundell said
When asked if being the only blue-rosetted MP in Scotland left him him "isolated", the ex-MSP said: "I don't think so.
"I feel part of the Scottish body politic. I don't feel lonely or unloved."
When asked if there were any benefits to being on his own, he said: "There's a certain unanimity in decision-making. I never disagree with myself."
If there is a Yes vote, the three main political parties will feel demoralised after spending so much energy, last-minute, in a failed campaign.
But the Tories would have particular reason to be angry at the next general election.
Scottish MPs would be standing for re-election to a parliament their country had just voted to secede from.
Labour, which has 40 MPs in Scotland, needs them if it is to win a majority next year.
And yet, after a Yes vote, it could do so on the backs of Scottish MPs whose seats would cease to exist 10 months later.
Mr Mundell is adamant he will not comment on this scenario, dismissing it as a "hypothetical" but saying he had already committed to stand again for his seat regardless of the referendum outcome.
After five years of unpopular Conservative government, his 4,194 majority could see him lose to a Labour challenger, who placed second last time.
He said: "I'm confident there will be a No vote but I'm not complacent about it. I'm not thinking about the next general election.
"I've got the most important vote that will ever take place in my lifetime ago to think about."