Just hours after the Scottish independence result, normal Westminster politics appears to have resumed with the Tories fighting internally and publicly over controversial devolution plans.
David Cameron has set out his devolution plans, placing Lord Smith of Kelvin in charge of empowering the Scottish Parliament and William Hague in charge of a plan to devolve power to the rest of the UK.
A detailed plan for the devolution will be produced by January, he pledged.
But anger among his MPs over this, which was reportedly fomenting in the last days of the Scotland campaign, has come out into the open with backbenchers today openly sniping about the plans on the politics TV and radio shows.
The united front between the three main parties during the campaign, who all "vowed" to bring in devolution last week, also appears to have fallen.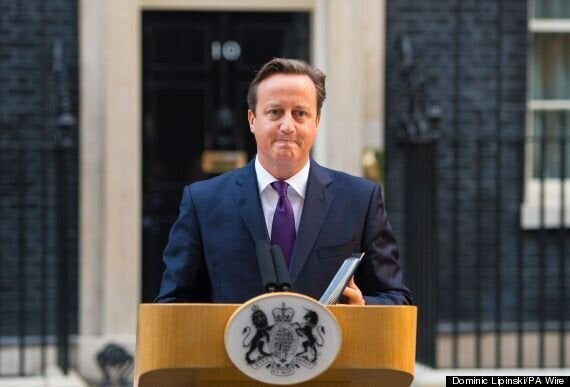 David Cameron has already come under fire from his own MPs over devolution, within hours of the Scotland result being declared
Owen Paterson, who was sacked as environment secretary in the July cabinet reshuffle, called for the recall of parliament - currently in recess for the party conference season - and said the "chaotic" narrow No vote "undermines" the UK.
He described the promises made to Scotland as "rash" and said they were unacceptable.
He told BBC Shropshire that the preservation of the Barnett Formula for calculating Scotland's share of cash, was "unfair".
"It's such a lopsided settlement, it cannot last," he said.
"It is unfair Scottish politicians will continue to vote on taxes raised from the English, while voting special tax raising powers to Scotland alone," he added.
"Such a lopsided constitutional settlement cannot last; it is already causing real anger across England. If not resolved fairly for all the constituent parts of the UK for the long term, it will fall apart."
Andrew Rosindell, Tory MP for Romford, said the timetable for the plans was too short and also said parliament should be recalled.
"I think what we need to do is to make the right decision for the long term future of our country," he said.
"If we rush into something, if we don't consider the long term implications, you might finish up with a sticking plaster and a another Scottish independence referendum in a few years."
"We need a permanant solution, a final settlement for the whole of the British family."
Senior backbencher Bernard Jenkin suggested that Scots may have to be excluded from key ministerial posts, including chancellor of the Exchequer.
He told the Today Programme: "I'm mightily relieved but very concerned that this episode has thrown the whole of the UK constitution into a state of flux rather than settled anything.
"And you can hear Alex Salmond teeing things up for the next row with Westminster because we've really no idea what these promises of extra powers actually are or what is meant by honouring the Barnett Formula... We need also to address the answer to the English question, it's no longer the West Lothian question."
He added: "Whatever the promises made are they have to be honoured and we have to respect that a lot of Scottish people voted for separation and that's all got to be addressed.
"But what is right for Scotland is also right for England and I think the prime minister should engage much more with his MPs because in fact his MPs represent a majority of constituencies in England."
Timing of the reforms has also been an issue. Backbencher Jesse Norman - part of the 2010 intake and regarded as a rising star in the party who is no friend of Cameron - said on Twitter it should not be rushed.
Mr Hague, who was foreign secretary until the reshuffle and is now leader of the Commons, rejected calls for recall of parliament and said the devolution issue would have to be settled at next year's general election if the three parties could not agree.
He told the BBC: "With further devolution to Scotland it becomes inconceivable to allow Scottish members to vote on everything that is happening in England when English members cannot vote on so much that is happening in Scotland.
"We have to discuss this with the other parties. If there is no consensus, then it is something which at the general election the parties will have to stake out their positions on."
Ed Miliband, joined Cameron and Nick Clegg in pledging more powers for Scotland but Labour's most senior Scottish MP attacked Cameron's plans.
Shadow Foreign Secretary Douglas Alexander said the proposals for drawing up the plans were "wholly inadequate".
"The reason we are able to set out that timetable (on Scottish devolution), a command paper is being produced within a month, is because the three parties in Scotland have come together over years, indeed recent months, to put together fairly complementary but substantial proposals," he told BBC 1's results analysis show.
"The idea that William Hague establishing a Cabinet sub-committee is either an adequate answer to the depth of grievance people feel, not just here in Scotland but across the UK, about how we are governed, in whose interests we are governed, I think is wholly inadequate.
"Secondly, he doesn't have the bricks and mortar to start the process of that building whereas in Scotland the reason that vow could be given is because all three parties have done a huge amount of detailed work."
Ukip leader Nigel Farage, who has been relatively low-key since his party triumphed in the May European Parliament elections, described the PM as "panicking".
"I don't see why I should stand by a commitment made by a panicking PM to stick to increased spending for Scotland," he said.
"I'm writing to Scottish MPs to say please commit from today not to vote or debate at Westminster on English issues."
He also attacked Cameron's proposals as "last minute".
He told Sky News: "We had better get a constitutional convention set up PDQ (pretty damn quick), so we can get the best constitutional brains in this country working on it. I don't think William Hague and a committee can work this out. I think we need a proper, open debate."
When asked what sort of form an English parliament could take, he added: "My suggestion would be that we do it within that building, that we have days when Scottish, Irish and Welsh MPs are not in the chamber and not voting, so we have an English parliament and we do it within the Palace of Westminster."
This is similar to a suggestion Ukip made in its 2010 manifesto, which Mr Farage famously labelled "drivel".
Popular in the Community