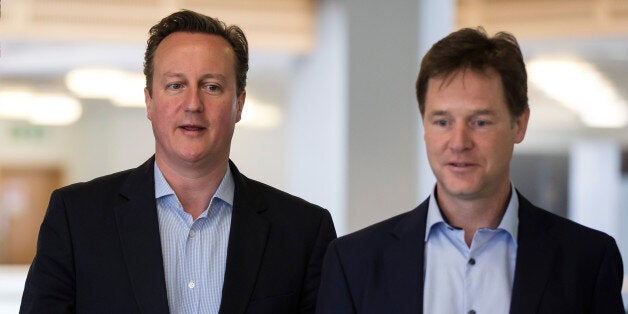 Conservative voters would rather a repeat of the current Tory-Lib Dem coalition after 2015 than see the party try and go it alone as a minority government.
A Survation survey for The Huffington Post, published on Tuesday, found that in the event of a hung parliament a second Conservative-Lib Dem deal was preferred by Tory voters to one party minority rule by a margin of 53% to 37%.
The findings may come as a surprise to many Conservatives MPs, gathered in Birmingham for the party's annual conference, who have long been frustrated with having to share power with Nick Clegg. Many also would rather David Cameron reject a second power sharing agreement and go it alone should he win more seats than Ed Miliband but fall short of an overall majority.
The poll found that Labour voters were divided on the same question, with 40% preferring a Lib-Lab coalition and 41% preferring Miliband try and lead a minority Labour government.
Lib Dems, who have long argued that coalition is the best form of government, should not get too excited however. The survey found that overall voters were not sold on coalitions.
When asked, 39% of all those asked by Survation said they would choose a minority government. The poll revealed 21% would choose a Con-Lib Dem coalition, 19% would pick a Lib-Lab deal and 22% did not know.
The Conservatives are hoping to secure an overall majority in eight months time. However senior figures admit it is a tough ask. Veteran MP Ken Clarke told a meeting of Tory activists on Monday evening that the party had a "mountain to climb" in order to win outright.
The party's conference has also been blown off course by the defection of Mark Reckless to Ukip and the resignation of another, Brooks Newmark, over a sex scandal.
On 12th September, Survation on behalf of The Huffington Post interviewed 1090 GB adults.