ASSOCIATED PRESS
Rolf Harris has reportedly been having a rough time in jail. First he was spat at, then he lost a stone in weight because he "can't stand prison food", and now he's had his paints taken away.
The disgraced entertainer has reportedly been banned from pursuing his artistic creativity from behind bars because his oils pose a fire risk, it has been reported.
The Mail reported that the 84-year-old's sketches are "in much demand" from his fellow prisoners in HMP Bullingdon.
Harris, who is serving a five-year, nine-month sentence for convictions over a string of indecent assaults, is said to be inundated by inmates queuing outside his cell requesting him to "capture their likeness."
But the former musician and children's entertainer, who has applied for permission to appeal against his sentence, has "had to resort to pencils" because they pose less of a risk to health and safety, according to The Sun.
SEE ALSO:
Ghouls have already tried to cash in on Harris' convictions for sex offences by snapping up his paintings at all-time-low prices in the hope they later rocket in value, experts have claimed.
Since his conviction, his art work has plummeted in value with some of his most famous pieces losing up to 90 per cent of what they were previously projected to sell for.
Antiques expert and auctioneer Mark Stacey told the Radio Times: "We all grew up with him, didn't we? It wasn't unheard of for a good Rolf Harris painting to make £20-£30,000 or more.
"My personal feeling is that for the foreseeable future you would be lucky if you got 10% of that now."
But it has emerged ghoulish investors in the art world have spotted an opportunity to profit from the case.
Nigel Robertson, who runs Bluestone Art in Lincoln, has a now almost worthless collection of signed Harris pieces and says competitors are trying to take advantage of this.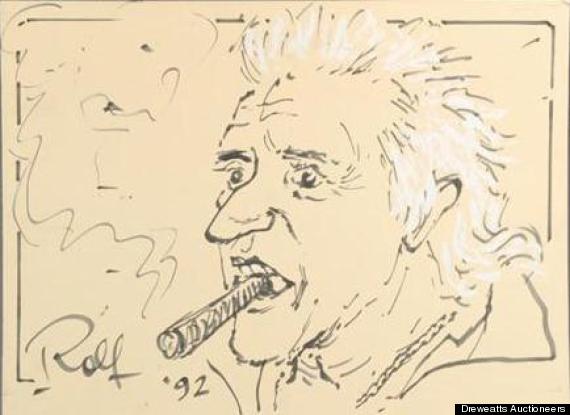 'A little bit here...' Rolf Harris' portrait of Jimmy Savile that sold for £4,500 and is, presumably, also worthless
He said: "Since Rolf Harris was charged, there have been several calls to the gallery from collectors looking to pick up his art.
"It's the same as the stock market. People take a punt. Quite a lot of people have been buying at reduced prices from me and others.
"I have heard the same story from other galleries across the country."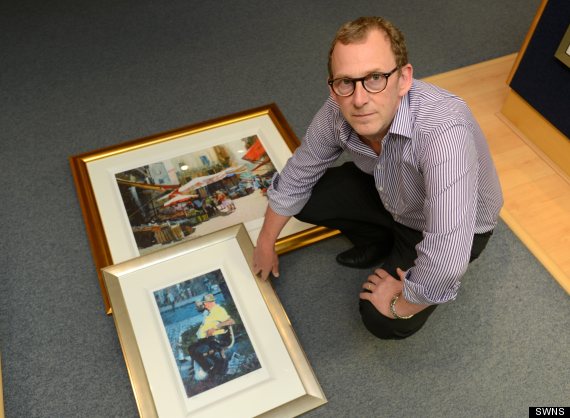 'It's the same as the stock market. People take a punt'. Dealer Nigel Robertson with 'valueless' Rolf art
Mr Robertson, who is now planning to destroy the Harris art work, admitted at the moment the pieces were "virtually valueless."
He added: "I think they will be destroyed. We have five pieces left. It's our stock, so it's a loss to us.
"It's a very sad situation. A lot of artists do lead wild lives – drugs, sex and rock and roll.
"But socially there's a line that can't be crossed and I think Rolf Harris has crossed that line.
He added: "I don't think there's a separation between the art and the man.
"He was a genius. He was a fantastic artist. His originals sold for in excess of £100,000.
"They were very collectible and reached very high prices compared with the original price on the market, but these convictions render them pretty much valueless."
FROM THE HARRIS TRIAL:
Harris was convicted of 12 indecent assaults on June 30 at Southwark Crown Court - one on an eight-year-old autograph hunter, two on girls in their early teens and a catalogue of abuse of his daughter's friend over 16 years.
The court will now consider whether to grant permission for him to continue with his appeal bid.