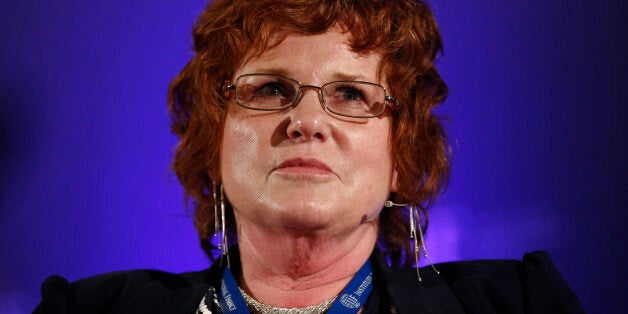 Authorities need to throw "perhaps a few more" bankers in jail as many of those who have broken the rules are still getting away with it, a senior LibDem has said.
Sharon Bowles, who was a Lib Dem MEP and chaired the European Parliament's influential Economic and Monetary Affairs committee until this July, warned: "Those who have done bad are basically having free lunch on the firm."
Bowles' warning came on Thursday afternoon at the British Bankers' Association's annual conference during a series of panel discussions about the banking sector.
Speaking alongside her, John Griffith-Jones, chairman of the Financial Conduct Authority watchdog, said that regulators have been "hooked on regulation" in the years following the financial crash. "There is a moment to change and to move on", he said. "I don't think rules will solve the next phase".
Comparing the FCA's role to that of a referee in a football match, with the banks being players, he said that the watchdog has to "work with the players" to ensure a good match.
Speaking earlier on banking culture, former BBC director-general Lord Birt said that the industry needed to embrace regulation, rather than regarding it as something "that envelops and stifles".
"That is not be experience of regulation, I suggest to you that is not how you should think about it in banking either," he said. "I don't know of any good business that does not make good business out of properly serving its customers."
Lord Birt, who was once strategy adviser to Tony Blair, said that banks have "paid a terrible price for not caring about their brand". "They must want to restore their brand or they wouldn't have the business," he added.
His fellow panelists also offered advice to Dame Colette Bowe, who is set to chair the official industry body charged with promoting high standards.
Nigel Wicks, chairman of the BBA, said that Dame Colette "may find herself unpopular with the banks" as chair of the Banking Standards Review council. "She has to be unpopular with the banks from time to time," said Sir Richard Lambert, outgoing chair of the council, "her success must be robust".
Following reports that two senior HSBC executives are to quit over new misconduct rules, Bank of England governor Mark Carney warned earlier this week: "If you're chair of an audit committee, you have responsibility for the activities of an institution. And if you don't think you can discharge that responsibility, you shouldn't be on that board."
Jamieson also said that it was not "helpful" for George Osborne's Treasury to fight EU regulation like a cap on bankers' bonuses, something that the Huffington Post UK previously revealed has cost at least £20,000 so far.