A popular TV game show has been forced to make a hasty apology after contestants had to guess what most people thought a "woman's job" was - and the 'correct' answers included cooking, cleaning and washing dishes.
The sexism furore erupted after the host of Australia's Family Feud asked contestants to "name something people think is a woman's job", the Guardian reported.
The most common answers from a survey of 100 people were cooking, cleaning, nursing, hairdressing, domestic duties, dishes, receptionist and washing clothes.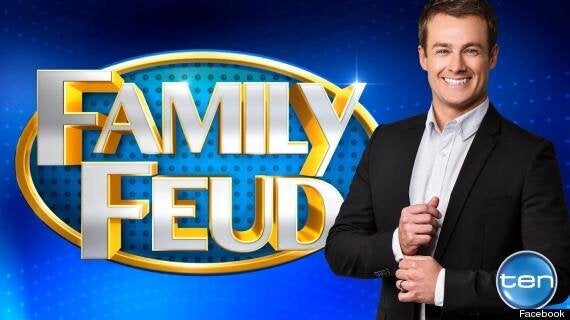 Family Feud's host Grant Dyer
Commenters branded the show "disgusting" and "dumb" and said it appeared to be stuck in the 1950s.
Host Grant Denyer also asked the Wednesday night contestants what a "man's job" was, with popular answers including builder, plumber and mechanic, the BBC reported.
Bec York commented on Family Feud's Facebook page: "Used to love this show, but would never consider watching again or attending in person after that disgusting and misogynistic "Name a woman's job" question.
"How's this for an answer? It's a woman's job (and a man's job, for that matter) to fight against the overt sexism that is still displayed in our society. Not much gets me riled up, but this is absolutely appalling."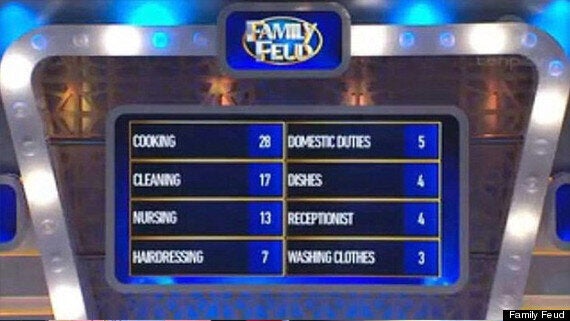 The most popular answers to the "woman's job" question
The TV show is on Australia's Channel 10 and uses a format similar to the UK's Family Fortunes. It has previously asked contestants to guess the most popular responses to questions like "Name something you would buy in France?" and "What's more important than good looks?"
Some people took to Twitter with spoof pictures mocking Family Feud:
While others pointed out the the idea of "a man's job" was equally sexist:
Family Feud posted an apology on its page, saying: "We apologise for including the two questions relating to what people think is a man's job and a woman's job in the episode of Family Feud which aired last night.
"The questions were ill advised and should not have been included in the show.
"The survey results are determined by 100 people and we understand they are not reflective of all Australians."
But critics were not appeased, with many saying that even though the "answers" were genuine responses, the question shouldn't have been posed in the first place because it encouraged gender stereotyping.
Isabel Munroe posted on Facebook: "The results reflect an inherent sexism within our society, regardless of whether it was "only 100 people" and one that we are trying to combat.
"However, whilst saddening, the results are not the main issue in this circumstance... It is the fact that someone, anyone, in our modern age could ask what are "men/women's roles" is disgusting and a clear demonstration of gender stereotyping that does NOT belong in the 21st century."