Pep Guardiola has revealed he envisages managing Manchester United in the near future in a new book documenting his first year managing Bayern Munich.
In Pep Confidential: The Inside Story of Pep Guardiola's First Season at Bayern Munich, author Marti Perarnau is granted behind-the-scenes access to the German club during their double-winning 2013-14 season under Guardiola.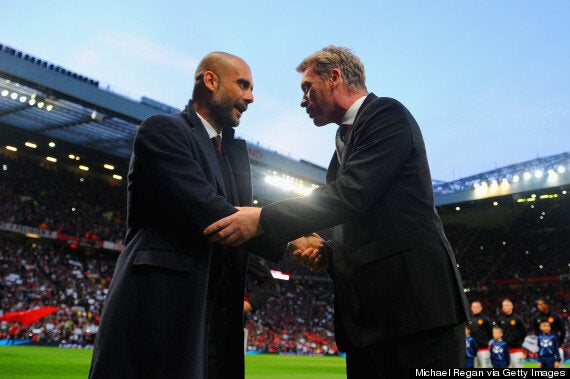 Guardiola's Bayern eliminated United from the Champions League
After leaving Barcelona in the summer of 2012, Guardiola began a year-long sabbatical in which he rejected offers from Manchester City, Chelsea and AC Milan before he was confirmed as Bayern manager in January 2013.
"From the start Pep was well disposed to the overtures from the Bavarian club," Perarnau writes. "A year before, in late July 2011, not long after a resounding 3-1 victory in the Champions League final against Manchester United at Wembley, Barcelona competed in the Audi Cup in Munich. Pep liked the set-up at Sabener Strasse, despite the fact that it was smaller than Barça's training ground and had fewer technical facilities. The Catalan was impressed and told Manel Estiarte [Guardiola's personal assistant] privately: 'I like this place. I could see myself coaching here one day.'
"Estiarte was not too surprised by the comment. Pep had said something very similar a few months before, at Manchester United. The day after beating Real Madrid in the Champions League semi-final, Guardiola and Estiarte travelled to Manchester to watch their next opponent in action. It was May 4, 2011, and the pair sat together in the stands of Old Trafford watching Sir Alex Ferguson's team beat Schalke 4-1. Once again Pep had turned to his friend and said: 'I like this atmosphere. I could see myself coaching here one day.'"
Guardiola met Sir Alex Ferguson in New York - where Ferguson has a Manhattan department - in September 2012, where it is believed the Catalan was informally asked whether he would be interested in succeeding Ferguson, who at the time had not decided to retire at the end of that season.
The death of Ferguson's sister-in-law at the tail-end of 2012 impelled the Scot to end his 26-and-a-half years at Old Trafford, however he eventually anointed David Moyes as his successor, triggering an almighty downfall in which United slumped from champions to seventh in the space of a year.
Louis van Gaal, the latest United manager, signed a three-year contract in the summer and Guardiola's deal at Bayern expires a year earlier in 2016. Manchester City's director of football, Txiki Begiristain, worked closely with Guardiola at Barcelona and the City's current manager, Manuel Pellegrini, is also out of contract at the same time as Guardiola.