Fighting through the noise in this category is difficult. The large-screen tablet is a tricky sell and as even Apple has pointed out, people are buying less of them.
It's not necessarily because people hate bigger tablets, it's more that they're an expensive purchase and so they'll generally have a much longer life-span than their smartphone counterparts.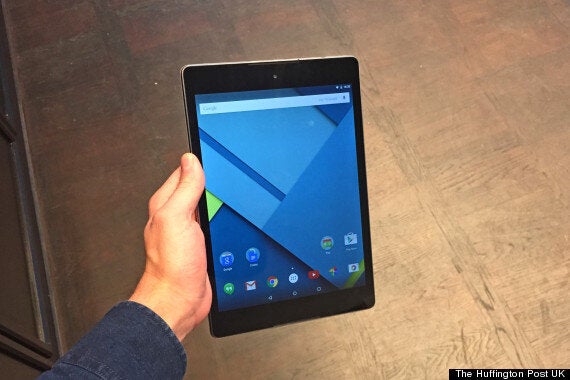 Google has said that the Nexus 9 hasn't been designed to take on the iPad Air but honestly, just look at it. Even if -- like the other Nexus products -- its been designed as a reference product for other manufacturers, they clearly want someone to build a rival for Apple's new tablet.
HTC claims that the Nexus 9 incorporates many of the design features that you'll find on its own products but picking it up you'd be forgiven for mistaking it as a giant Nexus 5.
The smooth matte plastic back is a great move, it gives the tablet grip, reduces weight and generally helps it rest better in the hand.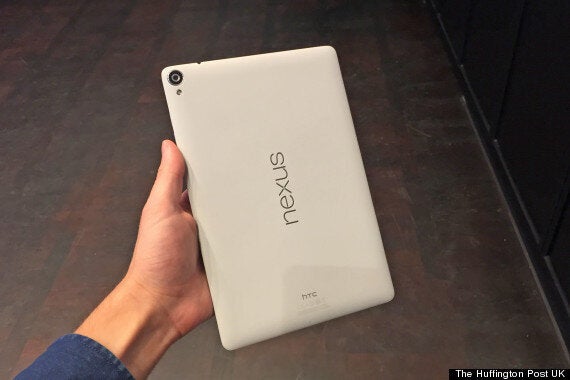 A thin metal band then surrounds the 9 which helps to add rigidity. Despite weighing less than a pound the Nexus 9 didn't feel tremendously comfortable to hold for long periods. And despite being only 7.95mm thin it feels thicker than that. We'll be honest this was just from 40 mins of use so hold fire until the full review.
On the front you'll find a large 8.9-inch 2048x1536 IPS display and it was hard to get a good idea of how it performs as all the apps we wanted to run required a Google account and none of the tablets provided had one attached.
With that in mind we can say it looked incredibly clear with some great colour reproduction and even with the strong lights of the demo room the screen's brightness held up well.
This is also the first Android tablet to feature a 64-bit processor so expect us to put the Nexus 9 through its paces when we get a full review model but for now it felt really responsive.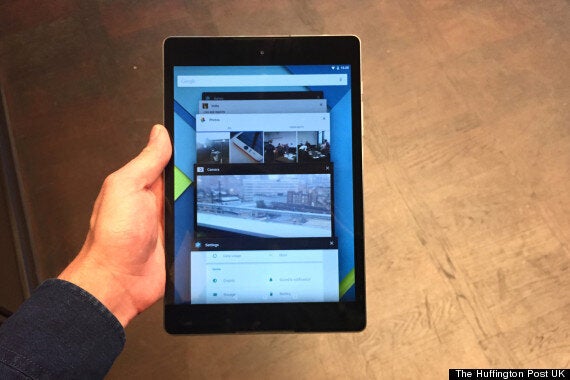 One of the biggest selling points of the Nexus 9 is that it's one of the first tablets to come with Android 5.0 Lollipop.
The transition to this 'all-new' Android is very similar to Apple's own design switch. On the surface it looks like nothing more than a facelift, but as we'll see over the coming months, Lollipop is much more than just a new lick of paint.
Regardless, it does look impressive. Visually it's a hugely welcome change and removes the feeling that when using pure Android you were using a developer's template. This is now a fully fledged visual experience as much as Samsung's TouchWiz overlay or HTC's Sense UI.
Icons look great and the new-look Google Apps are a big step-up. Google's really taken the time to make every action -- whether it's scrolling through emails, or opening a menu -- feel as though it's all one unified experience.
As well as the tablet we also had the chance to try out some of the cases that'll be launching alongside the Nexus 9. It's fair to say that our thoughts on these are mixed, at best.
The first up is HTC's version of the classic 'origami' screen cover except that rather than having a hinge the cover's edge just sticks to the edge of the tablet.
Now this would only really work with an ultra-strong magnet however in our experience this was far from the case, the cover kept falling off every time we tried to adjust the angle and we can definitely see it coming off entirely in bags.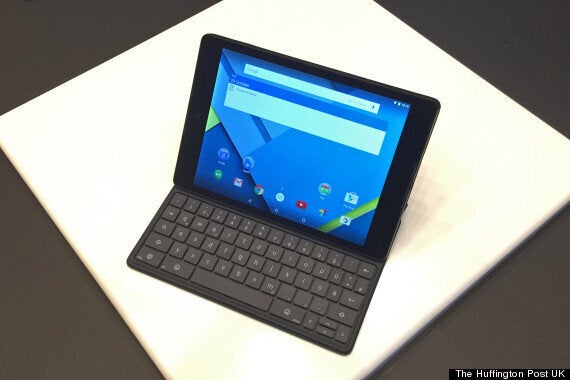 Finally there's the keyboard case, this on the other hand does use incredibly strong magnets, with a back cover magnetically sticking the the Nexus 9 allowing you to prop it up for the keyboard.
The keyboard itself looks and feels like a premium product and while it's certainly no match for the Surface's Type Cover it's a more than capable accessory that can -- thanks to Google Docs -- turn the Nexus 9 into very real tablet/Chromebook hybrid.
So what do we think? Well so far our impressions are good.
The screen looks great, the interface is a breath of fresh air and while the tablet isn't going to be able to battle the Air in terms of thickness and weight, it will almost certainly blow it away in terms of pricing. If Google gets that bit right, then they might just have cracked the Nexus tablet.
Related