Poverty and human rights campaigners have expressed alarm at the revelation that the young girl begging for change pictured with Labour leader Ed Miliband last week is just 14-years-old and doesn't go to school.
The Daily Mail reports that Rebeca State came to England from Romania with her mother and father two years ago, but has lived with her aunt since her parents returned to Ţăndărei, in the country's south-east, for medical reasons.
State was pictured begging in a green headscarf in Manchester's financial district, as an awkward Miliband retreated past her and gave her a handful of change. It was reported to have been just 2p, though State told the Mail it was about 70p.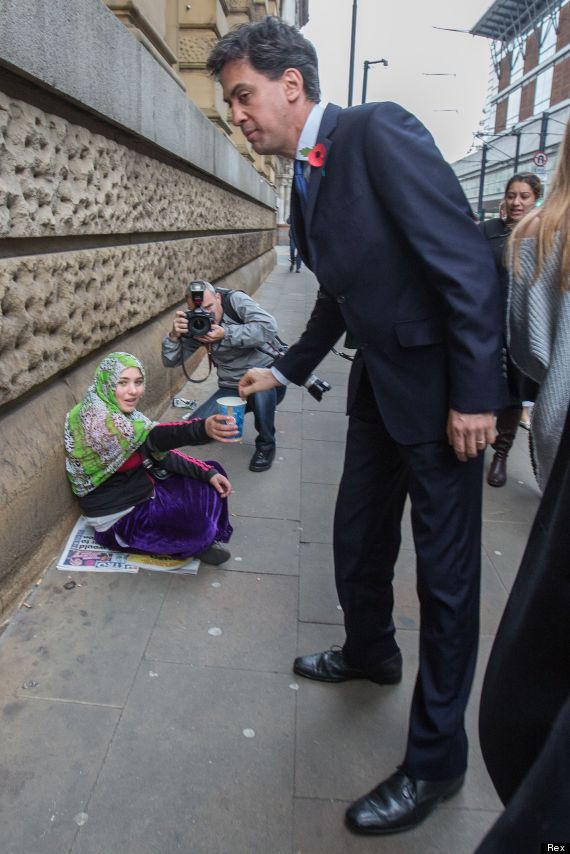 Miliband hands change to the girl in Manchester
Campaigners said that by law, State should be in education, though she told the Mail she was unable to get into a school because her parents don't have a permanent UK address.
The investigation into the girl comes as a report published by Shelter showed a growing number of children who are homeless or in temporary accommodation - with figures at a three-year-high.
More than 90,000 children in England, Scotland and Wales are without a permanent home, the charity said.
Many of those homeless families interviewed for the study said homelessness had made it difficult for children to attend school, with many making journeys of up to 90 minutes, or failing to attend at all.
None of the organisations that HuffPost UK spoke to, Migrant Rights Network, the Joseph Rowntree Foundation, Barnardos or Citizens Advice Bureau, were able to give any estimate as to the number of homeless or migrant children who may not be attending school because of their housing status. No authority seems to have an idea of the scale of the problem.
"There is no question that as a 14-year-old resident in the UK she should by law be attending full-time education or, at the very least, have an exemption on the grounds that her guardians have made adequate alternative provision for her education," Don Flynn, director of Migrants' Rights Network told HuffPost UK.
Helen Barnard, the Joseph Rowntree Foundation's policy and research manager, said it was likely State had fallen through the net. "This girl is a very extreme example," she told HuffPost UK. "No child in this country should be excluded from school because of poverty, it seems like the most basic thing to say.
"But on a day-to-day practical basis, if she doesn't have a permanent address, we know that regardless of the law, it can be very difficult to register with a GP, get into education, or get the basics of life.
"Sometimes that's not because of the law, but because people on the ground haven't been given a way to make it happen. This 14-year-old may have ended up in a position where she doesn't have an official address. She then may not be able to get access to things she has a right to. And it's not clear whose job it is to help her."
As an EU citizen, State has the right to remain in the UK, though Romanians did not have that right when she arrived two years ago. Restrictions on freedom of movement for Romanians and Bulgarians were only lifted in January 2014.
It is unclear as to whether State has ever been in education. She told the paper she earns £5 a day from begging.
The Daily Mail reported that State "is not allowed to go to school until her parents return to the UK and find somewhere to settle permanently". She lives with her aunt and nine cousins in a privately-rented £720-a-month terrace house in Levenshulme. Her aunt, Livia Stoica, reportedly receives £550 in benefits a week but not housing benefit.
Ed Miliband Awkwardly Gives Money To A Beggar
Stoica also earns money working six days a week selling the Big Issue and told the Mail that her own children do attend school.
"Her aunt, based on the story, sounds like she is trying to do her best [for the girl], but she may not know the system, or what rights she has. But whose job is it in that area? There's no clear answer," Barnard said.
"It sounds like housing costs are a serious issue for this family. How do we reduce the cost of living then?
"[Because] her aunt has not been able to get into decently paid secure work, they are trapped at the bottom of the labour market.
"Usually we then just descend into the argument of 'should people be here or not?'. Rather than that, we should be saying, 'while people are here, it is in no one's interests that they live in poverty'.
Manchester City council told HuffPost UK it was looking into the case.