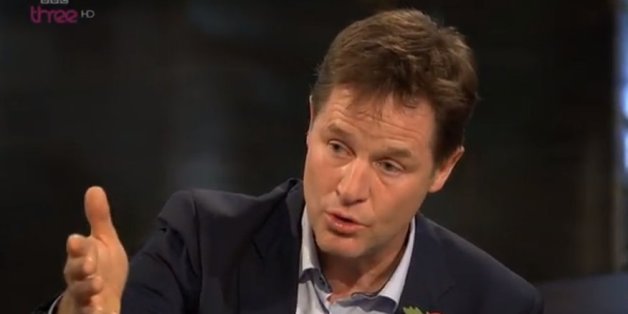 BBC
Nick Clegg was ambushed by Ukip activists as he answered questions from an audience of young people on live TV Tuesday, but earned cheers and social media support as he sassily hit back at their claims.
The two audience members who challenged Clegg over the EU referendum were identified by a Ukip spokesman as Young Independence chairman and general election candidate Jack Duffin and party activist Dan Jukes.
UKIP's @JackDuffin and @YIofficial gearing up for @BBCFreeSpeech with @Nick_Clegg. pic.twitter.com/UtmMvOY8Ft

— Dan Jukes (@DanJukes17) November 4, 2014
During the 60-minute grilling on BBC3's Free Speech, the eurosceptic party supporters brandished a 2008 Liberal Democrat pamphlet offering voters "a real referendum" on Europe, and told the Deputy Prime Minister: "The only reason you won't give them a say is because you don't like the answer you are going to get."
When he confirmed that he was a Ukip member, Clegg told Duffin: "It's good you're involved in politics. It's a pity you are involved with that lot."
The lads on the box @DanJukes17 @jackduffin pic.twitter.com/eoiM9Y1Hsm

— Michael Heaver (@Michael_Heaver) November 4, 2014
Duffin reminded the DPM of his somewhat painful TV debate with Ukip leader Nigel Farage, which Clegg was widely perceived to have lost.
"The people voted and said he defeated you," said Duffin. "Why don't you give the people the decision to decide whether they stay in or leave? The only reason you won't give them a say is because you don't like the answer you are going to get.
"I believe in democracy. You stand here and say people should decide, but you don't believe people should be given a say."
But Clegg won loud applause as he responded: "I personally think when the economy is really fragile and we are still trying to produce jobs which youngsters can go into, holding a referendum about whether we remain in what is the world's largest marketplace, just because Nigel Farage wants to, would actually destroy jobs and destroy investment in this country."
Nick Clegg sassing Ukip kids. Superb. #BBCFreeSpeech

— Stace (@stackee) November 4, 2014
Laughed my ass off at how the UKIP people in the house got buuuuurned tonight by Nick Clegg!

— Anna :) (@AnnaBollyDrake) November 4, 2014
had a good time on @BBCFreeSpeech. loved how @nick_clegg mocked the UKIP supporters

— Rayhan (@17Rayhan) November 4, 2014
@nick_clegg actually made me laugh! Well done for destroying them two ukip members! Fair play

— Callum Stone (@Callumstone96) November 4, 2014
Jukes also showed Clegg the Lib Dem pamphlet promising "a real referendum" and asked him: "Do you recognise this poster, Nick? I'd like to know why you went back on this one and why you think we should trust you again now you are in power."
But the DPM insisted that his referendum promise had related only to an in/out vote at the time of a treaty transferring power from Westminster to Brussels.
"I believe in that so much that, shortly after I entered into this coalition Government in 2010, we legislated to create for the first time in this country a legal guarantee that when there's another treaty we'll do exactly what I said on that leaflet, which is that we will have an in/out referendum," said Clegg.
During the live event the Lib Dem leader also came under attack over his U-turn on university tuition fees, while one questioner told him he should change the Lib Dems' name to the Anti-Progress Party "because what you've done in Government is vote against what you used to stand for".
One viewer's message read out on air, to laughter from the studio audience, said: "If I had a penny for every time Nick Clegg broke a promise, I would have enough to go to uni."
The DPM was repeatedly challenged over his support for the increase in university tuition fees to a maximum £9,000 a year, after he promised to scrap them in the 2010 Lib Dem manifesto.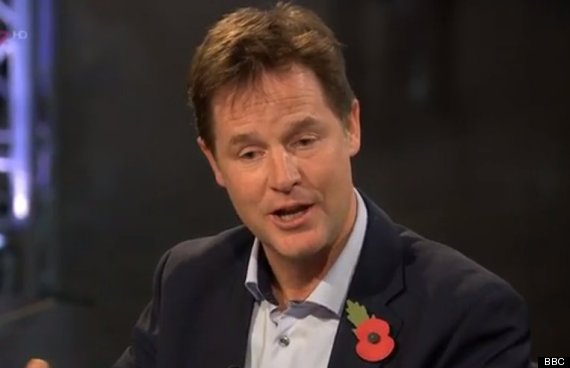 One member of the audience said his calls for liberalisation of drug laws were "just another ploy to get votes from young people because you lost them because of tuition fees", while another said: "A lot of young people will have voted (Lib Dem) for that sole issue of tuition fees. It's all very well you saying you're sorry about it, but why should anyone go back and vote for you again when you failed to deliver on what they voted for solely last time?"
And a young woman in the audience directly asked him: "Have you ever struggled? Have you ever been in school and wanted desperately to get a job, but you can't get a job because you don't have experience and you can't get experience because you don't have a job? If you haven't struggled like I have and a lot of people like me have, how can you know what's fair?"
Clegg conceded that he had been "incredibly lucky in my life" and could not claim to have struggled in that way. But he added: "We are all different, but what makes us human is not 'Are we identical?', but 'Do we have the imagination to imagine what it's like to be somebody else? Do we have the compassion, do we have the empathy?'"
His questioner retorted: "You clearly don't, because tuition fees are £9,000 a year."
Clegg said he had not been able to scrap fees because he did not win the 2010 election, but insisted he had delivered on the party's main pledges.
And he insisted that most people now recognised that fees presented "no impediment at all to going to university" and that larger numbers of youngsters from disadvantaged backgrounds were now going on to higher education.
Asked by presenter Tina Daheley: "Are you now saying increasing tuition fees was a good thing?", Clegg replied: "No, I'm not saying it was a good thing - of course not. I would dearly like to have won the last election and been able to implement my manifesto. I'd love to be prime minister. I'm not."