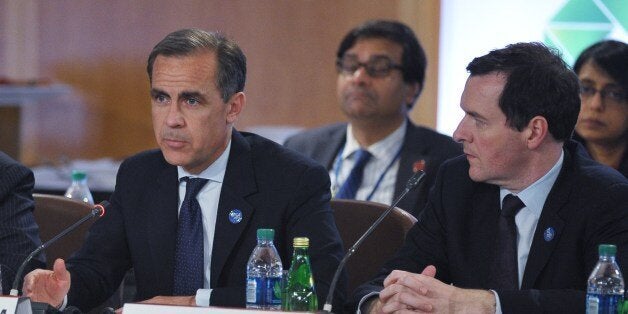 The governor of the Bank of England has rubbished suggestions that he is set to keep interest rates on hold until next autumn in order to help George Osborne win the next election.
Speaking to the Huffington Post UK as he presented the Bank's latest forecast for the economy, Mark Carney said Bank rate-setters would be "absolutely blind" to political debate about the timing of the first interest rate rise, adding: "The only way to be apolitical is to ignore it, which is what we will do".
This comes after MPs questioned Carney's oversight of the British economy, with one Tory MP claiming he had a "pact" with the Chancellor to keep rates at their historic 0.5% low until after the next general election, while another suggested a rate rise could be a "social catastrophe".
Meanwhile, the Bank's latest forecast suggested that rate-setters could start to increase interest rates, which would push up the cost of borrowing, from next summer.
Carney told HuffPost UK that he tried "not to be offended" by suggestions that he was trying to help George Osborne by keeping rates low.
"We will decide when to tighten monetary policy based on the inflation target and the expectation of when that time is will move around," he said.
The bank governor went on to say that the timing of the rate rise "will move around with the data", adding: "If you'd asked me that question a year ago, my answer would have been different to the answer I'd have given you today. But a lot has happened since then."
The Bank governor bristled at suggestions from reporters that his flagship forward guidance policy about the timing and speed at which interest rates will rise had become "a bit of a joke".
Mark Garnier, Tory member of the influential Treasury Select Committee, said that it would be "particularly unpleasant" when the Bank raises interest rates and it could push many families "into crisis".
Other MPs have questioned whether Carney was keeping rates low to help Osborne. Teresa Pearce, Labour member of the Treasury select committee, recently told the Huffington Post UK that the Bank "must be free of political interference."
"Since Mr Carney took his post, he has dangled the prospect of raising interest rates a number of times," she said. "He said once there were more people employed, that interest rates may rise. Well there are more, and they have not risen."
Fellow Labour Treasury committee member John Mann said it was "abundantly clear" that Carney would raise rates "immediately" after the next election.
Tory MP Mark Field accused Carney of following a "deliberate policy" not to raise interest rates, in order to avoid the "politically unpalatable" event of thousands of Britons struggling with their debts going bust.
Carney also suggested that he may be forced to write a humiliating letter to George Osborne explaining why inflation has fallen so far off target.
The embarrassing prospect was raised in the Bank's latest economic outlook, with Carney telling reporters that it was -"more likely than not that I'll have to write a letter to the Chancellor". In its November inflation report, the Monetary Policy Committee forecast that this could happen "temporarily at some point in the next six months".
"Strictly speaking, I do not expect to write a letter, it's just the balance of probabilities," Carney stressed to reporters.
Tumbling oil prices and a supermarket price war have prompted speculation that inflation, which is currently at a five-year low of 1.2%, could fall below 1%. While low inflation eases the strain on households, policy makers would be concerned were it to fall too much. Ultra-low inflation in the eurozone has provoked emergency stimulus measures to guard against the threat of a damaging deflationary spiral.
The Bank's MPC wrote in its November Inflation Report that Britain's expansion has continued "largely as expected", but warned that outside economic factors like the continuing eurozone crisis have got worse.
The Bank also slightly cut its growth forecasts for the UK economy, with it now expecting gross domestic product (GDP) to grow by 2.9% next year, down from the 3% it previously expected, and then kept the rest of its predictions largely unchanged at 2.6% in the following year.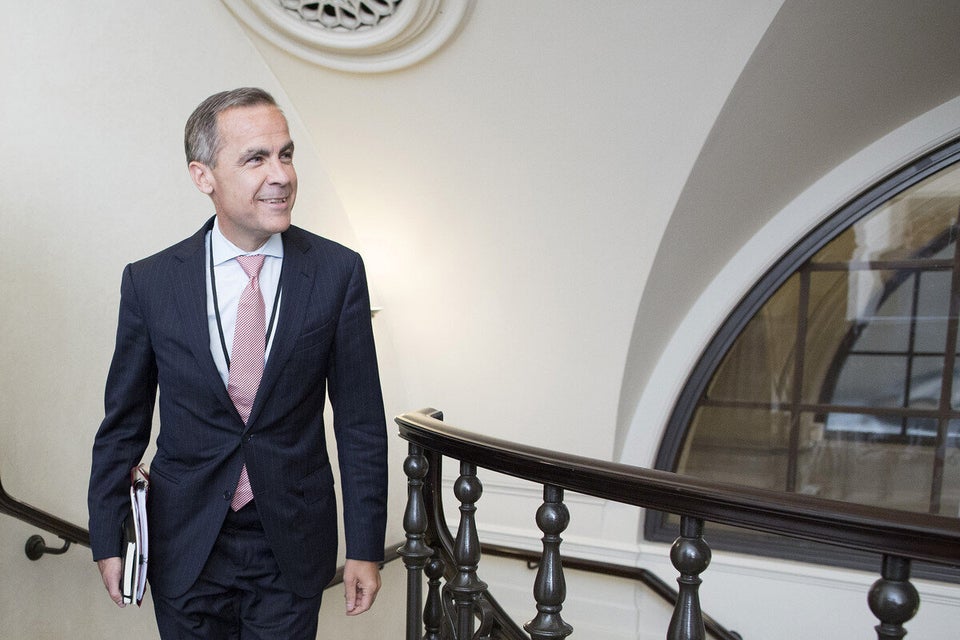 Mark Carney's 1st Year At Bank of England
Related