Tensions are again mounting in Hong Kong as a group of activists clashed with police in fresh violence after nearly two months of pro-democracy protests.
The protesters used metal barricades and concrete slabs to smash glass doors to the city's legislature before police used pepper spray, batons and riot shields to push them back early on Wednesday morning. Police said the protesters repeatedly charged their cordon and injured three officers.
Police arrested six people in the overnight clashes and warned of more arrests. The scuffling came hours after authorities began to clear some barricades from a small section of a nearby site occupied by activists.
The clashes underscored mounting frustration as the protests, which call for free elections in China's semi-autonomous territory drag on with no end in sight.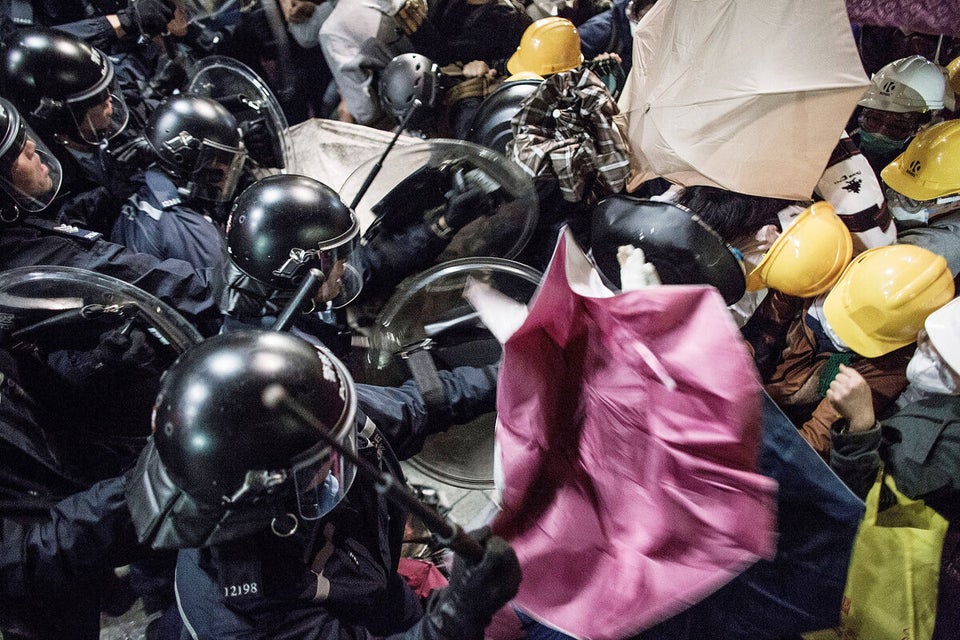 Hong Kong protestors
Protest leaders condemned the violence, which was apparently organised through an online forum known to attract people with radical views.
But they also blamed the Hong Kong government for angering demonstrators by failing to respond to their demands.
Pro-democracy lawmaker Fernando Cheung tried to intervene in the disturbance but was pulled aside by protesters.
"We can't agree with the reason for taking this action," said Joshua Wong, the 18-year-old leader of Scholarism, one of two student groups leading the protests.
A third group involved in organising the protests, Occupy Central, said that those responsible for the violence misled the crowd into attacking the legislature by spreading "false information."
Rumours were reportedly circulating that lawmakers were scheduled to pass a bill that could restrict Internet freedom, when in reality the bill is still being discussed.
The student-led democracy protesters reject restrictions laid down by Beijing on inaugural 2017 elections for Hong Kong's top leader. But the students have been fighting to maintain momentum as the Hong Kong government appears to adopt a strategy of standing by in hopes it fizzles out.
The students' requests to talk to China's Communist leaders in Beijing have been rebuffed and three student leaders were prevented from flying to the Chinese capital on the weekend.
Authorities are expected to enforce a separate court order later this week requiring removal of some barricades from a second protest site in the city's Mong Kok district.