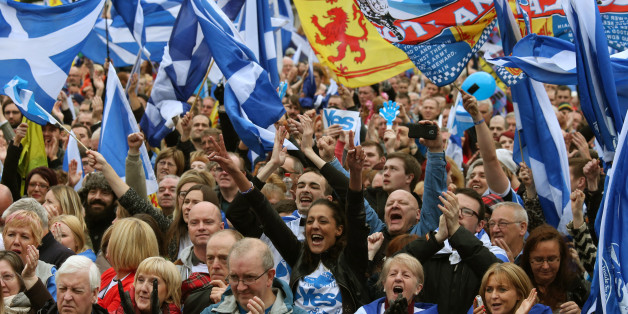 Andrew Milligan/PA Wire
A new newspaper which supports independence for Scotland is to be launched north of the border this week, it has been announced. Only one newspaper, the Sunday Herald, came out in favour of leaving the UK in the run-up to September's referendum.
Sunday Herald editor Richard Walker revealed he will edit a new pro-independence daily newspaper called The National, which will go on sale on Monday. The title is being published by Newsquest, which already publishes the Herald, the Sunday Herald and the Evening Times in Scotland.
But it will be on sale for a pilot period of five days, to allow the company to see if there is sufficient demand for such a paper. Mr Walker announced the launch at an SNP rally in Glasgow which was attended by more than 10,000 people. He told the audience none of the current daily newspapers that are on sale back independence, but that "on Monday there will be one".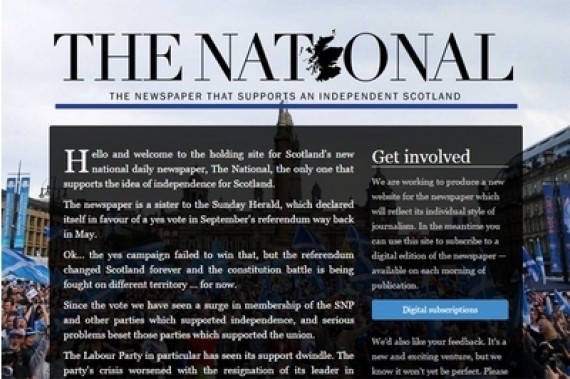 The newspaper will be 'aimed at the 1.6m Scots who voted to leave the Union in September'
The editor added: "That newspaper will be called The National and it will be brought to you by the team that brings you the Sunday Herald." The Sunday Herald say a massive surge in readership after it declared its backing for a Yes vote in the referendum, with sales peaking at about 50,000 on the Sunday after the ballot - an increase of 111% year on year.
Two months later, circulation is said to be about 40% higher than it was 12 months ago Mr Walker told the audience at the rally: "When the Sunday Herald declared its support for independence, we were overwhelmed by the support from people like you.
"Since then many of you have been asking 'why can we not produce a daily newspaper' and that's exactly what we're going to do from Monday."
Nationalists have long lamented no pro indy paper. It's up to them to make The National a success. Never been a better time to launch

— Kevin McKenna (@KevinMcKenna63) November 22, 2014
But he added: "It's not all plain sailing. The company that owns our newspaper will do this and do it for an initial pilot of five days. We have five days to show that this newspaper can sell enough copies to give it a permanent future." He urged the crowd: "Show our company that there is a market in Scotland for journalism that takes a passionate view and believes in a positive future.
Newsquest Scotland managing director Tim Blott said: "It is the first time in many years that a new daily newspaper has been launched in Scotland. The National is an exciting opportunity to meet the needs of a very politically-engaged section of the Scottish population. We recognise that launching a newspaper in 2014 is to some extent counter-intuitive but we consistently argue for the power of great journalism and informed opinion.
THE NATIONAL newspaper starts on monday BUT will only be produced for FIVE DAYS. If it's a success next week, it will be a permanent paper.

— RetroScot (@RetroScot) November 22, 2014
"We will trial the new title in its proposed format for a week and if, as anticipated, it takes off then it will become a new and dynamic fixture in Scottish publishing."
Earlier on Saturday, Scottish Secretary Alistair Carmichael told the SNP to stop manoeuvring for a second independence referendum as it "implies people were too stupid to get the answer right the first time," according to Scottish Secretary Alistair Carmichael.
The Liberal Democrat MP, who spearheaded the UK Government's defence of the UK, said the threat of Scottish nationalism and Ukip's threat of English nationalism point to "dangerous times" for the UK.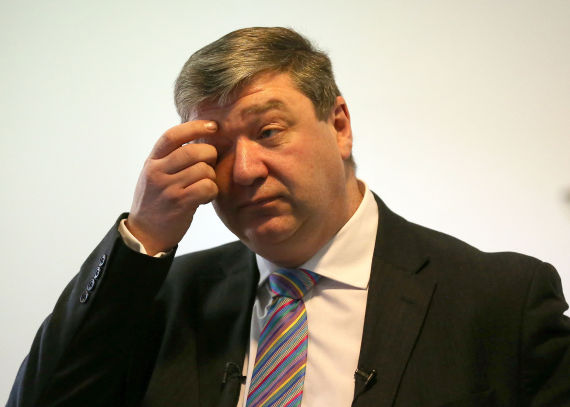 Alistair Carmichael has urged the SNP to stop manoeuvring for a second independence referendum
Speaking at the Scottish Lib Dem conference in Dunfermline, Mr Carmichael said new First Minister Nicola Sturgeon must use the powers she has to address inequality, invest in roads, reform the justice system and support the health service, particularly on mental health.
"Her commitment to people of Scotland will be measured by her willingness to act, not her manoeuvring for a second referendum that implies people were too stupid to get the answer right first time," he said.
"To those in the SNP who seek to keep their dream of independence alive by promoting the lie that we will not make good on our promises I say this: you are wrong, you know it, so stop it."
SEE ALSO: