Poor people in Britain are going hungry because they "don't know how to cook", a Tory peer has said, in the wake of a landmark report into poverty in Britain.
"We have lost a lot of our cooking skills, and poor people don't know how to cook," she said at the launch of the Feeding Britain report on Monday.
"I had a large bowl of porridge today. It cost 4p. A large bowl of sugary cereal will cost 25p."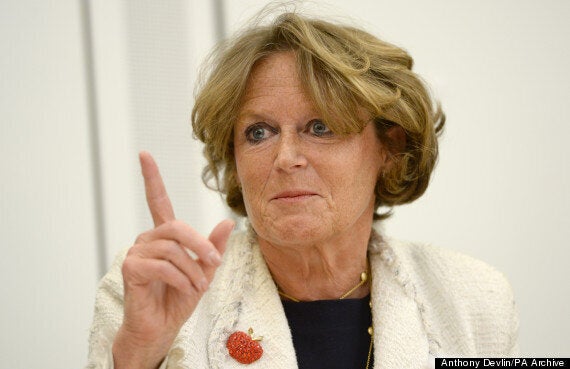 Baroness Jenkin speaks during the launch of an all-party parliamentary group report into hunger in the UK
When pressed on the issue, Baroness Jenkin said she did not mean to blame individuals and admitted the causes were wider, but said that the poor cookery skills were "not the government's fault."
She later told the BBC's World At One that she wanted to apologise for any offence, and for "stupidly speaking unscripted".
"I am well aware that I made a mistake in saying it and I apologise to anybody who has been offended by it," she said.
But she said she stood by her belief that "as a society we have lost our ability to cook" and praised the food blogger Jack Monroe for her budget food recipes, now featured regularly in the Guardian.
The comprehensive report does tackle the problem of poor diet and lack of skills, but also warned a vicious cycle of poverty meant families could sometimes not afford gas, or depended on microwaves.
"They may have difficulties budgeting for a week's worth of shopping, as whatever income there might be is devoted to other, non-essential items of expenditure or to paying off debt," the report said.
"Some households may also find it difficult to prepare or cook decent meals from scratch, making them much more likely to rely on ready meals or takeaways."
But skills were not the only issue. According to the report, food banks said "some of their clients do not, or cannot, cook the contents of their food parcels at home because they lack basic cooking equipment and facilities".
"We heard how some landlords may offer tenants only a microwave or one ring on a cooker while calling these facilities a kitchen for rent purposes.
"We recommend that Local Authorities begin collecting information on whether landlords in receipt of housing benefit are providing basic cooking facilities for their tenants, with a view to making housing benefit receipt conditional on these facilities being provided, and to report their findings to Feeding Britain."
But the government sent Rob Wilson, minister for civil society, to address the report launch, not a representative from the Department of Work and Pensions (DWP), despite much criticism of the benefits system within the report.
Conservative ministers have consistently denied the link between welfare cuts and the increase in food bank use. Tory peer Lord Freud said earlier this year that there was "actually no evidence as to whether the use of food banks is supply led or demand led.
"Food from a food bank—the supply—is a free good, and by definition there is an almost infinite demand for a free good," he told the House of Lords.
The DWP said previous research from the Trust, Oxfam and the Church of England, which was submitted last month and blamed food bank use on welfare reform, "itself concludes it can't 'prove anything' – it uses self-selecting data and recognises there are complex underlying issues.
"We have a strong safety net in place, spending £94bn a year on working age benefits, and we provide a wide range of advice and assistance for anyone in need of additional support."
Popular in the Community