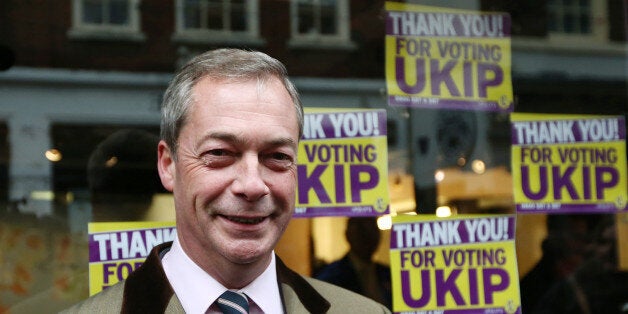 Nigel Farage's warning in the face of EU migration that "Britain is full" has been summarily dismissed by the government's economic forecaster, which has stated that the UK has "masses of room".
Stephen Nickell, one of the three heads of the Office for Budget Responsibility (OBR), expressed his scepticism to MPs on Tuesday about claims that "we're a small island [with] not much room" for more migrants.
"Of course, there's masses of room," he told the Treasury Select Committee. "The urbanised part of Britain occupies less than 10% of the surface area. The urbanised part of Surrey occupies less of Surrey than golf courses."
However, Nickell lamented that making this argument "doesn't get very far" as voters think about immigration "on the basis of what they experience and read about in the newspapers".
He conceded that people did not like the consequences of there being more people, explaining: "Since more immigrants mean more housing, more roads, more airports, more incinerators, more of this being required, and since the evidence would suggest that people by and large don't like these things, especially if they are near them, that's the key issue about immigration that people may wish to face up to."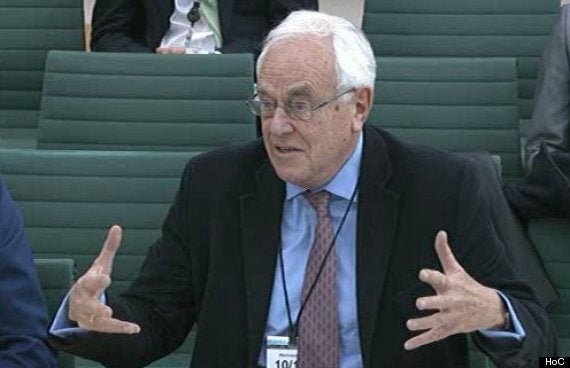 Nickell speaking today to MPs
The top economist warned about the negative impact that would hit the National Health Service if it could not rely on immigrants, telling MPs: "Some 35% of health professionals are migrants so it's quite plain that if they If they weren't there, the health service would be in absolutely dire straits."
Nickell argued that the impact of migration on the economy has neither been "a little bit good" or a "little bit bad", but that it had hit low-skilled workers.
"The pay of unskilled workers, particularly in the service sector, has been held back to some extent - not to a massive extent, but to some extent - by unskilled immigration," he told MPs.
The OBR was also fiercely rebuked by Labour MP John Mann for continually getting its economic forecasts "fundamentally wrong".
George Osborne used their forecasts to boast in 2010 that his economic management would see the budget deficit by the end of next year, but this month was forced to admit he had missed his targets and would eliminate it several years later.
With palpable sarcasm, Mann asked: "Do you think politicians would be wise not to do what the chancellor did in 2010 which is to eulogise your forecasts as what was going to happen rather than as a prediction of what night happen if other variables never change which of course some of them might change?"
The budgetary watchdog's chairman, Robert Chote, told MPs that its economic forecasts were open to uncertainty, adding that officials were "responding to the changes in information and data that comes out".
His colleague, Stephen Nickell, said that Britons' pay packets didn't recover "as rapidly as expected" and explained that the forecaster failed to anticipate oil prices rising in 2012. "There are many things which we failed to predict at that time which turned out to be quite a surprise," he added.
Tory members of the Treasury select committee came to the OBR's defence, with chairman Andrew Tyrie remarking that getting forecasts right was like trying to get monkeys to type Shakespeare.
This comes after the OBR's analysis found that Osborne's deficit reduction plans and Britain's economic growth relied on the public going on a £360 billion borrowing spree.
Economists and Labour MPs have reacted with alarm to the findings, which forecast that Britons will need to add £360bn over the five years to its levels of unsecured lending, which includes credit card debt, payday loans, and bank overdrafts.
The £360bn figure represents a £41bn increase on the OBR's forecasts just nine months ago and would take households' unsecured lending, as a share of total household incomes, to a record 55% cent by 2020. This would be well above the pre-financial crisis unsecured debt ratio of 44%.
Labour's Yvonne Fovargue, head of the all-party parliamentary group (APPG) on debt and personal finance, told the Huffington Post UK: "Osborne economics shows just how out of touch he is with the realities of life. To base his economic plan on individual unsecured debt and rising levels of secured debt is to risk people losing their homes and being faced with unaffordable debt, with all the problems of stress, depression and family breakdown that can result from this.
"He says he wants more people to save but his economic plan relies on them borrowing - surely a classic example of saying one thing whilst meaning another.
"The payday lenders and credit card companies may be celebrating but ordinary people who are struggling to get by already will rightfully be alarmed by this plan."