It wouldn't be January without an influx of new fad diets to try.
But this year, it's all about making simple long-term lifestyle changes to achieve results.
And experts are hedging their bets on the Nordic diet. Focusing on whole grains, plants, fresh fish and meat, the diet is steeped in nutrition, while steering clear of refined grains such as white bread and pasta.
While it's similar to the Paleo and Mediterranean diet, the Nordic Diet encourages consumption of cold-pressed rapeseed oil rather than olive oil.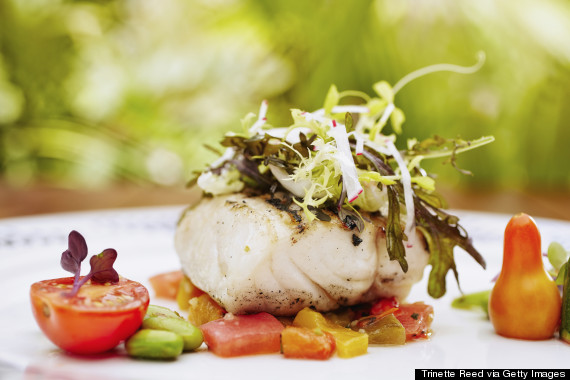 The diet has also been shown to reverse the damaging effects of being overweight - meaning that if you're looking to lose a few pounds over the next couple of months, without living off celery, then this could be the one for you.
Scientists at the University of Eastern Finland found that consuming the foods typically found in the Nordic diet can reduce genes associated with inflammation linked to chronic diseases.
They found that middle-aged men and women who suffered symptoms of metabolic syndrome - a combination of high blood pressure, obesity and obesity - had a lower number of inflamation-associated genes after trying the diet.
The findings were published in The American Journal of Clinical Nutrition.
SEE ALSO:

Obesity Could Be Tackled With A Mediterranean Diet, Say Doctors

Most Googled Diets: We Searched For These In 2014 For Weight Loss
Previously, a study led by the University of Copenhagen found that the diet aided weight loss. Obese participants who followed the Nordic diet for six months dropped 4.7kg, compared to just 1.5kg for those who followed a conventional diet.
Another study by University of Oxford found that eating plenty of oily fish such as mackerel, tuna and salmon, which are excellent sources of omega-3 DHA fatty acids, can improve the quality of sleep.
So, all in all, the Viking diet seems like a keeper.
Story continues below...
While you might not have heard of the Nordic diet before, it was actually 'invented' in 2004 by chefs René Redzepi and Claus Meyer at their restaurant in Copenhagen, Noma.
Breakdown of weekly dishes featured in the Nordic diet:
:: Three meat dishes
:: Two seafood dishes
:: Two vegetarian dishes
:: Root vegetables
:: Leafy greens
:: Nuts and berries
:: Fruit and legumes
Great for weight loss and healthy too? We can certainly see why it's expected to be a popular diet trend for 2015.