Channel 4 has been accused of glamourising racism with its programme Angry, White And Proud, a controversial documentary on far-right groups in Britain.
The programme looked at splinter groups that have sprung up following the weakening of the English Defence League.
The show provoked anger and disbelief on Twitter - towards the far-right supporters who featured on the programme and were called "stupid" and "racist", but also toward Channel 4 itself for showing a documentary that appeared to gave racist views a platform and stir up tension in society.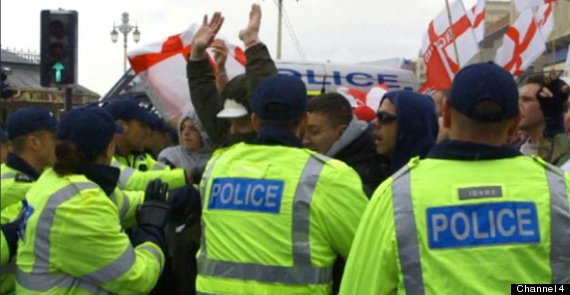 The documentary showed scenes of "strong racist views" and outraged many viewers
The one-hour film showed the leaders and supporters of groups such as the South East Alliance and the South London Infidels – who openly revealed their Islamophobia on camera.
READ MORE:

The British Far Right Is In A Very, Very Bad Way

Tommy Robinson To Support Ukip At Next Election, Hints At Private Discussions
The broadcaster warned that the programme would contain "very strong language and strong racist views that will offend some viewers". It recommended the show for over 18 viewers only.
Racism is wrong and shouldn't be publicised. Period. Putting it on tv only glorifys this behaviour like it's the norm. #angrywhiteandproud

— pepper (@kimmpepper) January 14, 2015
@fauxpaschick @loulala123 why are they given airtime?

— Mark (@markhyson) January 14, 2015
@markhyson @fauxpaschick it's the racist agenda they are glamourising racism

— louise o (@loulala123) January 14, 2015
Why would channel 4 show #angrywhiteandproud ? I haven't seen it and only just found out about it. But how can this help eliminate racism?

— Daz Housego (@Daz_Housego) January 15, 2015
Racism must be a condemned, NOT PROMOTED Hate towards any religion, culture, or country NEEDS TO END RIGHT NOW #angrywhiteandproud

— Vicky Vuong (@VickyVuong_) January 15, 2015
Just watched #angrywhiteandproud a bit of senationalism. Will Channel 4 do a programme angry, muslim & proud & follow Choudary for balance

— David Jones (@DavidJo52951945) January 15, 2015
Channel 4 has a knack for making fun of the lower class. When will they focus on bankers & frauds destroying societies? #angrywhiteandproud

— Suleiman (@Payitforward87) January 14, 2015
#angrywhiteandproud < another channel 4 programme designed to increase tension in society. Everyone falls for it as usual

— Lumes (@IAmLumes) January 15, 2015
Not entirely convinced by UKIP's political broadcast on Channel 4. #angrywhiteandproud

— Prince Charles (@Charles_HRH) January 14, 2015
Channel 4 showing the world the very best in what English culture has offer #AngryWhiteAndProud

— Jonathan (@JonRichard) January 14, 2015
Hearing about #angrywhiteandproud.. It's just sad, tbh.. Channel 4 is a disgrace, no such thing as bad publicity as far as they're concerned

— Amanda Emm (@Mandie_Mayniac) January 15, 2015
#AngryWhiteAndProud is trending worldwide..lesson learned, be careful what you wish for.. #Racism #IsNoJoke

— MacKinnon (@MacKinnon08) January 15, 2015
Channel 4 said in response: "This observational documentary is a true reflection of the film-makers' experience which does not condone or glamorise violence or the opinions expressed by the far-right groups - but holds them up for scrutiny and examination.
"The director clearly challenges the views of those interviewed and the film raises legitimate and timely questions about national and international political, religious and ideological clashes."
Britain's far right parties have suffered a "dreadful" year as their supporters drift towards Ukip, according to a report from anti-fascist group HOPE Not Hate.
It found that the apparent increase in the number of far-right groups like Britain First, British Voice, British Unity and the British Democratic Party is reflective of weak organisations which are splitting into ever smaller pieces.
The British National Party and English Defense League are thought to be in decline, as well as Britain First known for its Islamaphobic views.
Britain First posted a bizarre Facebook update about US President Barack Obama not attending the Charlie Hebdo support march in Paris last week, "BECAUSE HE IS A MUSLIM", despite rumours about the leader following Islam being repeatedly revealed as false.
Unseen footage of EDL violence was posted to YouTube this week, revealing scenes which led to 50 rioters being jailed for 75 years. The video shows a rally in Birmingham and was shown in Birmingham Crown Court in evidence against a rioter of the same name.