Channel 4 has been accused of glamourising racism with its programme Angry, White And Proud, a controversial documentary on far-right groups in Britain.
The show provoked anger and disbelief on Twitter - towards the far-right supporters who featured on the programme and were called "stupid" and "racist", but also toward Channel 4 itself for showing a documentary that appeared to gave racist views a platform and stir up tension in society.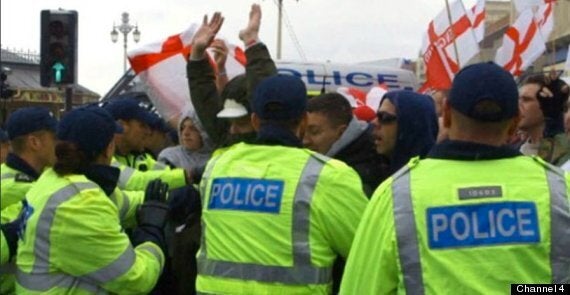 The documentary showed scenes of "strong racist views" and outraged many viewers
The one-hour film showed the leaders and supporters of groups such as the South East Alliance and the South London Infidels – who openly revealed their Islamophobia on camera.
The broadcaster warned that the programme would contain "very strong language and strong racist views that will offend some viewers". It recommended the show for over 18 viewers only.
Why would channel 4 show #angrywhiteandproud ? I haven't seen it and only just found out about it. But how can this help eliminate racism?

— Daz Housego (@Daz_Housego) January 15, 2015
Hearing about #angrywhiteandproud.. It's just sad, tbh.. Channel 4 is a disgrace, no such thing as bad publicity as far as they're concerned

— Amanda Emm (@Mandie_Mayniac) January 15, 2015
Channel 4 said in response: "This observational documentary is a true reflection of the film-makers' experience which does not condone or glamorise violence or the opinions expressed by the far-right groups - but holds them up for scrutiny and examination.
"The director clearly challenges the views of those interviewed and the film raises legitimate and timely questions about national and international political, religious and ideological clashes."
It found that the apparent increase in the number of far-right groups like Britain First, British Voice, British Unity and the British Democratic Party is reflective of weak organisations which are splitting into ever smaller pieces.
The British National Party and English Defense League are thought to be in decline, as well as Britain First known for its Islamaphobic views.