Winds racing at 100mph and heavy snow has brought misery to travelling Britons, with some drivers stranded overnight following the closure of a major road.
The high winds left hundreds of homes without power, and triggered disruption on the railways with trees and flooding blocking the tracks.
The Environment Agency issued 149 flood alerts and 32 flood warnings across England and Wales this morning, while 21 flood warnings and seven flood alerts were in place north of the border.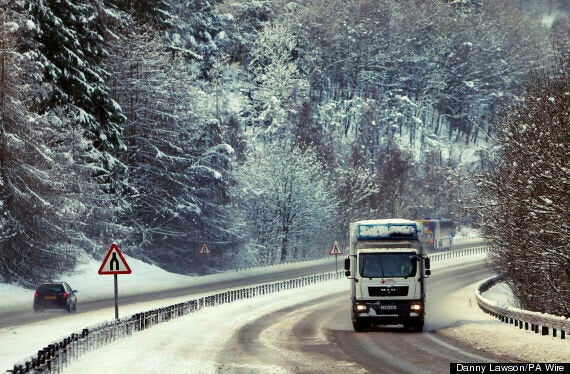 Vehicles on the A9 near Dunkeld in Scotland
In Scotland drivers were left stranded after the snow gates were closed from Blair Atholl to Ralia on the A9 at around 9pm on Wednesday night, with the traffic beginning to move again by convoy at around 10am on Thursday.
One of those stranded on the A9 was Jamie Duncan, who got stuck at 9.30pm and spent the night parked just outside Blair Atholl with a friend as he was trying to get to Inverness to celebrate his 20th birthday.
He told BBC Radio Scotland: "We're in a lay-by and there are a lot of lorries in front of me and vans. We're stuck in a lay-by just hoping for the best.
"I haven't had any food all night. I've got water from my windscreen washer but we haven't used that.
"We've got nothing but our jackets, so we turn the car on every so often to heat up a little bit and keep us warm."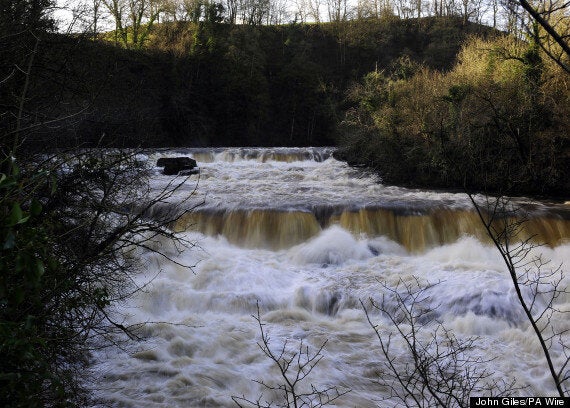 Overflowing rivers in the Yorkshire Dales
Police Scotland could not say how many vehicles were stuck, but said they had been working through the night with partner agencies including road maintenance company Bear Scotland to ensure the safety of motorists on the A9 following heavy snowfall.
Chief Inspector Louise Blakelock said: "Police Scotland is working with Bear Scotland and other partners to clear and reopen the A9 as soon as possible.
"Police officers have been in attendance on the A9 overnight to ensure the safety and welfare of motorists and Bear Scotland has been working overnight to clear the roads. The conditions have been extremely difficult and agencies are working to clear the route as safely and quickly as possible.
"It was necessary to close the road due to the extreme weather conditions to ensure the safety of motorists and also allow the workforce to safely clear the route."
The Met Office reported winds of 101mph in Great Dunsell, Cumbria - the highest across the UK yesterday - while other exposed areas also recorded speeds well in excess of 70mph. Damage caused to derelict pub, The Huntsman in the Harborne area of Birmingham, by high winds overnight
In Wales, around 750 homes have been left without power due to strong winds.
The gale-force winds and heavy rain come during a week of severe weather in the principality, which has included snow, giant hailstones and a tornado which hit Haverfordwest. Two people were taken to hospital after the whirlwind ripped roof sections off six homes.
On the railways a train struck debris from a landslip near Dunning in Perthshire at around 11pm yesterday. No-one was injured.
No ScotRail daytime trains were running between Perth and Inverness due to heavy overnight snow. Lorries queued in operation stack on the M20 near Ashford, Kent, as bad weather continues to delay ferry crossings across The Channel
There will be no trains on the Helensburgh to Dumbarton Central route, the Kilwinning to Largs/Ardrossan service, the Kyle to Dingwall line or the Glasgow to Fort William/Mallaig/Oban route until around 6pm to allow Network Rail to check infrastructure.
In the Highlands 15 schools and nurseries were shut due to bad weather, while the Corran Ferry was not operating due to high winds.
Among the rail passengers held up by trees on the line today were those in the West Malling area of Kent who were travelling in the morning rush-hour on Southeastern services between Ashford International and London Victoria/London Blackfriars.
Trees on the line also affected services at Gravesend in Kent, between Uckfield in Sussex and Oxted in Surrey, and between Paddock Wood and Maidstone West in Kent.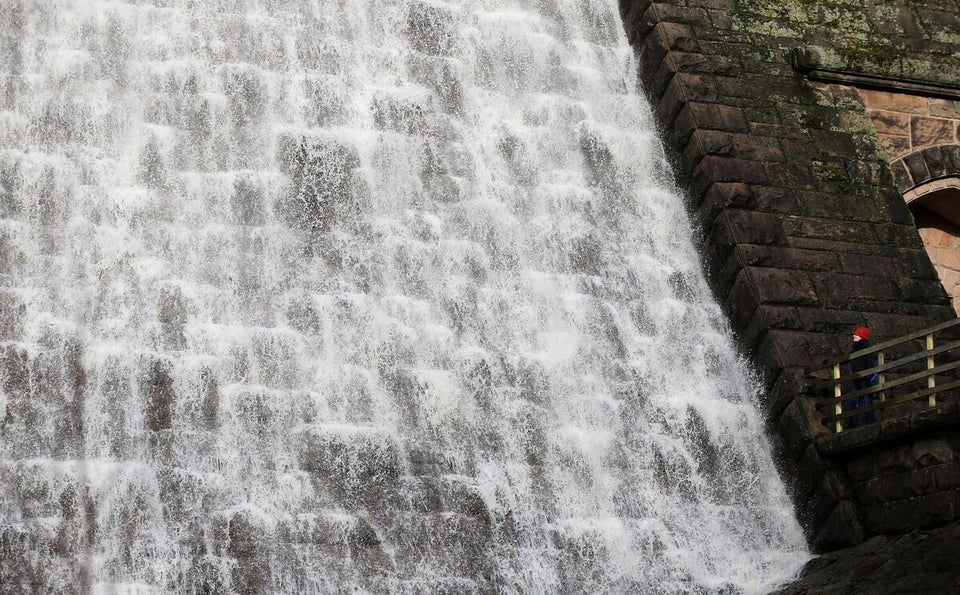 Snow, floods and 100mph winds
In the Midlands, high winds blew debris off the derelict Huntsman pub in Harborne High Street and into the road, prompting rush-hour diversions.
Kent Police warned that they had implemented an emergency measure to back up freight traffic along the M20 near Dover in anticipation of severe weather and reduced capacity at the port as a result.
Officials said cross-Channel sailings were subject to delays because of the weather conditions.
Mark Wilson, forecaster with the Met Office, said: "It was a very windy night across much of the UK.
"Most of the bad weather will be in the next 24 hours.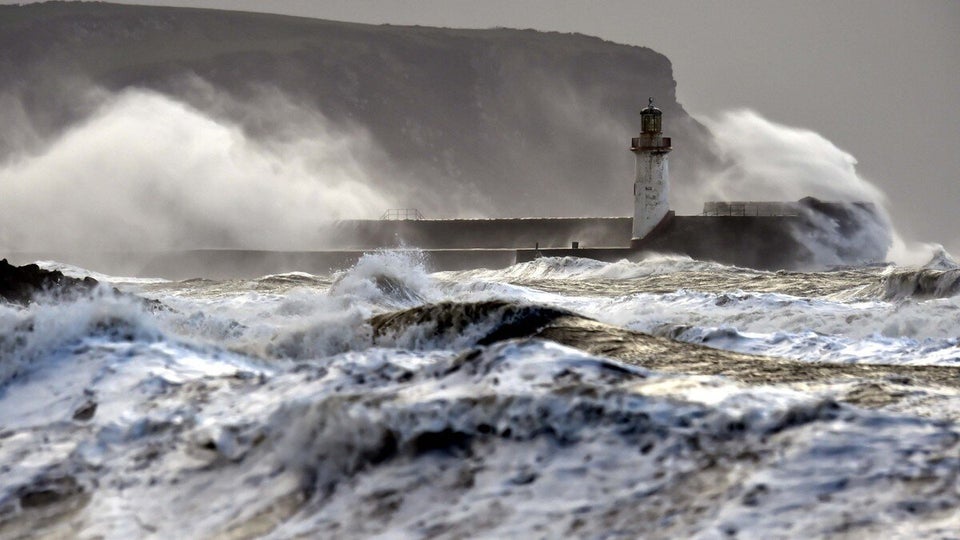 UK weatherbomb
"There will be gusts of 70-80mph in exposed areas and high ground. Those are very strong winds and people should be aware of the winds when out walking.
"It is not exceptional for exposed areas at this time of year, but it is still very windy and there will be possible disruption to transport and power supplies."
The latest weather blast follows fierce storms which left 120,000 properties without power in Scotland last week.
Cars were stuck and lorries jack-knifed on icy routes as snow, sleet and high winds swept the country yesterday.
Commenting on the situation on the A9 today, a Bear Scotland spokesman said: "Our team of eight winter vehicles, including three fast-track tractors, worked around the clock to clear the A9 and this morning helped to mobilise 20 HGVs that had difficulties due to the adverse weather overnight.
"Some vehicles decided to queue to wait for the A9 to reopen once cleared."
Traffic Scotland operator manager Stein Connelly said: "There have been some challenging conditions on some of the higher routes overnight and into this morning but the situation is improving.
"In winter weather we urge everyone to check their route before they set off on their journeys. They should follow police advice and make sure their vehicles are well-maintained.
"All of the latest information they need is available on the Traffic Scotland website and Twitter feed.
"If there is any disruption on trains or ferries, passengers should contact their transport operators or look at their websites for the latest."
In Glasgow part of Bath Street in the city centre was closed after metal sheeting fell from the roof of Marks Hotel.
The road has been shut between Hope Street and Wellington Street and diversions are in place.
Hairdresser Taylor Ferguson, whose salon is on Bath Street, tweeted: "Full-on stormyweather drama on Bath Street after big chunks of roof from Marks Hotel - next door to salon - blew off onto street.
"I was just out on street 5 minutes earlier. Fortunately no-one hit. Police cordoned off part of the street for safety."
In Edinburgh, part of Potterrow was cordoned off after cladding on the roof of a building came loose in high winds.
The fire service was called out to deal with the incident at around 12.30pm.