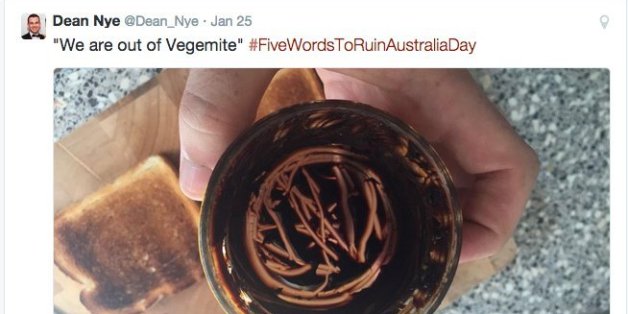 Twitter
From the typical:
#FiveWordsToRuinAustraliaDay "Unfortunately, we're out of beer."

— Joe Catron (@jncatron) January 26, 2015
To the topical:
#FiveWordsToRuinAustraliaDay Prince Phillip Gets A Knighthood

— Andrew Rollason (@rollo75) January 26, 2015
The Twitter hashtag #FiveWordsToRuinAustraliaDay is bringing much merriment today, the greatest of all Australian days (apart from that time Donald Bradman scored 334 not out in the 1930 Ashes, and Scott and Charlene married on 'Neighbours').
Yes, far from ruining it, this hashtag has only enhanced Australia Day. Here were some of our favourite, funny tweets. Happy Australia Day, everyone! Especially Australians.
Rupert Murdoch Is Coming Home

— Timothy Thelen (@timmthelen) January 26, 2015
Abbott is still Prime Minister #FiveWordsToRuinAustraliaDay

— me and my two cents (@mytwocentsandme) January 26, 2015
The cricket has been abandoned. #FiveWordsToRuinAustraliaDay

— Sir Michael of GWS (@tealfooty) January 26, 2015
Any Aboriginal massacres happen here? #FiveWordsToRuinAustraliaDay

— Richard Watts (@richardthewatts) January 25, 2015
Let's sing the second verse.

#FiveWordsToRuinAustraliaDay #singthe2ndverse

— Vanessa (@VanessaJDodd) January 25, 2015
"The BBQ gas ran out" #FiveWordsToRuinAustraliaDay

— Mark Di Stefano (@MarkDiStef) January 25, 2015
"I've had a blow out" #FiveWordsToRuinAustraliaDay pic.twitter.com/yLRWSE0uqW

— Tj (@Tj__Edwards) January 25, 2015
#FiveWordsToRuinAustraliaDay "Crikey! Is that a shark?"

— Joe Catron (@jncatron) January 26, 2015
Foster's went out of business

— Timothy Thelen (@timmthelen) January 26, 2015
Nobody brought ANY tomato sauce? #FiveWordsToRuinAustraliaDay

— Dan and Maz (@DanAndMaz) January 26, 2015
Tim Cahill just got injured #FiveWordsToRuinAustraliaDay

— Beau Ryan (@therealbeauryan) January 25, 2015
"Let's talk about settler-colonialism." #FiveWordsToRuinAustraliaDay

— Aamer Rahman (@aamer_rahman) January 25, 2015
Where are you *actually* from? #FiveWordsToRuinAustraliaDay

— Senthorun Raj (@senthorun) January 25, 2015
Is there a vegetarian option? #FiveWordsToRuinAustraliaDay

— Dean Nye (@Dean_Nye) January 25, 2015
That opera house looks weird.

— Mutt Pritchett (@Ti_FusedCynic) January 26, 2015
We've only got light beer

January 25, 2015
Can you come into work?

January 26, 2015
You speak such good English #FiveWordsToRuinAustraliaDay

— Jeremy Fernandez (@JezNews) January 25, 2015
"We are out of Vegemite" #FiveWordsToRuinAustraliaDay pic.twitter.com/bOEv7dUhDW

— Dean Nye (@Dean_Nye) January 25, 2015