UPDATE: In the 24 hours after this article was published, the amount raised went from £13,000 to over £29,000 as more than 300 people came forward to give money.
A campaign has been launched to "celebrate, not vilify" the contribution of immigrants to Britain, as the Tories and Labour pledge to cut the number of newcomers to the UK ahead of May's general election.
The Movement Against Xenophobia (MAX) wants to raise £44,000 to create posters promoting individual immigrants with the words 'I am an immigrant', and display them on the London Underground and railway stations across the country, in a bid to fight what they see as an increasingly anti-immigration tone in British politics.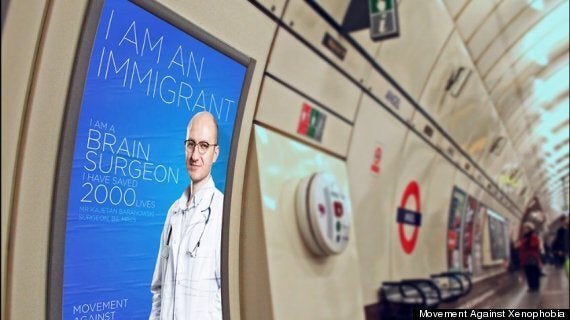 A mock-up of what the posters will look like
Immigration continues to play a huge part in campaigning for the general election, in what has been called "an arms race" leading to the parties' policies and pledges becoming more hardline.
David Cameron has said Britain would be a "better, stronger country" if he improbably succeeds in his pledge to cut net annual migration to the tens of thousands. In the same radio interview, he said the Tories had "put forward the toughest possible welfare reforms for foreign migrants".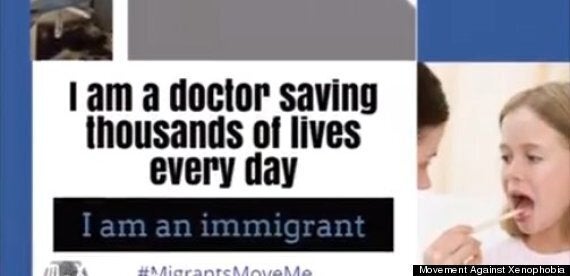 A still from the campaign's video
Net migration currently stands at around 260,000 and Labour says the Tories have "let people down" by failing to cut it by more. The party has pledged "tough" reforms of its own.
The Joint Council for the Welfare of Immigrants (JCWI), which provides MAX with its secretariat, said it expected rhetoric about immigration to "only get worse" as the election approaches and said its poster campaign would show migrants "not only contribute but are part of the fabric of British society and a vital part of multicultural Britain".
Saira Grant, its legal and policy director, said placing the posters on the tube and rail network could mean they were seen by more than 7 million people.
In a promotional video to accompany the campaign launch, she says: "Imagine the impact of these posters, for two to three weeks before the general election, showing the contribution migrants make to everyday life, from cleaners, teachers, tube drivers to footballers.
"Migrants are part of the fabric of British society and this campaign will really change the political rhetoric, the negative imagery."
She adds: "Migrants do more than contribute, they're part of the fabric of British society and we need to depict this."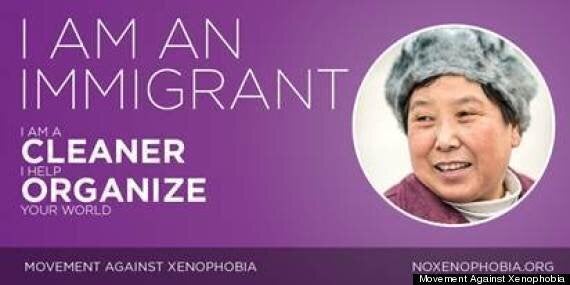 Another mock-up of a poster
JCWI chief executive Habib Rahman told HuffPost UK: "Despite generations of immigrants and refugees enormous positive contribution to our society for too long immigrants and refugees have been depicted negatively by irresponsible media and by anti-immigration populist politicians.
"In the run up to the general election we want to challenge this racist rhetoric. Migrants don't just contribute but are a vital part of our society.
"This campaign is resonating with ordinary people well beyond the already effective anti-racist and anti-fascist campaigns."
The campaign aims to feature 15 immigrants. The posters will give their name, occupation and give a brief description of their work since coming to Britain.
The campaign will not run if it does not raise the money by February 24. At the time of writing, more than 200 people have pledged £13,000.
Related