Channel 4's mockumentary showing a dismal Britain governed by Ukip has been accused of being "too biased" and "disgraceful propaganda" - even by people who aren't Ukip supporters.
Ukip: The First 100 Days drew over 700 complains after creating a vision of a country torn apart by immigration raids, protests and job losses following a British exit from the EU with Nigel Farage as prime minister.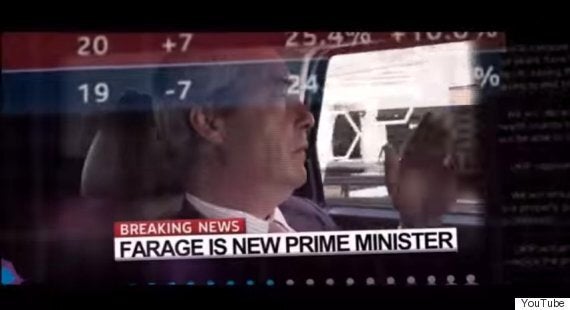 Farage became prime minister in the fictionalised programme
Media watchdog Ofcom received nearly twenty complaints claiming the documentary-style drama was politically biased before it was even shown on TV.
"We will assess these complaints before deciding whether to investigate," an Ofcom spokesman said.
Despite saying he "hated" the party, comedian Jason Manford was just one person who claimed the programme had failed for its blatant bias:
Many viewers - Ukip fans and otherwise - also weren't convinced, saying it seemed to be a veiled attack that was too one-sided.
One Ukip supporter was so outraged that he made a YouTube video venting his anger, saying "how dare you Channel 4".
[Warning: explicit language]
Others laid into what they saw as poor production values and an evidently low budget for the show. A commenter on a Digital Spy forum wrote: "I'm assuming this looks so budget because Channel 4 have saved the money for the lawyers they're going to need to hire from Ukip supporters."
The Daily Telegraph reviewed it as "fatally flawed" and The Huffington Post's entertainment editor Caroline Frost wrote:
Sadly, for a British audience starved of cutting political satire at a time of high stakes both at home and abroad, the only record broken by 'UKIP: The First 100 Days' was the biggest amount of controversy created with the smallest amount of money ever spent on a TV production budget.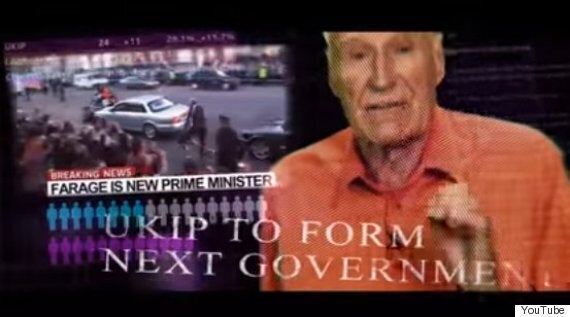 The docu-drama has been slammed for bias and poor production values
Gerard Batten, the Ukip MEP for London and election candidate for Romford where the show was set, called it "bile and vitriol from our political opponents" and called for a probe into the programme.
Asked by interviewer Duncan Barkes on LBC radio whether the watchdog Ofcom should look into complaints made about the programme, Mr Batten said: "I think they certainly should, because as I say, yes, political debate is one thing, and having a debate where people can put another point of view, or even a factual documentary about a political party. But this wasn't that.
"I'm not quite sure what you would describe it as apart from a piece of bile and vitriol from our political opponents, who don't happen to be in a political party, they're in a TV channel and don't have to go through the inconvenience of running for office.
"They can just spout their views and don't actually have to go out and defend them in elections, which we do."
Ukip leader Farage said it had "backfired" on the broadcaster.
Channel 4's head of documentaries Nick Mirsky admitted the show suggested "the ride over those first 100 days might be quite bumpy" and a source at the channel told The Guardian that "the idea that you have to be even-handed in a fictional piece is ridiculous."
The show featured actress Priyanga Burford playing the part of the party's only Asian woman MP, and predicted riots between protesters for and against tough anti-immigration raids. It featured a factory closing after the UK withdraws from the EU.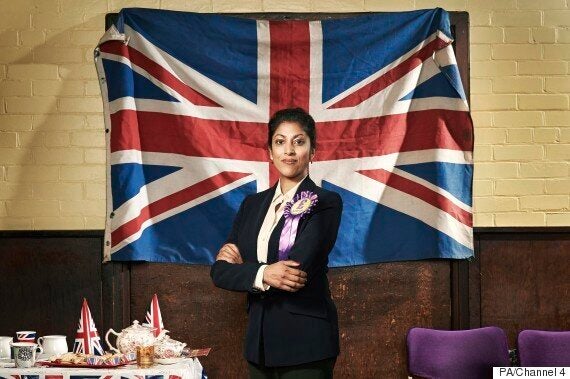 Burford's character is elected for Romford in an imagined landslide that puts Farage in Number 10 and she is left grappling with her conscience amid the raids and protests.
Mirsky said "a lot of research" went into the film and Farage had been invited to watch it before broadcast.
He said: "We did invite Farage to come and do an interview after the programme in which case he would have seen it before it went out but he declined.
"We do reflect that they say they're going to put more money in the NHS, we do reflect that they've got thoughtful, considered MPs, we do reflect various things about them but we suggest the ride over those first 100 days might be quite bumpy." A scene from the docudrama UKIP: The First 100 Days as a UKIP government would lead to riots in the streets and the loss of millions of jobs after the UK leaves the EU, according to the programme
Channel 4 insisted the programme was fully in compliance with the broadcasting code.
In a statement, it said: "This rise of Ukip's electoral support is one of the biggest political phenomena in recent years and this is reflected in The First 100 Days, which used policies and statements made by the party and its members to create a fictional future where the party is in power.
"The programme was produced in accordance with the Ofcom broadcast code and its obligations to be fair, accurate and duly impartial. The election period set out in the Ofcom broadcasting code has not started.
"Channel 4 has a role to encourage debate and engage viewers in political issues - and the schedule will include a broad range of programming in the build up to the election including news and current affairs investigations, a party leader debate and a major new political drama on the formation of the coalition government."