David Cameron may not want to remember this determined promise he made on immigration back in April 2011, and many times during the 2010 General Election.
"I believe that will mean net migration to this country will be in the order of tens of thousands each year, not the hundreds of thousands every year that we have seen over the last decade. Britain will always be open to the best and brightest from around the world and those fleeing persecution.

"But with us, our borders will be under control and immigration will be at levels our country can manage.

"No ifs. No buts.

"That's a promise we made to the British people, and it's a promise we are keeping."
Today it was confirmed that the Prime Minister failed to deliver on his pledge to slash net migration to the tens of thousands before the general election, as the last batch of official figures before May 7 revealed another surge in arrivals.
There was a net flow of 298,000 migrants to the UK in the year to September, equal to the population of a city roughly the size of Nottingham and up from 210,000 in the previous 12 months.
It was the highest level of net migration since 2005, according to the Office for National Statistics (ONS).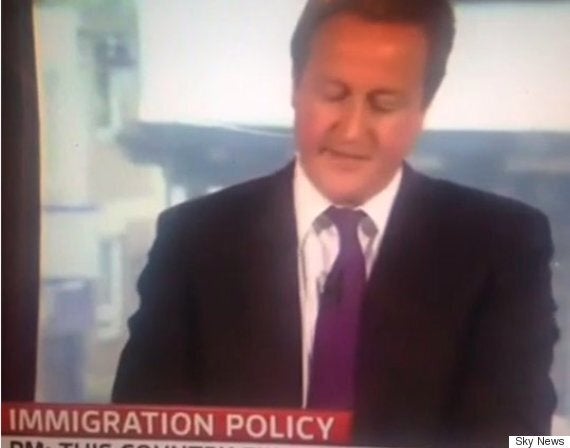 Cameron doesn't regret making the broken promise
But a Downing Street spokeswoman said Cameron didn't regret these words, saying: "The Prime Minister is disappointed with today's figures.
"He had said previously that we have not made as much progress as he would like but he had also said that he doesn't regret making this commitment because he thinks it is in the interests of our country, that we will have a better, stronger country, if we have lower net migration."
The net migration increase was driven by a "statistically significant" rise in immigrants arriving in the UK - up to 624,000 in the year to September from 530,000 in the previous 12 months. Around 327,000 people emigrated from the UK in the same period.
Today's figures are the final nail in the coffin for the promise made by David Cameron and Home Secretary Theresa May to slash net migration to below 100,000 by the end of the current parliamentary term. Today's immigration figures were "disappointing" Cameron said
Deputy Prime Minister Nick Clegg said the Tories would have to "suffer the embarrassment of having ... failed spectacularly to deliver".
"I said to David Cameron he shouldn't make the commitment because it was inevitable he was going to break it because you can't control the net figure," he said on his weekly LBC radio phone-in.
Immigration and security minister James Brokenshire said: "Uncontrolled, mass immigration makes it difficult to maintain social cohesion, puts pressure on public services and can force down wages.
"That's why this Government is working to reduce net migration - and why today's figures are clearly so disappointing.
"As we have said for some time, we have been blown off course by net migration from within the EU, which has more than doubled since 2010.
"That's why we need to continue to crack down on the abuse of EU free movement and continue our reforms to make our welfare system fairer and less open to abuse. We have scrapped housing benefit for EU jobseekers, have limited benefits claims for EU migrants with no prospect of a job - and the Prime Minister has set out our plans for further reform.
Popular in the Community