The Tories and Labour might have to form a grand coalition after the general election to ensure the "continuing unity of the UK" by keeping the SNP out of Westminster, a former chairman of the Conservative Party has suggested.
Lord Baker of Dorking, who is also a former education secretary and home secretary, said such an agreement could avoid the "nightmare" of a minority Labour administration depending on the Scottish nationalists.
He conceded that a deal between David Cameron and Ed Miliband was "quite unthinkable" at the moment, but pointed out that in Germany Angela Merkel's Christian Democrats governed with the Social Democrats.
The prospect was shot down by Mark Ferguson, editor of blog LabourList, called it "the worst idea for the Labour Party since Ramsay McDonald".
Lord Baker, who was party chairman from 1989 to 1990, wrote: "What is at risk is the continuing unity of the United Kingdom. In order to preserve that unity another way should be found.
"This could be a joint government of the Labour and Conservative parties: quite unthinkable at the moment, and at this time likely to be rejected by both of them - but this is what has happened in Germany."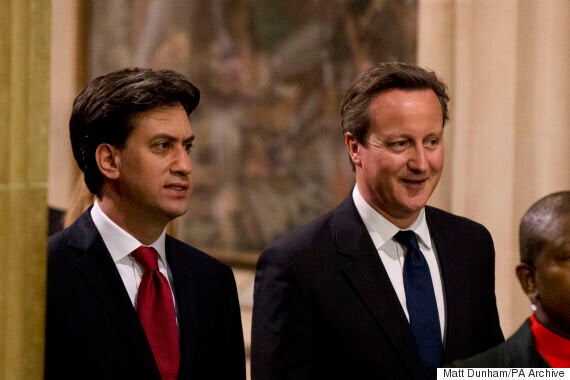 Would they be Camiband Or Mileron?
He added: "It would be possible for this government to find areas of agreement - defence, counter-terrorism, infrastructure investment in schools, road, rail and in the reform of skills training and energy. The more controversial manifesto promises would have to be foregone but not abandoned; David Cameron may have to wait until 2018 for the European referendum and Ed Milliband for 2018 for the Mansion Tax.
"But this government's main purpose should be to establish a Constitutional Convention - covering not just Scotland but Wales, Northern Ireland and England - with the intention of preserving the United Kingdom and ensuring that devolution, which is the order of the day, is achieved in an orderly, fair, consistent and coherent way.
"It must not come about through a series of patchwork measures driven by just one part of the UK, the consequences of which have not been thought through."
Lord Baker's intervention follows a warning from former prime minister Sir John Major that the SNP would enter any deal with Labour with the "overriding aim" of "prising apart" the union.
In a sign of the influence the SNP hopes to wield after May 7, former first minister Alex Salmond has claimed Scotland will be able to "call the tune" at Westminster.
Mr Salmond, who is standing for the Gordon constituency in May, believes a large group of SNP MPs will lead to "progress for Scotland".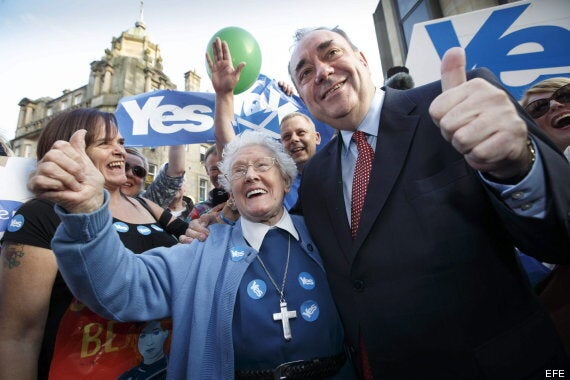 Alex Salmond during the referendum campaign
Speaking after Ms Stuart first suggested a "grand coalition", SNP Westminster Leader Angus Robertson said: "Labour spent two and a half years working hand-in-glove with the Tories in the No campaign, so it's no surprise that so many Tories feel so at home with Ed Miliband's party.
"This follows Labour Lords and MPs backing working with the Tories, which only adds to the reasons why far more people in Scotland trust the SNP rather than Labour to keep the Tories out of government.
"Communities across Scotland are already hurting thanks to the austerity agenda of this Government - and another five years of cuts would have a devastating impact.
"This is exactly why the SNP - unlike senior Labour figures - has been clear that under no circumstances would we prop up a Tory government.
"The General Election in May is a huge opportunity for Scotland to have power at Westminster by electing a strong team of SNP MPs who will always work in Scotland's interests."