Sweden's Foreign Minister says she has been blocked from speaking at an Arab League meeting by Saudi Arabia.
Margot Wallstrom was invited to address the meeting in Cairo on Monday but told Sweden's public radio her speech was cancelled because of protests.
She said: "They have reacted strongly to what we have said about democracy and human rights."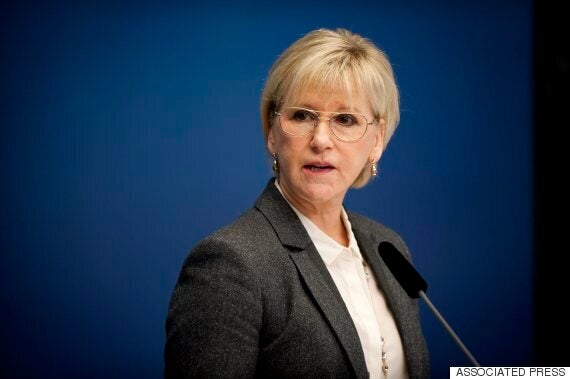 Swedish Foreign Minister Margot Wallstrom says she was blocked from delivering her speech at an Arab League meeting
Her spokesman told Reuters: "Last night we were told that Saudi Arabia had blocked Margot's participation. The only explanation we've got is that this is because of the statements the Swedish government has made regarding human rights in Saudi Arabia."
She tweeted: "Blogger Raif Badawi was flogged today in Saudi Arabia. This cruel attempt to silence modern forms of expression has to be stopped."
She has also criticised the women's rights situation in the deeply conservative kingdom.
Wallstrom told Swedish Radio in Cairo she was disappointed that her speech was canceled and that "it has also put the Arab League in a difficult situation since it means that a country can block an event of this kind."
Sweden's Social Democrat-led government has formally decided to recognise a Palestinian state and hopes to raise its international profile by emphasising human rights and a feminist approach to foreign policy, Yahoo writes.
There has been no official comment from the Saudi Arabian government.
Reaction to the news Wallstrom would not be able to deliver her speech was met with extreme skepticism.
Laura Wells asked: "What could be more dangerous that a woman talking about human rights?"
Saleem Javed wrote: "Forcing Swedish Foreign Minister to stop her address to Arab League proved that Saudi Arabia has begun bullying the West."
Saudi Arabia's poor record for human rights and women's rights has long been in the global spotlight, particularly since the death of King Abdullah.
The Gulf kingdom imposes a strict interpretation of Islamic law, forbidding women to work or travel without the authorisation of their male guardians.
A woman cannot obtain an identification card without the consent of her male guardian and floggings and death sentences are commonplace.
In November 2012 it emerged women were being electronically monitored with authorities using SMS to track them and inform their husbands of their whereabouts.
It was only in 2011 that women were given the right to vote and run for office in municipal elections in 2015.
Popular in the Community