Weeks before she gives birth to a potential future British monarch, Kate Middleton went to an art gallery to stare at a man on the floor with one shoe. 'Oh please, don't get up'
During a visit to the Turner Contemporary gallery in Margate, Kent, the Duchess of Cambridge saw the life-size cast of a prone man sprawled on the floor called "Self portrait as a drowned man" by Jeremy Millar.
The gallery opened in 2011 to celebrate the seaside town's links to landscape painter JMW Turner.
The exhibits Kate viewed were part of the "Self: Image and Identity" exhibition, which includes the last self-portrait by Sir Anthony Van Dyck. There was also a sculpture called "Scarecrow," which looked like this: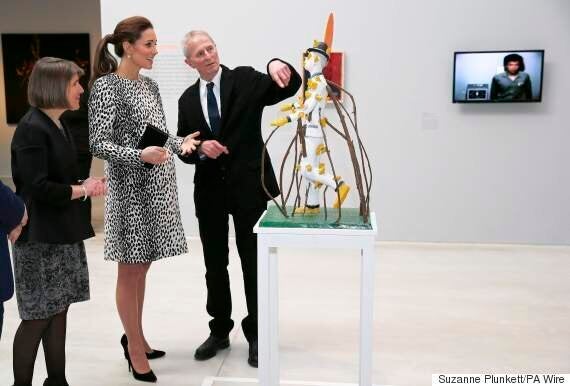 If the drowned man proved too post-modern for her, she also looked at a photograph of a naked Tracey Emin kneeling on a wooden floor and a piece by Gilbert and George, featuring the pair in a naked full frontal pose, called In the Piss, from 1997.
Mercifully, it was back to more standard public engagement duties afterwards, when Kate met primary school children in the gallery's Clore Learning Studio, sitting on children's sized chairs while chatting to them.