Katie Hopkins has spoken out about the on-going Jeremy Clarkson debacle, and her latest comments on the 'Top Gear' star are nothing short of ridiculous.
READ MORE:
In her quest to say the most outrageous thing possible, Katie is labelling the BBC's decision to suspend him as "a little bit like hanging the Queen". Yes, really.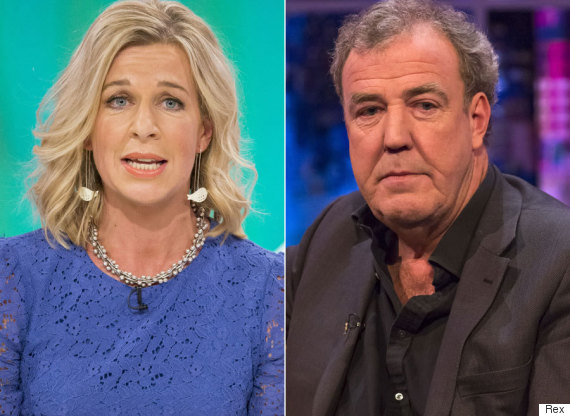 Katie Hopkins and Jeremy Clarkson
Writing in her The Sun column, Katie then takes aim at the Beeb, adding: "The nation watches in horror, the culprits look like utter gits and Britain loses a national treasure. I am sick of the BBC lauding it about, made fat and rich on the taxes of hard workers, paying themselves huge salaries to have meetings about digital platforms and online content.
"Who cares about online content? People like cars," she continues. "Jeremy likes cars. Let Jeremy do what he does best and talk to people about cars."
Katie previously tweeted about the matter, blasting Jeremy's suspension as "lefty lunacy".
A number of TV fans agree with Katie, and by Friday morning, the Bring Back Clarkson online petition had over 830,000 signatures.
Since Jeremy's suspension was announced on Tuesday evening, a number of details about the "fracas" have emerged, and the latest reports suggest Jeremy called BBC bosses to report the incident himself.
It's believed that the row between Jeremy and one of the 'Top Gear' producers developed when the requested catering wasn't provided after a busy day of filming.
SEE ALSO :
Reports state that the Yorkshire hotel playing host to the crew made the grave mistake of serving cold meat platters when Jeremy had requested steak.
This isn't the first time Jeremy's found himself at the centre of a large controversy. Check out his other most-talked about moments below…
LIKE US ON FACEBOOK | FOLLOW US ON TWITTER