The Lib Dems will be judged "very kindly" for going into a coalition with the Tories, Nick Clegg has said, as the party faces suffering huge losses in the general election over it.
Clegg also unveiled a new policy of "rent-to-own" homes, a bid to help thousands of first-time buyers, who cannot afford to save for a deposit on a home, get on the property ladder.
"I think the history books will judge us very kindly," Clegg told The Evening Standard. "And I also happen to think the voters will judge us kindly on May 7 because we did the right thing for the country."
He added: "I think we will massively surprise people."
Clegg has already bet pints of beer that his party will have more than Ukip after the election, after a Kipper candidate phoned his LBC radio show to taunt him and say the Lib Dems would "fade into obscurity" after the election.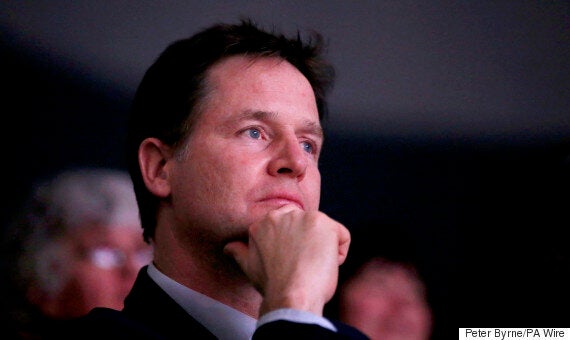 Nick Clegg at the party's 2015 spring conference in Liverpool - potentially his last as leader
"I will bet you several pints that we will have many, many, many, many, many, many more MPs than your party after May 7," he told the caller. "I can close to guarantee your party is going to be a little pipsqueak party after May 7."
The Liberal Democrats are promising to help thousands of first-time buyers take the first step on to the property ladder through the provision of "rent-to-own" homes if they are in government after the general election in May.
Speaking ahead of the party's spring conference, which began on Friday, Clegg said the "rent to buy" scheme would help young people in England currently priced out of the housing market to build up a share in their home through monthly payments equivalent to rent without the need to save for a large deposit.
Under the plan, occupants would eventually gain full ownership of the property after 30 years, with an option to cash-in their share at any time which they could use as a deposit for a home on the open market.
The Lib Dems said that in government, they would aim to deliver 30,000 rent-to-own homes over the course of the next parliament in partnership with the housing association other organisations.
"For working young people the dream of home-ownership is increasingly out of reach," Clegg said.
"Prices are so high renters cannot afford to save for a deposit, which means they can never take that first step onto the housing ladder.
"Young people deserve better. Rent-to-own will mean, regardless of their background and family circumstance, they will be able to make this a dream a reality.
"This is about building a stronger economy and fairer society, and making sure 'generation rent' has the same opportunity to get on in life as their parents and grandparents before them."
He told The Standard: "To aspire to own your own home … gosh, I mean Miriam and I have been through the emotional excitement of having kids, finding a home. There's no greater sense of belonging to a family than doing that."