• Germanwings Airbus A320 crashed in southern French Alps
• All 144 passengers and six crew feared dead
• Confusion over distress call
• Flight suddenly descended 32,000ft before crash
• 45 Spanish and 67 Germans on board including two babies
• 16 students and two teachers on German school exchange
• One black box recorder has been found
• 24-year-old plane was nearing end of commercial life
• Germanwings and parent company Lufthansa set up crisis hotline
The Germanwings plane that went down in the south of the French Alps endured a terrifying eight-minute descent before crashing, it has been revealed.
All 150 people on board, including two babies, are thought to have been killed when the Airbus A320 suddenly plummeted near Digne on a flight from Barcelona to Dusseldorf on Tuesday morning.
French prime minister Manuel Valls said a helicopter had managed to land near the crash site and had found no survivors.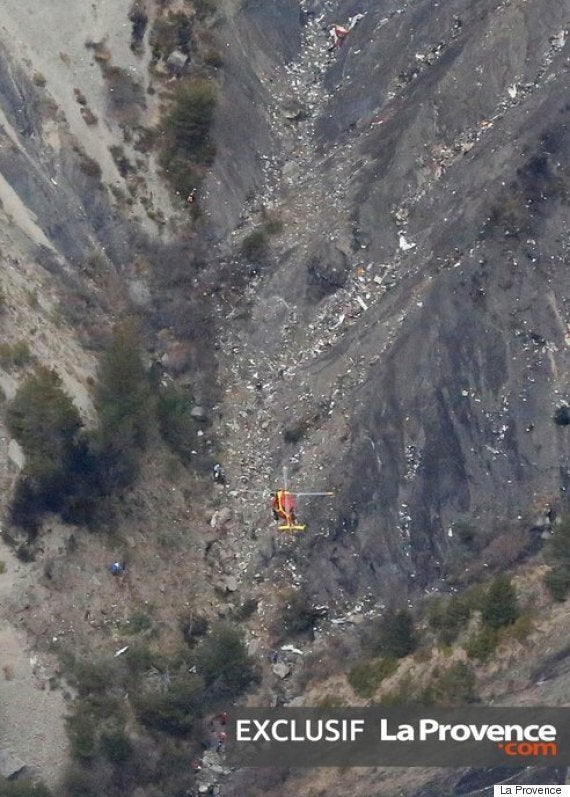 First pictures from the scene of the crash in the French Alps via La Provence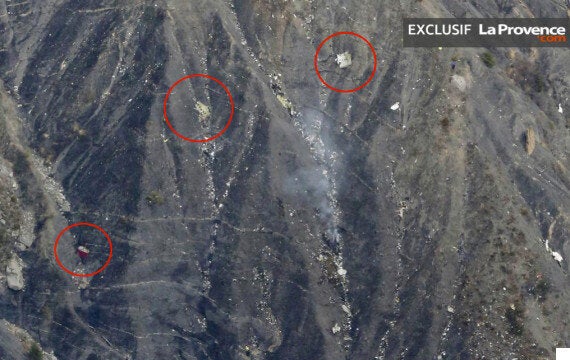 Debris is scattered across the mountain range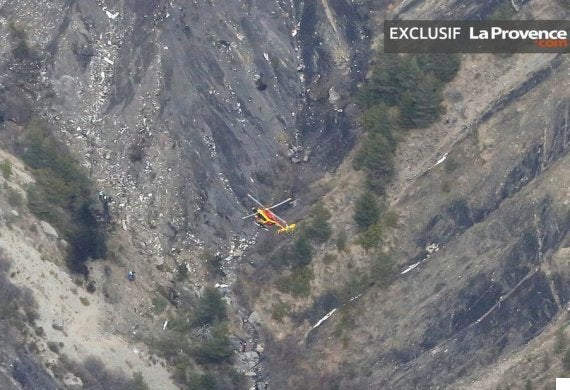 No one is believed to have survived
Germanwings chief executive Thomas Winkelmann said the aircraft descended 32,000ft shortly after it reached its cruising height of 38,000ft, having taken off from Barcelona at about 10am local time.
This descent lasted eight minutes, he told reporters in Cologne. Radar and air traffic control contact broke off at 10.53am.
He said the captain on board was experienced, had been with the airline and with Germanwings' parent company Lufthansa for more than 10 years and had clocked up 6,000 flying hours on this particular Airbus model.
Winkelmann said the twin-engine plane had a normal service at Dusseldorf on Monday and its last major check-up had been in the summer of 2013.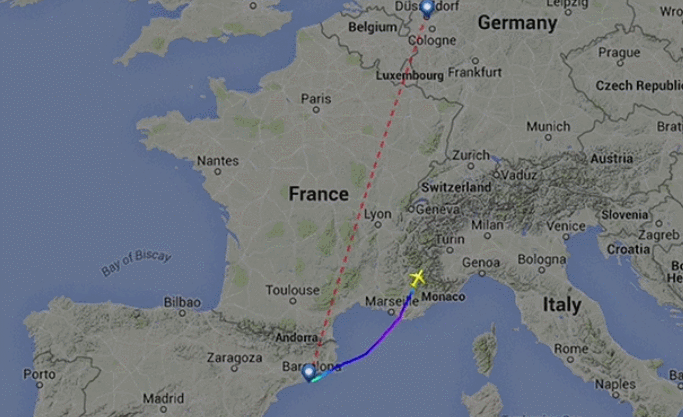 The flight path of Germanwings according to FlightRadar24
It is thought 67 of the passengers on board were Germans, while reports from Spain suggest that around 45 Spaniards may have been on the flight. There were also reports some Turks were travelling and Dutch officials said one citizen was killed.
Debris from the 24-year-old airliner has been found at around 6,500ft (1,980m) between Digne and Barcelonnette, French Interior Ministry spokesman Pierre-Henry Brandet said, adding he expected "an extremely long and extremely difficult" search and rescue operation because of the area's remoteness.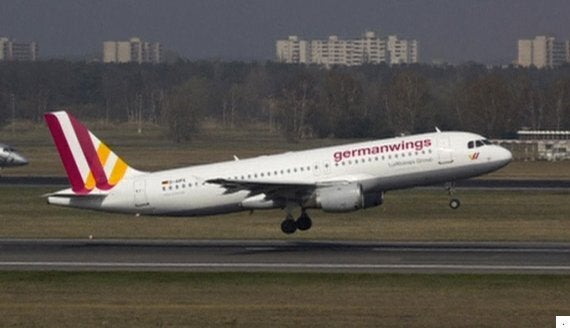 A file picture of the plane that has crashed in the French Alps
Gilbert Sauvan, an official with the local council, told Les Echos newspaper: "The plane is disintegrated. The largest debris is the size of a car."
Pierre Polizzi, the owner of a campground near the crash site, said he heard the plane making curious noises shortly before it crashed.
"At 11.30, I heard a series of loud noises in the air. There are often fighter jets flying over, so I thought it sounded just like that. I looked outside, but I couldn't see any fighter planes," he told the AP.
"The noise I heard was long - like 8 seconds - as if the plane was going more slowly than a military plane. There was another long noise after about 30 seconds."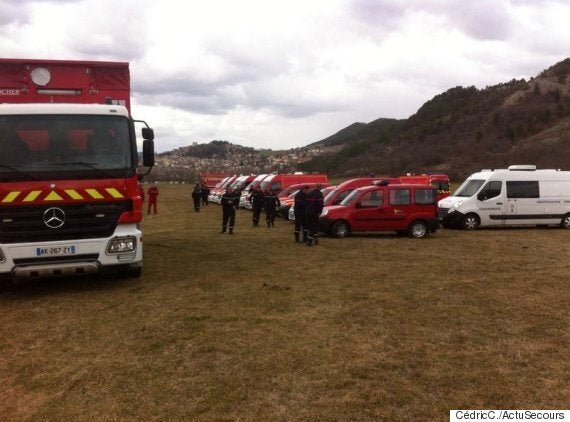 Emergency teams assembling to attend the crash site
Polizzi said the plane crashed about 5-to-8 kilometers (3-to-11 miles) from his place, which is closed for the season.
"It's going to be very difficult to get there. The mountain is snowy and very hostile," he said.
Actually orange in colour, the black box comprises the cockpit voice recorder, giving investigators insight into pilots' conversations just before the crash, and the flight data recorder which shows how the workings of the plane were operating.
"There is no indication of a nexus to terrorism at this time," said U.S. National Security Council spokeswoman Bernadette Meehan.
There are conflicting reports as to whether the single-aisle aircraft made a distress call before disappearing off radar.
France's transport minister had told the Europe 1 radio station that the Airbus A320 gave out a distress signal at a "worrying" altitude before crashing.
Alain Vidalies said: "What we know at this stage is that this plane, which was travelling on the Barcelona-Dusseldorf route, gave out a distress signal at 10.47am at a moment where it was already at a worrying altitude of 5,000ft.
"This plane then crashed near the Prads commune. It crashed in a place that is inaccessible by road.
"The overview from the helicopter simply permitted a view of the wreckage and a few bodies around the plane."
The French National Gendarmerie warned people not to approach the crash site, tweeting: "Do not attempt to approach the crash zone of the A320. Do not block major roads."
The crash occurred about 15kms (nine miles) from the town of Barcelonnette, probably in the municipality of Meolans Revel, Barcelonnette Mayor Pierre Martin-Charpenel, told HuffPost France. The area where the plane went down is near a popular ski resort.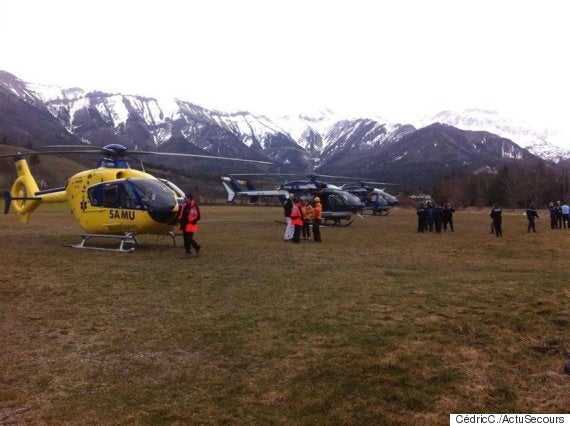 Emergency teams prepare to travel to crash site
Emergency personnel comprising 210 police officers, 240 fire fighters and a high mountain police squad with a helicopter have been mobilised. "There are peaks at 2800-2900 meters," Martin-Charpenel added.
Lufthansa and Germanwings have set up a free telephone hotline for relatives and friends of passengers on board - 0800 11 33 55 77.
"We don't yet know what's happened. Our deepest sympathies go out of the family of our passengers and crew. If our worst fears are confirmed, this is a dark day for Lufthansa and we hope to find survivors, Lufthansa chief executive Carsten Spohr said in a statement at lunchtime.
"So something catastrophic as either taken place or there has been a major emergency. If it was the second it would probably have been preceded or consistent with a radio call.
"I know one or two of your viewers will be concerned because of the recent accident in the Far East, of which we don't know the circumstances. It tends to suggest weather was a factor."
Forecaster Meteo France states the weather was "very calm" in the Alps, but the plane had however gone through an "unpredictable weather zone" in the Mediterranean.
French President Francois Hollande announced: "A counselling unit will be established to provide psychological support.
"I will discuss the incident with (Germany's) Chancellor Angela Merkel and Spanish King Philip VI, who is visiting us today. As we wait, our first feeling should be one of solidarity."
He added: "This is an air tragedy and we will try to understand the reasons and causes of the accident, and obviously we will give the concerned authorities as well as the victims support.
"This is a mourning period, because this is a tragedy that has happened on our territory. I intend to find out if there were other consequences of the accident ... and we will find out more in the hours to come."
The German Federal Bureau of Aircraft Accident Investigation is sending three people to France to join the investigation.
German foreign minister Frank-Walter Steinmeier described the crash as "terrible news" and added: "Our thoughts are with those who fear their loved ones are among the victims," he said.
Hamburg aviation expert Heinrich Großbongardt told HuffPost Germany that the plane must have had a "serious technical problem". He added: "An accident at cruising altitude is very unusual."
Airline expert Tobias Rückerl said the crash is a "disaster for Lufthansa" as the company tries to introduce a low-cost model for its flights.
He told HuffPost Germany: "The crash of a Germanwings plane leads to exactly the kind the conversations that they don't need - that low cost is not safe."
A Germanwings spokesman tweeted: "All employees of the Germanwings and Lufthansa are in deep sadness. Their thoughts and prayers are with the families and friends of the passengers and crew."
A room was opened in Barcelona's Terminal 2 to attend to relatives of those who were on the flight.
The plane that crashed was called "Mannheim" and made its first test flight in November 1990.
It was then purchased by Lufthansa and had its first commercial flight in February 1991.
Experts said the aircraft would have been nearing the end of its commercial life after more than 24 years of service.
Spain's King Philip VI and Queen Letizia officially cancelled their state visit to France after they were told about the crash by French Prime Minister Manuel Valls.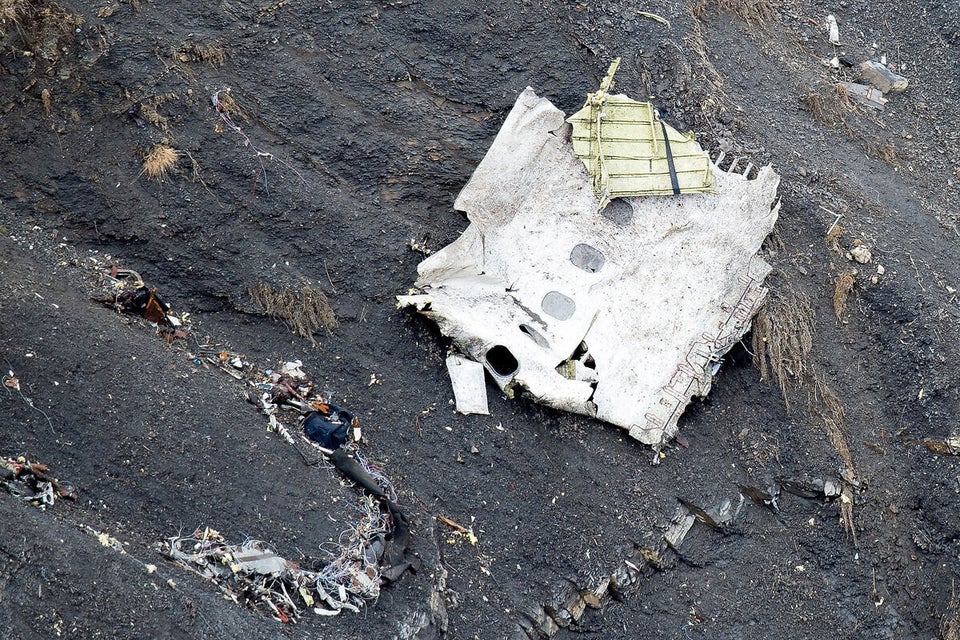 German Airbus A320 Crashes In Southern French Alps
Nick Clegg told Sky News: "All our thoughts go out to the family friends of those people onboard. This must be a traumatic time and our thoughts are with them."
David Cameron's official spokesman confirmed that the Prime Minister had been told of the crash.
"He has been informed of the tragic news of the aircraft that has been lost over southern France and he would wish to express how his thoughts are very much with the families and friends of all of those who were on board that flight," the spokesman said.
The spokesman said that the Foreign Office was making inquiries about whether any British nationals were on board, but had no information to release at this stage.
He said UK air accident investigators would offer any assistance requested by the French or German authorities.
Brendan O'Neal, chairman of British airline pilots' association Balpa, said: "The UK pilot family stands with our German colleagues in this tragic moment.
"Our first thoughts are with the loved ones of the passengers, pilots and crew."
He went on: "It is too early to say what caused a reliable aircraft with a good safety record, modern technology and an experienced crew to crash.
"A meticulous investigation will establish exactly what has happened and help pilots do everything we can to ensure it does not happen again."