"A lot of people have always asked me, how does a visually impaired person put on make-up?" the culinary extraordinaire reveals.
During filming for Masterchef, due to the number of contestants and restraints on the hair and make-up team, Hà adds that she sometimes had to do her own hair and make-up.
"A lot of those days, I would sit in the break room and put on my own make-up and my friends would watch me in awe because I don't use a mirror," she says.
In her beauty vlog, Há shows how to apply 'daily wear' make-up: "So the first thing I put on is foundation. I use a brush for this."
The 35-year-old beauty blogger says that she didn't wear foundation until she hit her thirties, but began to wear it after somebody told her that women in their thirties were more prone to redness on the skin.
Applying the compact powder foundation to her face with a brush, she says that she focuses particularly on her nose area as this is where the most redness is. "Or so I've been told," she adds.
Making the application process look like a breeze, the chef, who is originally from Texas, goes on to describe her skincare routine prior to applying foundation.
"I wash my face, use toner and of course, it's very important to wear sunblock. I wear sunblock all the time and use SPF 30," she reveals. "Also I've put primer on my face which helps keep the make-up on and even out my skin tone before I put on the foundation."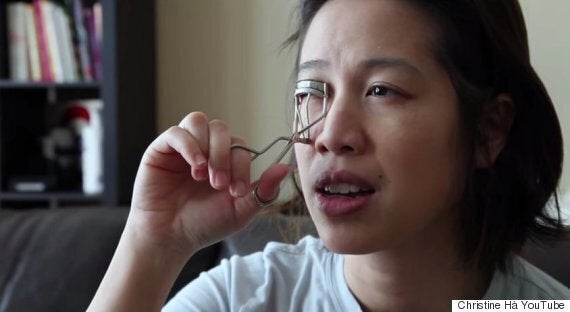 Hà then explains how she curls her lashes and applies mascara, which is certainly no mean feat - hands up if you'd sooner run a mile than put eyelash curlers anywhere near your eyeballs? Not just us then.
"A lot of people think this is scary as I can't see," she says. "But I can feel the eyelash curler so I know that I have it pressed up against my eyelid. I pump it a few times, not too hard as you don't want your eyelashes to bend."
She reveals that while applying mascara is incredible tricky, "once you know how long the wand is of the mascara you're using, you kind of know where to put your hand".
"Then you just approach your lashes very gently," she adds, while demonstrating her technique for the camera.
With blusher, Hà notes that it's incredibly important to tap the blusher brush before she puts it on her face to avoid any clown-esque moments. With lip liner, the Masterchef star applies it by feeling along the outline of her lips.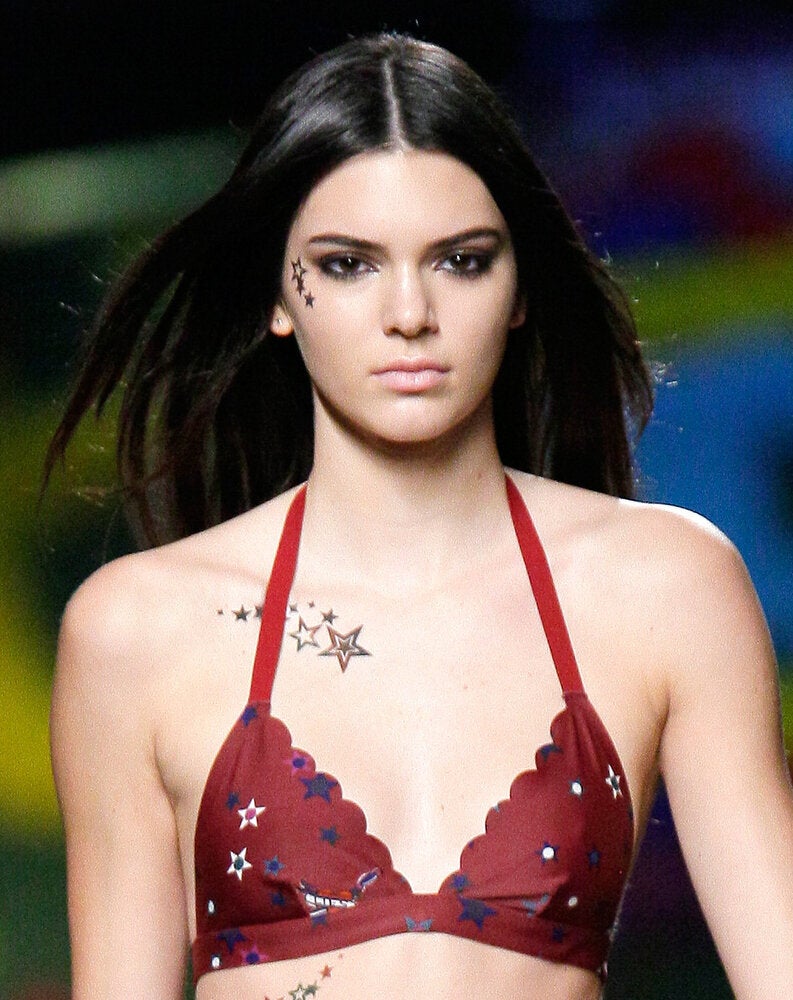 Spring Makeup Trends
Hà first began to lose her sight in 1999. Then in 2003, the unthinkable happened when she was diagnosed with autoimmune disorder, Neuromyelitis optica (NMO).
Speaking to the Daisy Consortium she revealed that it was a turbulent time in her life: "I did not accept my vision loss as gracefully as I'd had hoped. It was a difficult and challenging period in my life.
"I feared giving up my independence: no longer being able to drive, not being able to shop for my own groceries, not being able to cook, etc.
"As an adult, losing your independence is a very scary thing. I felt like a burden to family and friends."
But, she has since found a way to live with her visual impairment and uses her experiences to help others by filming tutorials and how-to videos on her YouTube channel.
We don't know about you, but we're seriously in awe of this woman. And her finished beauty look is spot on.