Britain First have retaliated against a group they accuse of harassment by aggressively harassing them.
The far-right group stormed the meeting place of Beyond Ukip and forcing them to barricade themselves in a room for fear of violence.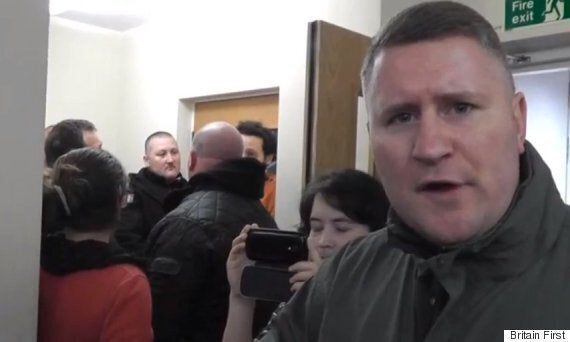 Paul Golding commentates on the confrontation as it happens
They managed to get to the meeting room, where Beyond Ukip members had to hold the door closed to deny them access.
Britain First, which appears to film and upload its every move to Facebook, published a video of the incident.
It shows the group's leader Paul Golding walk into the building with others, wearing Britain First tops. As they stand at the door and film people on the other side through the door's glass pane, someone can be heard shouting "Socialist scum."
At the height of the confrontation, Golding says: "Look at them, barricading themselves in, instead of facing the righteous anger of British Patriots. We're here tonight to give them a taste of their own medicine."
Pointing inside the room of people who have barricaded themselves in for fear of violence, he adds: "They are a bunch cowards, they are a bunch of bullies."
Towards the end of the clip, Golding tells one of the cabaret organisers: "You've overstepped the mark and you'll find us on your doorstep."
In a video recorded on the other side of the door by Beyond Ukip, they can be heard chanting "Britain First! Fighting back!" and "Left-wing bullies! Off our streets!"
"They were banging on the door and trying to barge their way into a room in which there were pregnant mothers.
"Everyone was so scared and holding back about 15 huge people saying: 'We're going to get you. We're going to get you.' Who knows what they would have done if they had got in?"
The Metropolitan Police told HuffPost UK they had arrested a 48-year-old man for common assault. He has been released on police bail until late April as an investigation continues.
A spokesman added: "Officers attended and found a group of eight to 10 men attempting to disrupt an ongoing political meeting organised and attended by members of the public.
"A 48-year old man was arrested at the scene on suspicion of common assault. He was from the group who attempted to disrupt the meeting."
He added: "There are no reported injuries."
A spokesperson for Beyond Ukip said: "[These] events make it clear that the far right in Britain see themselves as on the same side as Farage and his gang.
"It's a sad day when people cannot meet together to support the rights of the most vulnerable members of our society. We will not be intimidated and will continue to highlight the racism and bigotry coming from UKIP and their supporters."
Beyond Ukip disputes it deliberately targetted Farage with his family. The confrontation with Farage followed a "cabaret" the group staged in a pub across the road.
Glass, the cabaret organiser, claims to have received death threats since it happened. He has said: "At no point was Mr Farage approached with children in his presence."
Britain First has tried to ally itself to Ukip, telling its members to vote for the eurosceptic party, much to Ukip's embarrassment.