Two of the greatest political minds in Britain came together on Tuesday morning, when Joey Essex attended a press conference delivered by Nick Clegg to announce the Liberal Democrats' NHS manifesto.
SEE MORE:
Was the former 'The Only Way Is Essex' cast member full of questions about how the party plan to tackle budget cuts, or the threat of privatisation of the National Health Service?
Erm… no. But they did get a selfie together, which is surely the next best thing.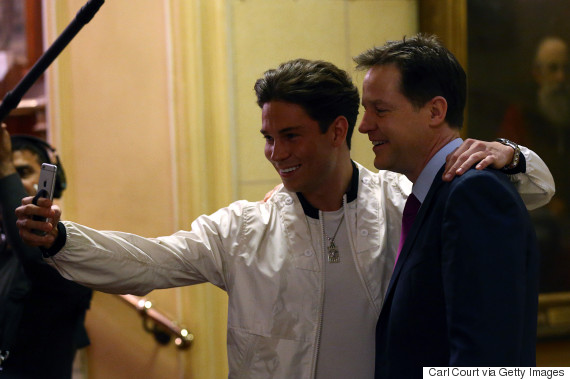 Nick Clegg and Joey Essex
He also quizzed the Lib Dem's leader about the party's "weird" name, claiming he thought it was interesting because it had the word "cats" in it.
An amused Clegg then put him right, insisting: "It's not 'cats', it's 'crats'."
Yes, everyone, Joey Essex thought our coalition government involved a party called the Liberal Democats.
Making light of the faux pas, the Lib Dems have now made what we can only pray is a temporary adjustment to their official site...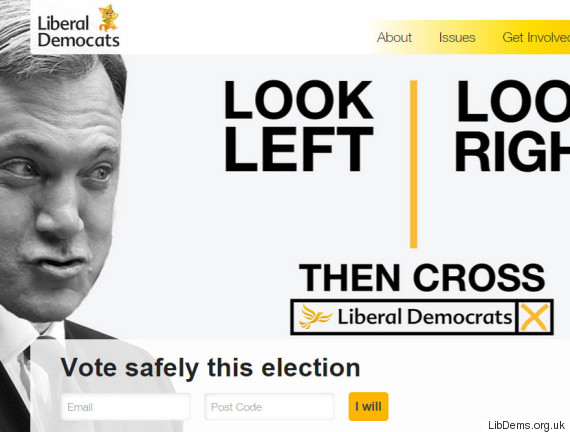 Oh dear
Presumably, Joey was in attendance as part of the upcoming election special of his ITV2 series, 'Educating Joey Essex', which is titled, 'General Election, What Are You Saying?!'
The show was confirmed last week, with reports suggesting that Joey would be sitting down for interviews with the main party leaders.
He said at the time: "I've never voted before, but I'm really excited about getting to meet some of the most important people in the country to help me make my decision.
"I reckon I'll take some pretty reem selfies too."
This isn't Joey's first time brushing shoulders with politicians, after posting a selfie with Labour leader Ed Miliband on his Twitter page back in April.
Still, we suppose it could be worse…
David Cameron and Katie Hopkins :))) pic.twitter.com/nGXBr0hqMt

— Eleanor (@toxicsugarstone) March 29, 2015
LIKE US ON FACEBOOK | FOLLOW US ON TWITTER