Beyond The Ballot is The Huffington Post UK's alternative take on the General Election, taking on the issues too awkward for Westminster. It focuses on the unanswered questions around internet freedom, mental health and housing. Election news, blogs, polls and predictions are combined with in-depth coverage of our three issues including roundtable debates, MP interviews and analysis

Labour has unveiled a 10-point plan to reclaim £7.5 billion a year lost to tax avoidance and the Tories have said they "claw back" £5 billion in the next parliament. The Lib Dems have said they've "saved billions" from tax avoiders.
Paul Johnson, director of the Institute for Fiscal Studies, said: "It's almost impossible to know up front actually what you can achieve from cracking down on avoidance and evasion."
"I've found this entire debate from all the parties really deeply depressing," he told The World This Weekend on BBC Radio Four.
"You've had the main parties ruling out whole hosts of relatively straightforward ways of increasing tax, talking about raising tax from some other group, be they the rich or the non-doms or the tax avoiders, but this is all real money and has real effects on the economy, and no sense from anybody about a serious way forward for the tax system."
Shadow chancellor Ed Balls set out his 10-point plan - including the effective abolition of the "non-dom" tax status announced earlier this week.
A Labour government would expect the Treasury and HMRC to be ready from its first day in office with a draft Finance Bill to put the changes into law, Balls said.
He warned HMRC that he would expect a report on all existing measures and processes for tackling tax avoidance and evasion, so that he could immediately review the tax authority's cultures and practices and take measures in his first Budget to give it more powers and resources.
Balls told The Observer: "[The Tories] just don't understand that when working people are paying more in tax it's a scandal that some people can get away with not paying their fair share.
"They can claim they'll raise money from tackling tax avoidance, but the amount of uncollected tax has gone up under this Government. And when push comes to shove they refuse to close the loopholes or take the tough action that will make a difference.
"It will take a Labour government to call time on this lax approach and launch an assault on tax avoidance."
Returning fire, Conservative Treasury minister David Gauke said: "Ed Miliband and Ed Balls turned a blind eye to aggressive tax avoiding and evading for 13 years when they were in charge - they were the tax avoiders' friends.
"We have taken action as part of our balanced plan to reduce the deficit - clawing back £7 billion per year in lost revenue by forcing the wealthy to pay stamp duty on property, making sure bankers pay higher tax rates than their cleaners and ensuring big global companies pay their fair share of tax. And we will go further and claw back another £5 billion in the next Parliament.
"Ed Miliband has no economic plan to secure Britain's future - and it's hard-working taxpayers who will pay the price."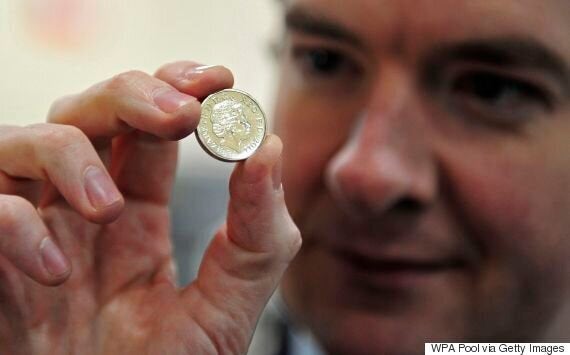 Being chancellor has taught George Osborne the best way to hold a coin
In a move that will presumably depress Johnson even further, a Lib Dem spokesman said: "Labour's record in government shows that they cannot be trusted to tackle tax avoidance.
"This is the party who went on a prawn cocktail charm offensive in the City and turned a blind eye to corporate tax avoidance for 13 years.
"Liberal Democrats in government have not only saved billions by cracking down on tax avoidance loopholes, we've made it an offence if companies fail to put in place measures to stop economic crime from happening in their organisations in the first place.
"Our record shows that the Lib Dems are the only party that can be counted on to stop tax avoidance."
Even more depressingly, there are still 25 days until polling day.
As part of The Huffington Post UK's Beyond The Ballot series we want to know what issues you think aren't getting enough attention in the election campaign. Tweet using the hashtag #BeyondTheBallot to tell us in 140 characters and we'll feature the best contributions