Wendy the dog and her owner Marc Metral might have got the thumbs up from all four 'Britain's Got Talent' judges on Saturday night's show, but not everyone was quite so impressed with the act.
The French ventriloquist has been blasted by some viewers who accused him of animal cruelty after Wendy appeared to be mime on stage, thanks to what appeared to be a mask over her snout.
Now a spokesman for the RSPCA says the charity will be contacting 'BGT' producers to ask if the dog was wearing a mask during the ventriloquist act.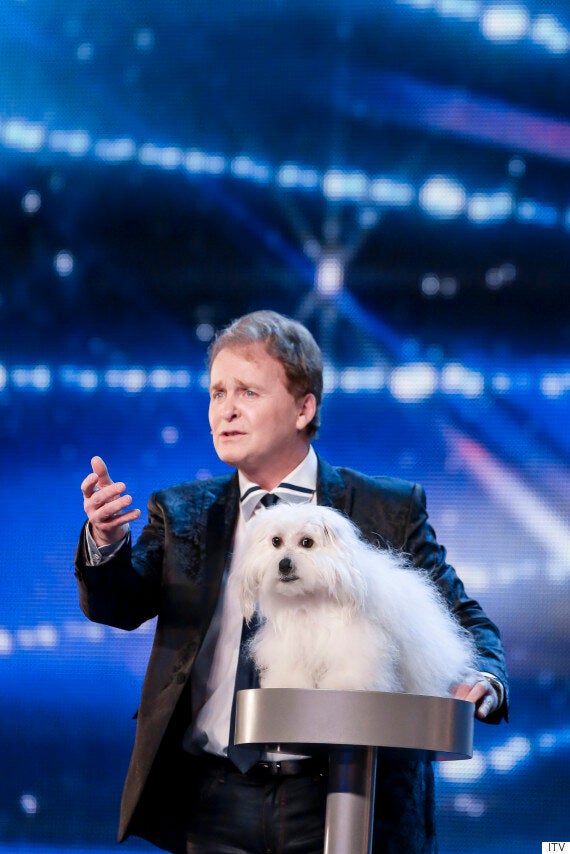 French ventriloquist and his 'talking' dog Wendy appeared on the show of the series
They said: "It is not clear if Miss Wendy was wearing any sort of muzzle or mask during the performance on Britain's Got Talent, however the RSPCA would be very concerned if it became clear that she was caused distress at any point.
"We will be contacting the show to ascertain what methods were used and how they impacted on the dog.
Despite dog-lover Simon Cowell being left open-mouthed by Wendy, some viewers took to Twitter to slam the act.
"Totally shocked at BGT putting a mask on an obviously terrified dog that's not talent should be looked into for animal abuse," one tweeted.
Another added: "I absolutely love dogs right but that singing dog on BGT is not what I'm about at all. Way too much."
"We consult at length with their owners and where necessary take third party advice.
"Marc has a huge amount of experience having worked with animals since 1980 and with Wendy for the last five years."
Simon Cowell has always dismissed criticisms of having animals of the talent show, and said: "God no, I think the opposite! I think that we show animals' personalities.
"I think they all have a great time on our show, you can actually see the dogs are wagging their tails and having the time of their life."
The first episode of the new series of 'Britain's Got Talent' got off to a flying start with an average of 10.1m viewers tuning in to the ninth series.
The ITV talent contest was still the most-watched programme of the evening, with a peak audience of over 11 million viewers.