David Cameron cares about the "poorest and most vulnerable," the people "at the bottom end." That said, should the Tories gain a majority at the general election, he will preside over a further £12 billion in welfare cuts. Speaking in an interview with the BBC on Wednesday, the prime minister said being thought of as a politicians who favours the rich makes him "more angry than anything else" and that he would "feel I have not succeeded" if he failed to secure an overall majority on May 7.
Following Tuesday's Conservative manifesto, which sought to push the party as the champion of working families, Cameron said: "This makes me more angry than almost anything else. We've taken three million of the lowest paid people out of tax. Actually it's the people at the bottom end that I care about. That's what this government has been about."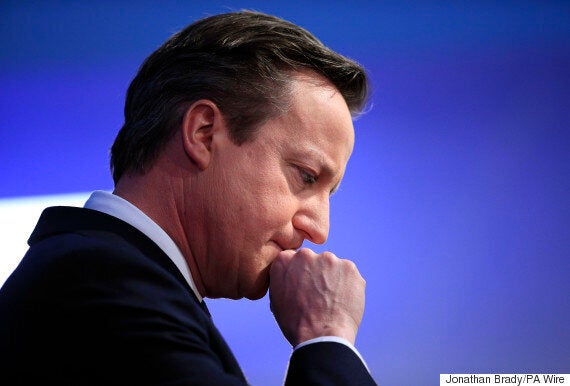 Prime Minister David Cameron speaking at University Technical College in Swindon at the launch of the Conservative Party manifesto
Presented with a series of examples of exploitation, he said he found care companies who refused to pay minimum wage staff for the time they were driving "totally offensive" and was "infuriated" by firms that overcharged the taxpayer. But he said his administration had dealt with abuses. "I think we've acted. More people are paying penalty notices for underpaying their staff. We're cracking down on businesses that overcharge government. The richest 1% in our country pay 27% of total income tax which is a higher percentage than was the case under Labour.
Cameron added: "Also we charge foreigners stamp duty on expensive properties in London for the first time. We've made sure they've paid capital gains tax which they didn't do before. I've led an entire world effort through the G8 to make sure we crack down on tax evasion and aggressive tax avoiding by getting people - countries to share tax information."
The PM declined to detail where the benefit axe would fall if the Tories were in power but said the cuts are "affordable and achievable". Cameron said: "I'm confident, with a track record of five years where we cut welfare by £21 billion, we can now find £12 billion of savings. If you want to minimise reductions in spending departments it's important to reform welfare. Second point is, £12 billion is half of what we saved in the last parliament, again showing this is affordable and achievable. So you protect the poorest and most vulnerable, you make sure that work pays and you also protect pensioners because it's more difficult for them to change their circumstances."
Cameron said he hoped to defy the opinion polls and secure the advances needed to avoid another hung parliament. "I'm going for a majority. We are only 23 seats short and if I fall short of those 23 seats I will feel I have not succeeded in what I want to achieve. And it's not about me. This is actually about people's jobs, people's livelihoods, the chance of a better future and I think the country frankly right now wants a majority government. A decisive government. A government that's fully accountable. And there is this fear, rightly, that if we don't get that we could end up with Ed Miliband propped up by the SNP really wrecking this country and that frightens me."
Below are 8 graphs David Cameron does not want you to see: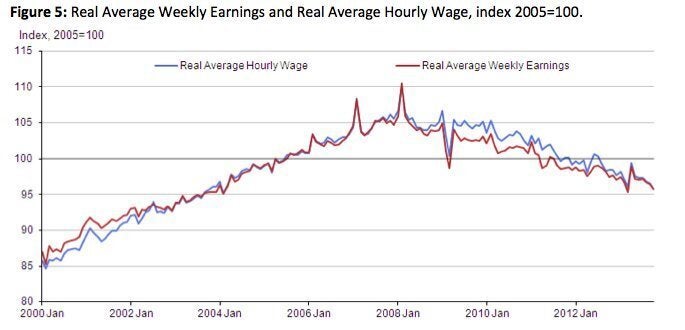 8 Graphs David Cameron Does Not Want You To See