HSBC threatened to relocate its headquarters outside the UK on Friday, a move floated by the Chairman Douglas Flint in response to "regulatory and structural reforms", including the requirement for banks to separate their investment arm from the retail divisions, which was instituted after the 2008 financial crash.
HSBC has also been hit by the UK bank levy, which last year cost it 1.1 billion US dollars (£730 million), up 200 million US dollars (£130 million) in 2013. Flint's announcement sparked a claim that the "regulatory pendulum has swung too far" while Labour seized on the remarks to highlight the uncertainty facing the bank over Britain's future in the European Union. Chancellor George Osborne peddled the line that "anti-business" policies from Labour threatened to drive companies abroad.
Flint disclosed the review at the company's AGM in London, where the board faced a bumpy ride from shareholders over the potential move as well as on a series of scandals that have dogged the bank. One investor, Michael Mason-Mahon, said: "Which country are you likely to go to? How many countries have you not committed illegal and criminal behaviour in?"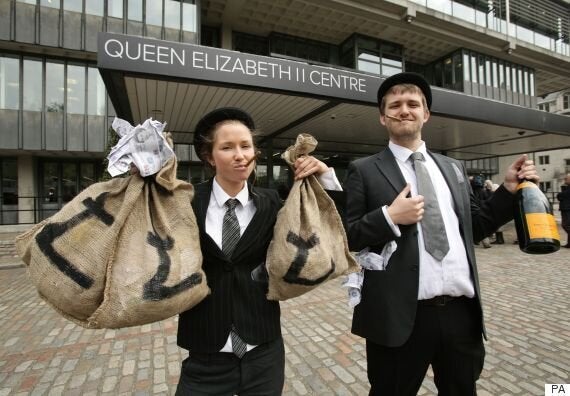 Protestors demonstrate outside HSBC's Annual General Meeting, at the Queen Elizabeth II Conference Centre in London, as HSBC is to consider moving its headquarters out of the UK
Flint said it was "essential that we position HSBC in the best way to support the markets and customer bases critical to our future success". He added: "We are beginning to see the final shape of regulation and of structural reform, including the requirement to ringfence in the UK. As part of the broader strategic review taking place, the board has therefore now asked management to commence work to look at where the best place is for HSBC to be headquartered in this new environment."
Flint also cited a series of uncertainties -- including one that "stands out", which is Britain's future in the EU. His remarks come at a time when the Conservatives are pledging an in-out referendum. He said the bank's own research indicated that working towards reforms in Europe would be "far less risky than going it alone, given the importance of EU markets to British trade".
Labour leader Ed Miliband dismissed any suggestion that Labour policies would make it more likely HSBC would quit the UK -- saying their word was no longer as trusted since the financial crash. "I don't believe that HSBC is going to leave the country because of a small increase in the bank levy," he told LBC radio. "I think we learned one thing from the financial crisis: that when banks say 'we are worried about this regulation or we are worried about that tax change', we don't just say that if the banks say it, it must be correct. He added: "The warning about Europe is a warning shared by lots and lots of businesses though."
Business Secretary Vince Cable said: "We have to take this threat of HSBC leaving the UK seriously even if it's not in itself surprising as they are a predominantly Asian bank, making 80% of their profits there. They also routinely review the location of their headquarters every few years." He said the bank had "responded to the ring-fence in a positive way". But he added that HSBC may be alarmed by "the possibility of a Conservative-dominated government distancing the UK from the European Union and therefore losing any influence over the key decisions affecting the financial services industry".
Deputy Prime Minister Nick Clegg told BBC Radio 5 Live that he made no apology for moves to clamp down on excessive bonuses and "making sure the banks pay their fair share by paying much, much more tax through our banking levy".
Shadow chancellor Ed Balls said: "HSBC is just the latest in a long line of companies warning of the dangers of a re-elected Tory government taking Britain out of the European Union. The big risk to our economy over the next few years is EU exit if the Tories win the election. It would have a disastrous impact on jobs, trade and investment in Britain. It's a risk we cannot afford to take."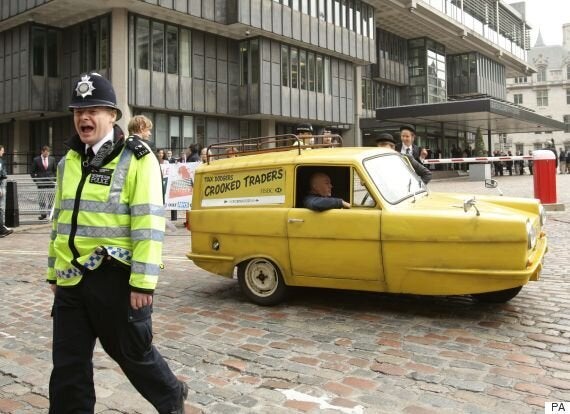 A police officer passes a protestor sat in an 'Only Fool and Horses' type Robin Reliant with a side panel reading 'HSBC: Tax Dodgers and Crooked Traders' parked outside HSBC's Annual General Meeting
Shadow business secretary Chuka Umunna said: "HSBC's statement today serves to illustrate how irresponsible it is to play fast and loose with the UK's membership of the EU," while Osborne said: "We have to have properly regulated banks. But if we proceed in this country with an anti-business set of policies we are going to drive companies abroad, we are going to see jobs lost."
HSBC, which originated in Hong Kong, has been based in the UK since 1992 when it took over the UK's Midland Bank and shifted its headquarters to London. The global group employs 266,000 people, including 48,000 in London.
Last month it said it was to relocate the head office of its UK retail bank to Birmingham by 2019, in a move that will see 1,000 jobs transferred from London, as part of the "ringfencing" separating different parts of the business. There was some scepticism over the idea that HSBC might leave the UK, with one shareholder at Friday's AGM saying the bank had threatened to do so before, though Mr Flint said: "I haven't threatened anything."
The chairman declined when asked to give a commitment that it would stay in the UK for three more years, saying there was still "work and analysis" to be done.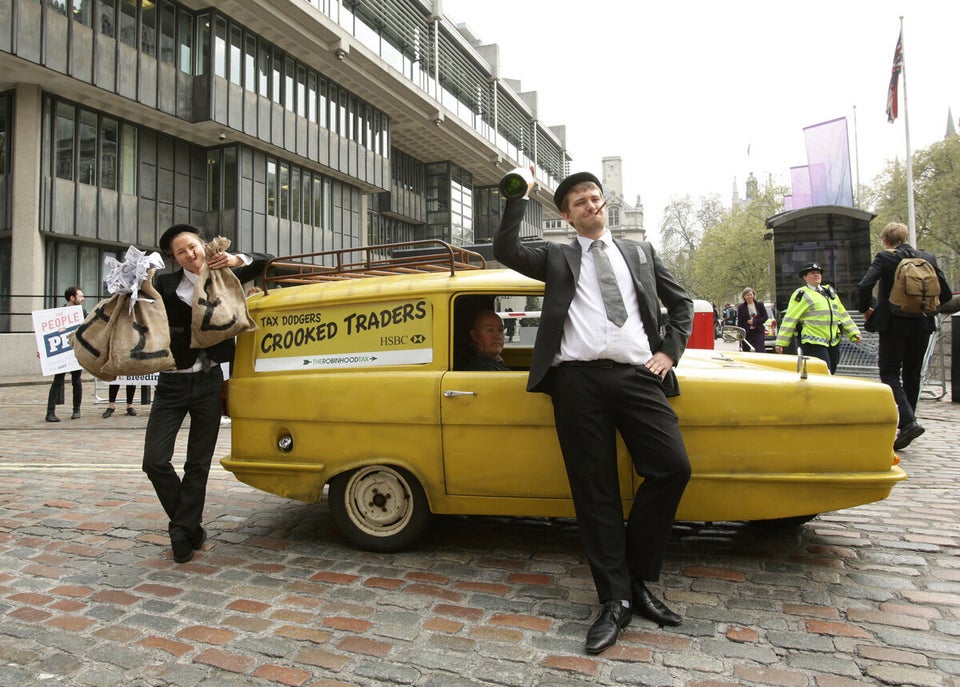 HSBC Protest