David Lammy is on home turf. I'm sitting with the Tottenham MP in a café on a busy road in his constituency in north London, and we are just a mile from where the 42-year-old grew up.
Wearing a suit, and in-between a visit to a school and a TV interview, Lammy is a man in the midst of two campaigns: to be re-elected to parliament, and to be nominated as Labour's London's mayoral candidate in the party's contest.
We planned to take a stroll around Lammy's old neighbourhood, around the Broadwater Farm estate, once infamous as the scene of the 1985 riots and the brutal murder of police officer Keith Blakelock. But tube delays and his schedule changed plans, so we meet in Tottenham Hot Spuds.
We're here to discuss the issue of housing: the country's crisis and Lammy's calling card for the mayoral race, for which he turned down a shadow ministerial job offer from Ed Miliband. He is one of few politicians who names housing as his top priority, and called for rent caps to be introduced before Labour adopted them as policy, and Miliband confirmed his commitment to them if the party wins the election.
Lammy knows, more than most, that a person's home defines them. His political identity is fiercely linked to his upbringing, and the difficult image that Tottenham has fought to shed. Broadwater Farm has radically changed since it was described as one of the worst places to live in Britain in the 1980s, but community tensions with police, poverty and high unemployment still exist, and flared up again when Tottenham was the catalyst for riots that spread around the country after Mark Duggan was shot by police in August 2011. Days later, Lammy wrote that the new outbreak was "eerily, worryingly, dreadfully similar."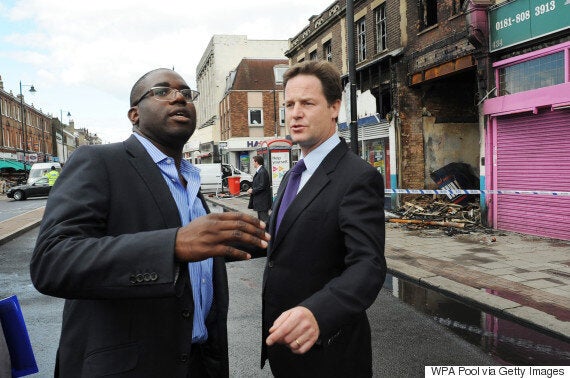 Lammy and Nick Clegg look at damage to Tottenham businesses after the 2011 riots
"Less and less MPs seem to actually come from their constituencies," Lammy reasons. "I think I'm closely identified with my constituency, I'm closely identified with London and a lot of my politics is informed by the people I meet, the places I've been and the places I've grown up."
He was born to Guyanese parents (his father moved to the UK in 1956) in a traditional West Indian home which was "noisy, colourful, and busy". His first home was a bedsit that his parents rented in Finsbury Park, shared with his two brothers, his uncles and various friends. "They were literally sort of hot-bedding in those days," he says. "You worked days or nights, and swapped beds. It wasn't easy."
Now, many of his constituents in Tottenham live in similarly crowded bedsits. "They're making it work with bunk beds and sleeping on sofas," he says. His MP surgeries – which he tells me are the busiest in the country – never pass without a parent explaining the problems of having four or five brothers and sisters crowded into one bedroom.
For Lammy, housing problems are inextricably linked to social unrest – he first raised the need for rent caps in Out Of The Ashes, his book on the aftermath of the 2011 riots.
"I think what is really tough is the lack of security in the private rented sector, given that most Londoners moving into a new home this year are moving into the private rented sector," he says. "There's a kind of old-fashioned idea that people who are renting are students. There are real issues for students, but I think it's really tough for families, because they can find themselves moving around every six months, because of the way that shorthold tenancies work."
Lammy recommended extending the default term for a renting tenancy to three years in his 44-page report on London housing. It was published last year and called for people to "face up to London's housing emergency." Other suggestions are geared towards the professionalisation of landlords – the sector is made up of some 800,000 small businesses, with many landlords letting out only one or two properties and not always seeing what they do as a "business" with responsibilities. Another recommendation – ensuring that tenants can only be evicted if they break terms in their contract – will be addressed when 'revenge evictions' are made illegal later this year under a move led by the Liberal Democrats.
As Mayor, Lammy would also seek to redefine what he considers the laughable definition of "affordable" housing in London – used for any property that is priced below 80% of market value. Lammy's report suggested lowering this to 60%, though "I have to say, as I go around and talk to people I might have to lower that further," he admits. "Certainly not 80% of market rate, where the average hours price is £470,000 and the average salary is £26,000." The mayor has a role in setting the affordability target, but longer tenancies would be a national policy, so if a Labour mayor and a Labour government were voted in, "clearly these things will be a lot easier," he claims.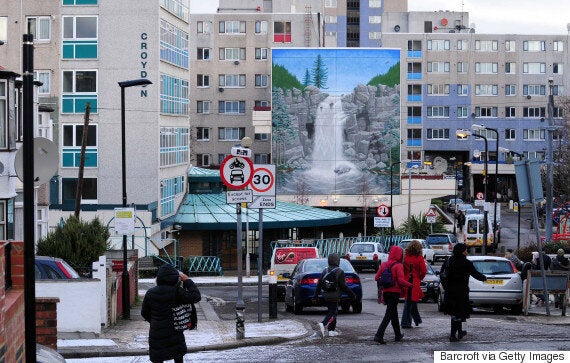 The Broadwater Farm estate - which has now become a symbol of racial harmony - in 2010
Growing up in Tottenham was "edgy and tough", Lammy explains, but the housing was far better than today's. "People did have security at that stage, because frankly there was ample supply of council houses. We had moved away from some of the more squalid private rented Rachmanite houses," he says, referencing notorious London landlord Peter Rachman who exploited immigrant tenants with high rents in the 50s and 60s. "Home ownership was possible - and what I mean by that is the realistic idea of three and a half times your salary was possible," he says, with a hearty laugh that he breaks into frequently, sometimes at jokes but often at the sheer ridiculousness of the housing crisis: soaring house prices and rents, and the lack of urgent house building.
Lammy's dad eventually bought a terraced house in Tottenham, for £6,000, and he split his childhood between that and his aunt's council home up the road in Broadwater Farm. He later bought the four-bedroomed terraced house he now lives in, on the very same road as the crowded bedsit he had been born into. "That was a big moment for me in my life," he says, "my mum knew I was going to do it before she died, and she was very, very, very proud." How many kitchens does it have? "One. That's a good question!" he says before a raucous laugh, enjoying the reference to his party leader being ridiculed for having two kitchens.
When I ask if this fuss matters, he sighs, still jovial, then pauses before saying: "I think that there are really serious issues facing our country. I think the amount of kitchens that Ed Miliband has is not really one of them. Is he in a privileged position? Yes, of course he is. Anyone who owns a home in the south of England, and certainly in London, who bought that home 10 or 15 years ago, is in an extremely privileged position relative to the rest of the country. Is he in a privileged position compared to David Cameron, or George Osborne? I think not."
I press further – but didn't the kitchens saga highlight the gap between home-owning MPs and a young generation trapped as private renters? Lammy moves to a full-on social analysis of the generational challenge to politicians: "Baby boomers are alive and well, they had free education, bought a home, maybe more than one, nice pension… one of them is Hilary Clinton who might well become the next president of the United States. Then you have generation X, my generation, and that of all three of our party leaders. We too had not-quite free education, we were also able to buy our own homes, we had periods of full employment and a fairly good pension. You then get to this current generation, generation Y, the millennials, and it's completely transformed. So there is a challenge, I think, to the political class of baby boomers and generation X. Do they get it? Do they relate to this, and are they going to do anything about it?"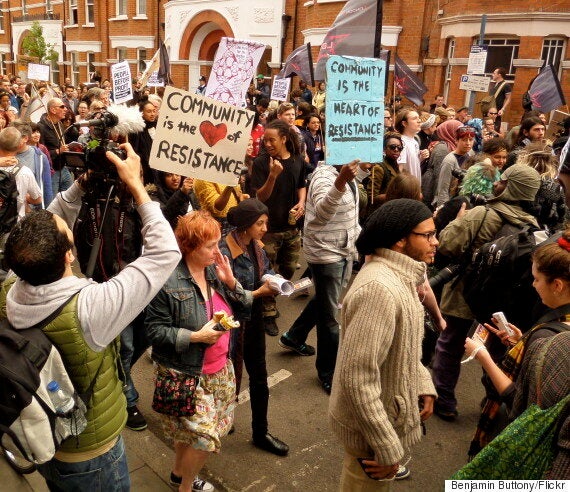 Protests against 'gentrification', rising rents and evictions in Brixton, London in April
Despite still living in Tottenham, Lammy has certainly moved a long way since his youth. He became the first black Briton to study at Harvard University – through which he is now friends with Barack Obama ("It would be wrong to jump up and down and say I'm in touch with him every week, but I was very pleased to be in the White House about 18 months ago for their national prayer breakfast, to see him and Michelle.") He practiced as a barrister for several years, before becoming the "baby of the House" when he entered parliament aged just 27.
When I ask if he really "gets" the housing needs of his constituents, he says: "I have a sprawling, large West Indian family. I am, in some ways, certainly a figure in my family that people look up to. I have cousins who work in betting shops, who are postmen, who are hairdressers. I'm not here suggesting that I am working class, because my income is not working class. My own family represents London in a real way, and I'm not aware that there's any other mayoral candidate at the moment, or any other MP, raising, for example, council homes, I don't think anyone's talking about it."
Lammy is strongly in favour of "massive state intervention" to build large numbers of houses, in response to what many housing campaigners see as the core of the housing crisis: we have consistently been building less than half of the 250,000 that housing groups say we need per year, leading to overcrowding, higher house prices and a severe lack of social housing. "It is extraordinary that we built 40 council houses in London in last year, absolutely extraordinary," says Lammy. He calls for more subsidies for housing associations, which are building fewer council homes now that they have had these cut. "At the moment there's a general consensus that we should spend no money on housing. Ninety five percent of the money that the state spends on housing – that's well over a billion - is on housing benefit, is going to landlords. That has got to change."
Fewer than half the 42,000 new homes that Boris Johnson promised to build in London in 2013 were completed, a fall of 5%, which housing charities called "pitiful". And yet families are increasingly being sent out of London, or sent to live in bed and breakfasts when their council homes are sold to developers. Lammy praises Boris for some things: "He's been a great ambassador for London abroad," and for "moving the agenda on cycling forward, which is good." But when I ask for him to name one thing Boris has done well on housing, he seems genuinely stumped. After a 15 second pause, he says: "On the numbers he's failed, on affordability he's failed. There are cranes up across London but they're not building affordable homes so I'm afraid I'm struggling to give him any points on housing."
"Really honestly, I think that Boris has an ideological position that is very different to mine. His position is a belief in a belief in a laissez faire, economically liberal view which is that they should leave it to the private sector, so absolutely the state should not be engaged in building houses." But Lammy also includes Labour in his accusation that politicians have not done enough building. "At the moment, there is over-reliance in both parties on the private sector delivering our housing needs. The private sector has never ever delivered more than 25,000 units a year in our history, and when we were building lots of houses after the war it was the state building those houses. The reason why I talk to you about the generational challenge is because I do think there's complacency, frankly, in the political class about the speed at which we need to do this."
"The average age of buying a house in London is now 39. If it continues on this trajectory it will be 52 within a generation. We either leave it as it is, and we end up in an overcrowded situation… it will put great pressure on the poorest communities. We either do that or we get serious," Lammy adds. On a national level, the language around housing is too simplistic, he says, "There are huge figures of what we should build, but very little detail of how we're going to do it. I would say what I've tried to do in my campaign is get into the how, and I'm happy to have public disagreements about these." One of his suggestions that could cause controversy is a desire to "revisit" the green belt. "I'm not suggesting we should build over lots of wonderful green spaces, but I am suggesting that we should not be saving car parks, quarries, wasteland in the green belt."
The mayor can designate public land for building, but for many of Lammy's housing ideas, he'd need more powers if he did take over from Johnson. He is eyeing up the greater fiscal devolution recently given to Manchester. "Effectively Manchester will now be keeping its business rates. Manchester will be the city with the biggest devolutionary settlement in the country, we should be having that for London." As it turns out, his old neighborhood is pretty much still his neighborhood - he goes back every week, "too regularly for it to be a thing really," as his son plays football on the Broadwater estate.
He points out that Tottenham's housing is often wrongly stereotyped: "Some people imagine it's a community of lots of housing estates, it's not. It's a community of rows and rows and rows of terraced houses, it's got far less housing estates than Tower Hamlets, Lambeth and Hackney actually. The urban environment in Tottenham in many ways is very very attractive. What I would say though is that the pressures here are very real, and the tensions that can come as a result of those pressures are very real. It takes a spark to have a riot and the spark, on the last occasion, was the death of Mark Duggan. But issues of unemployment, issues of access to housing are really important."
Lammy talks about the riots in Tottenham in 2011 (story continues below)
Lammy isn't afraid to disagree with his own party on housing – he has long opposed Labour's flagship mansion tax, and would continue to if he were Mayor, claiming that it would be unfair to Londoners. "I wanna be clear, I think the principle of a property tax is right, so I absolutely agree that if you're making money on the property market you should make a bigger contribution. My argument with the Labour leadership over a mansion tax is on the method of delivery." The money from the tax would not be reinvested into London housing, he says: "I'm worried that 90% of the tax will be raised here, and 7% will be spent here."
His bid to be Labour's candidate for Mayor will be a challenge: Tessa Jowel is the favourite and others such as Diane Abbott are in the fray. Lammy was the first big name to declare he would run, whereas Jowel won't officially announce her intention until after the election, and other potential heavyweight candidates like Sadiq Khan have stayed publically quiet.
"I don't know how long people have got to think about these things," Lammy says defiantly. "I think it's best to be honest about what your intentions are." But he won't be drawn on other possibly candidates, such as Khan: "All of the candidates are friends and Sadiq is a friend, I've known him and his family for years. I have a lot a respect of him, I have to say. He is a politician that works really really hard. I think he'd make a great justice secretary and I hope he's going to be justice secretary. But I'm determined to remain friends with all of the candidates who might ultimately seek the Labour nomination."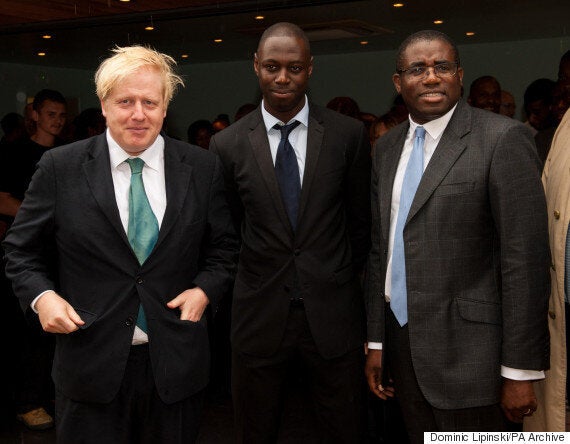 Lammy with current Mayor of London Boris Johnson (left) and Tottenham Hotspur player Ledley King (centre)
His fellow MP Margaret Hodge has said that it is important for London to have a non-white mayor. Does he agree, or mind his race coming up in the mayoral contest? "My own view is that London needs a mayor who is going to bring back the opportunity that I've seen in my life. London has given me all that I've got. On the whole I think people will vote for me, or not, on the basis of what I'm saying and my policies. But of course, I'm not naïve that we're still in a place in society where if you're young and growing up as an ethnic minority, in one of our estates, of course people such as myself provide role models, and that's really important."
As if on cue, a few minutes later a bunch of boys crowd into the café in blue and white football strips, grinning. They want to touch Lammy's hand, and look thrilled when he asks them about what club they play for. They are about 13 or 14, and linger at the door, not looking at me once during the encounter. Lammy is gracious, interested, not embarrassed - evidently used to this. "You asked about role models," he laughs after the boys have left.
By the end of July, Labour's closed primary-style selection for its mayoral candidate will have taken place – and Lammy will also have been through the general election. With a 41% majority for his MP seat, he's likely to be re-elected, but will be next for him if he isn't chosen as the mayoral candidate?
"I am caught up in the moment, I'm right in the fulcrum of running to be the MP for Tottenham and seeking a nomination to be the Labour candidate," he assures me. "I just literally have not got enough hours in the day to think about what is beyond the end of July. And I'm being deadly, deadly serious there." And, despite the laughter during our meeting, I believe him on that.
As part of The Huffington Post UK's Beyond The Ballot series we want to know what issues you think aren't getting enough attention in the election campaign. Tweet using the hashtag #BeyondTheBallot to tell us in 140 characters and we'll feature the best contributions