Four years ago it was handshakes, smiles and a new partnership but it now seems like the friendship is well and truly over - and the split has not been pretty.
Lib Dem Danny Alexander said that he was telling on the Tories because they were "trying to con the British people by keeping their planned cuts secret until after the election". The chief secretary to the Treasury also complained that he had fought "battle after battle" against such cuts.
However this morning George Osborne disowned the plans and said they had actually been drawn up for Alexander. "This is a three-year-old document of policy options that was commissioned by the Chief Secretary himself," he told the BBC.
"We have not put into practice any of these options. We don't support them. We didn't support them. We don't support them in the future."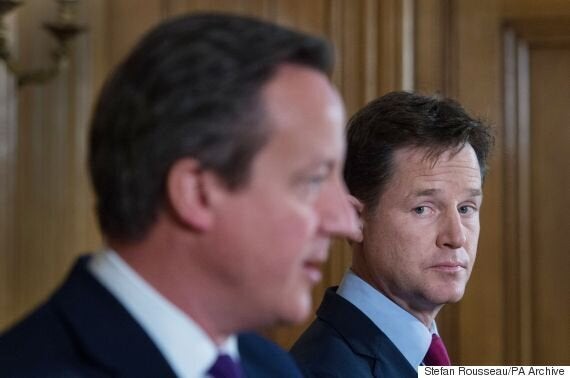 All good things come to an end Nick
Going in all guns blazing, he accused his former Tory colleagues of being bent on "slashing support for families" and revealed that the Lib Dems vetoed a proposed extra £8 billion in welfare cuts.
Mr Alexander said the previously dropped plans - including limiting Child Benefit and Child Tax Credit to two children at a cost of £3,500 for a family of three - were a clear signal of where the axe would fall.
He claimed that the Tory plans included removing higher rate Child Benefit from first child (an average loss of over £360 for every family with children), means-testing Child Benefit (cutting £1,750 for a two child middle income family and removing Child Benefit from 16-19-year-olds - a cut of over £1,000 for parents of a single child.
Mr Alexander said: "For five years I won battle after battle to stop the Tories veering off to the right with ideological cuts, and it's been worth it to get the economy back on track while ensuring a fairer society.
"The coalition has delivered savings in a fair way, but the Tories now want to balance the books off the backs of ordinary working families and the most vulnerable in society.
"The Tories have turned their backs on the plan delivered in coalition government. Instead they want to cut £1,500 for 8 million households, singling out middle and low income families to bear the burden - and asking nothing from the best off.
"It's clear from our time in government that the Tories' target will be slashing support for families. I'm lifting the lid on this now because the Conservatives are trying to con the British people by keeping their planned cuts secret until after the election.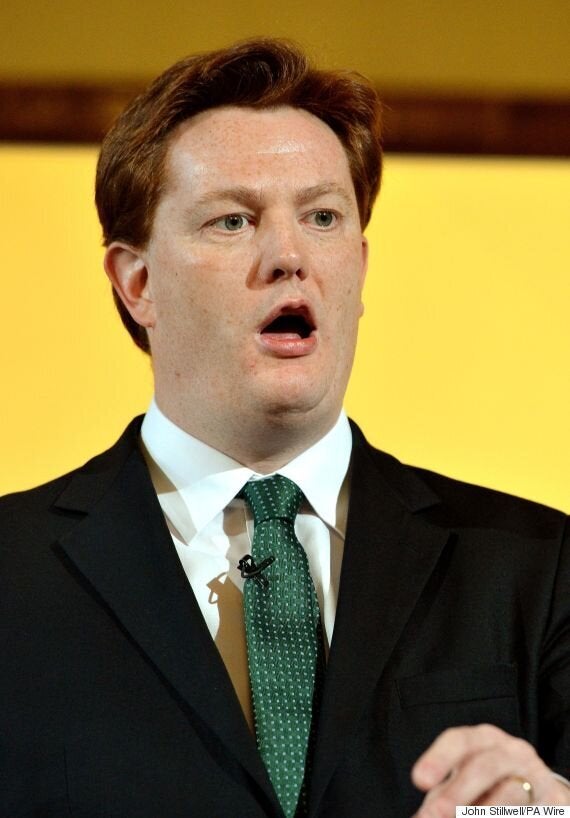 Danny has had enough of this nonsense
"They now ask the British people to trust them when they make unfunded pledges on health and tax, yet won't tell us how they will cut welfare for millions of families to pay for their plans. They may give with one hand, but they will take away twice as much with the other.
"The Liberal Democrats will take a fairer approach, cutting less than the Conservatives and borrowing less than Labour, to deliver a stronger economy and fairer society with opportunity for everyone."
Alexander went on to tell BBC Radio 4's Today programme that the Tories have refused to say where their planned welfare savings would come from.
He said: "No one knows what the Tories have in mind for their £12billion of welfare savings because –extraordinarily in an election campaign – they have said that they can find this figure, they've said nothing about how they constructed this figure or what basis they think that is acceptable.
"They've said nothing about the millions of working families in this country who would be hit hard by big reductions in child benefit, who would be hit very hard indeed if they attacked child tax credits.
"They haven't said anything to the disabled people in this country who would be affected if those were the benefits that they chose to try and target."
But a Conservative spokesman was having none of it and said: "We don't recognise any of these proposals and to be absolutely clear, they are definitely not our policy.
"This is desperate stuff from Liberal Democrats who are now willing to say anything to try and get attention".
The spokesman added: "This set of policies was never proposed or supported by the Prime Minister and Chancellor and would never be proposed or supported by the PM and Chancellor."
Culture Secretary Sajid Javid also weighed in, telling Sky News that plans to cut £8bn from child benefit leaked by Danny Alexander were not reflective of Conservative party policy.
He said: "I'd say first, this is just a desperate attempt by the Lib Dems to try and move their position in the polls, but it's not going to work because I think as we've already made clear, this set of proposals was never proposed or supported by the Prime Minister or the Chancellor and they would never be supported by the Prime Minister or Chancellor.
"Actually it's common knowledge that civil servants will come up with proposals all the time, and particularly when you've got a change in government, and what we were actually pushing for when it came to welfare savings were things like freezing welfare benefits for working age people which is exactly what we did, which has brought billions of pounds of savings.
"But these kind of proposals, the ones Danny's talking about, it's something that was never supported or proposed by us, and it wouldn't be."
Meanwhile senior party figures told the Times that Nick Clegg could have problems if he tries to form another coalition with the Tories.
Despite doing direly in the polls - at just 7% in a poll for the Daily Mail today - it seems that Clegg would struggle to get the formal authorisation need for another coalition, thanks to resistance from inside his own party.
But on the Today programme, Mr Alexander added that he expected Liberal Democrat members would support a second coalition – as long as the Lib Dem "red lines" were met.
"We would be willing to go into another coalition on the right terms because, as a party, we want to make sure that this country has stable government. And I think the choice that faces people now is: who is going to hold the balance of power?
"Is it going to be the instability of Nigel Farage or Alex Salmond keeping a minority government on a life support machine, or is it going to be a stable government that delivers a strong economy and a fair society for five years that can come through the Liberal Democrats holding the balance of power? That's what we intend to do."