The hashtag #VoteCameronOut trended on Twitter on Saturday night as opponents of the Conservatives called for voters not to elect David Cameron to a second term a prime minister in the General Election.
The 'Twitterstorm' of people posting messages at the same time at 6pm on Saturday night was organised by two Labour activists known on Twitter as 'Jon Swindon' and 'Gail', who were also behind the hashtag #CameronMustGo last year.
And so #VoteCameronOut begins :)

— Jon Swindon (@jon_swindon) May 2, 2015
#VoteCameronOut well done everyone wow just wow 👏👏👏👏 https://t.co/aNSO5d8WQL

— Gail (@CharlieWoof81) May 2, 2015
6pm today will be a twitterstorm #VoteCameronOut !! everyone must tweet this at 6pm

— Miliband for PM (@MilibandforPM) May 2, 2015
SEE ALSO: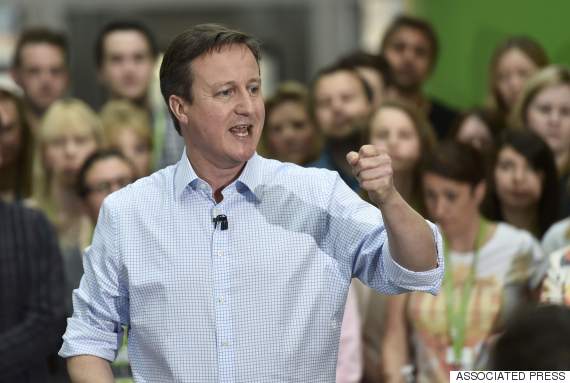 Cameron on the campaign trail - the Tories and Labour are neck-and-neck
The #VoteCameronOut hashtag was used by people such as Owen Jones, the Guardian columnist and author of the book 'Chavs':
Five days left #VoteCameronOut

— Owen Jones (@OwenJones84) May 2, 2015
Other supportive Twitter users expressed their dissatisfaction with Cameron and the last five years of government, particularly focusing on the bedroom tax, which Labour plans to scrap as its first act if elected; rising numbers of people using food banks, and what they claims is Cameron's refusal to challenge the power of Rupert Murdoch, who controls a large chunk of the UK media through Sky News, The Times and Sunday Times and The Sun.
We're 6th richest country in world but b/c of Tory induced austerity 1 million people rely on food banks to feed themselves #VoteCameronOut

— Harry Leslie Smith (@Harryslaststand) May 2, 2015
We have to #VoteCameronOut because he thinks austerity is for you and me, not for him and his friends: pic.twitter.com/ofPPxIqpSG

— Tom Pride (@ThomasPride) May 2, 2015
I don't want to live in a country that penalises the poor for having a spare bedroom. When the rich have spare mansions. #VoteCameronOut

— kathleen stonehouse (@catethetwaate) May 2, 2015
Because I'm sick of being told that what's in the interests of multinational corporations is in the interests of everyone #VoteCameronOut

— Greg Frame (@greggles97) May 2, 2015
What is @David_Cameron doing about Rupert Murdoch? Nothing. #VoteCameronOut

— abby (@twcuddleston) May 2, 2015
1 hour to go...

#VoteCameronOutpic.twitter.com/VFgRnvXPLF

— SKETCHAGANDA (@sketchaganda) May 2, 2015
But, in retaliation, some used the hashtag to attack Labour leader Ed Miliband:
#VoteCameronOutpic.twitter.com/2BQfQQ3ioX

— BlackKnightX (@BlackKnightWX) May 2, 2015
The tweets came as it was revealed that the Conservatives and Labour are going into the final days of the General Election campaign on level-pegging, according to a new opinion poll.
The ComRes poll for The Independent on Sunday and Sunday Mirror puts both the main parties on 33% - both two points down on the last ComRes telephone poll earlier in the week.
GENERAL ELECTION 2015
Ukip are up two points on 13%, the Liberal Democrats up one on 8% and the Greens also up one on 7%.
An Opinium poll for The Observer also has the two biggest parties almost neck-and-neck with the Tories on 35% one point up on last week and a point ahead of Labour who are also up one on 34%.
Ukip are unchanged on 13%, the Lib Dems down one on 8% and the Greens down one on 5%.
Survation in The Mail On Sunday has Labour on 34%, three points ahead of the Conservatives on 31% with Ukip on 17%, the Lib Dems 8% and the Greens 4%.