The BBC's General Election exit poll dropped a political bombshell right at the beginning of the night predicting some massive Westminster upheavals.
It's looking seriously grim for Miliband, Clegg and Farage but one person more than happy with the result is Katie Hopkins.
A couple of months ago she made a little prediction...
If this man is Prime Minister I will leave the UK. This man is not Great Britain. This is Russell Brand in a chuffing suit #Battle4Number10

— Katie Hopkins (@KTHopkins) March 26, 2015
Then on polling day she confirmed it.
She said: "I have no problem at all standing by my guns. Ed will not get the most votes this evening and by tomorrow we will find out Cameron is the true winner of this election campaign."
Well despite people's best efforts and if the exit poll is to be believed then Hopkins is staying.
And that's even with her husband apparently voting against her.
Bloody hell. my husband voted Labour in the hope I leave the country. Little sod @TheSunNewspaper

— Katie Hopkins (@KTHopkins) May 7, 2015
She wasted no time in celebrating.
Not wanting to say I was the only person with the balls to call it when it was 'too close to call' but .... #GE2015 pic.twitter.com/4a8L6WQ9sF

— Katie Hopkins (@KTHopkins) May 7, 2015
I will be staying in the UK and intend to become @David_Cameron new Fat Tsar. He is not aware of this yet. #GE2015 pic.twitter.com/gpdXanFC84

— Katie Hopkins (@KTHopkins) May 8, 2015
The implications hit people immediately.
If the exit polls are right, then Katie Hopkins is staying.

Think about that, people.

May 7, 2015
Australia has dodged a bullet. Looks Like Katie Hopkins won't be leaving Britain after all. #GE2015

— Michael Byrnes (@MichaelByrnes) May 7, 2015
Nooooo. Just remembered, if Tories win, @KTHopkins stays in UK. It's a national disaster. #GE2015

— Lenben (@IckenhamUB10) May 7, 2015
FFS 5 more years of Katie Hopkins #ExitPolls #GE2015

— Johnfromsoho (@johnfromsoho) May 7, 2015
She also had her fair share of supporters
@KTHopkins for Prime minister. Legend :-)

— Sally Todd-Hawkins (@StoddSally) May 7, 2015
@KTHopkins our queen of twitter is sticking around nice one

— Rick (@CawthraRc) May 7, 2015
I appreciate these are just exit polls - but thank you for all the sweet comments regarding my continued residence in the UK. #GE2015

— Katie Hopkins (@KTHopkins) May 7, 2015
Everyone, remember the most important thing, if Exit polls are right, is that we can celebrate @KTHopkins staying in England! Hurrah!

— Edward Johnson (@EdzJohnson) May 7, 2015
People take @KTHopkins far too seriously. Lighten up peeps #voteforkatie

— Lorraine Collier (@LorryCollier) May 7, 2015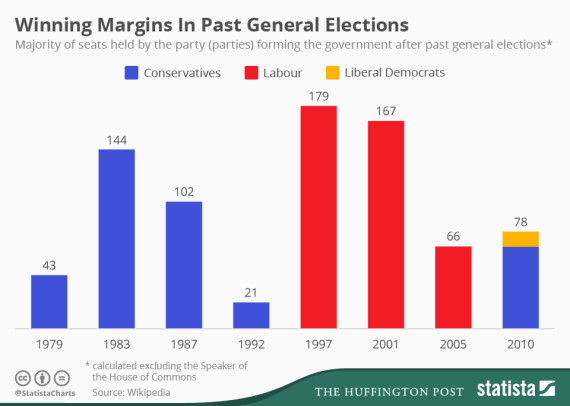 Infographic supplied by Statista
GENERAL ELECTION 2015