Four police officers and a member of police staff have been injured during a spontaneous anti-austerity protest against the new Conservative Government.
Riot police clashed with frustrated crowds outside Downing Street just a day after David Cameron declared victory at the ballot boxes.
Police are believed to have made up to 17 arrests so far.
Meanwhile, damage caused to The Women of World War II monument on Whitehall, just a stone's throw from a VE Day celebration concert at London's Horse Guards Parade, was condemned by Downing Street as "despicable".
The words "F*** Tory scum" were scrawled in red near the bottom of the large memorial.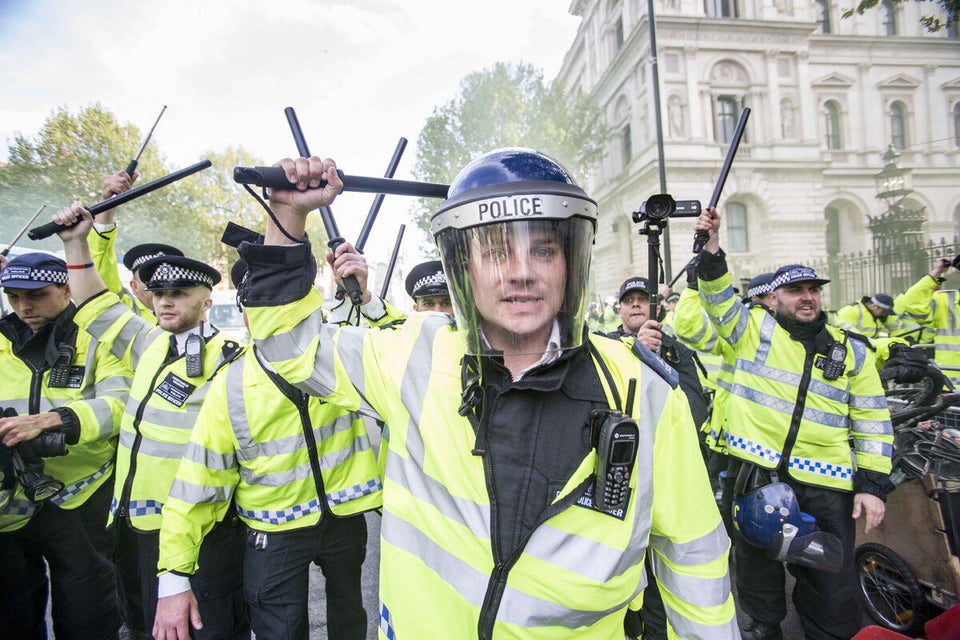 Tores Out March
A Downing Street spokesman said: "Spraying graffiti on war memorials is a despicable display of disrespect for those who fought and died for their country, particularly at a time when the whole nation comes together to commemorate the 70th anniversary of VE Day."
Hundreds of anti-Conservative protesters, some holding placards reading "I pledge to resist" and "Stop the cuts", took part in the rally organised just a day into the new Government.
It is believed to have started outside Conservative headquarters, where just over 24 hours ago Mr Cameron gave a rousing speech to party activists about their unexpected win.
Police were pictured holding batons as they confronted the crowds and controlled what they called an "unplanned" demonstration.
In Cardiff, singer Charlotte Church joined a similar rally at the Aneurin Bevan statue in Queen Street, where she was pictured carrying a placard which read: "I'm mad as hell and I'm not going to take it any more".
A Scotland Yard statement said: "Four police officers and one member of police staff have been injured policing this protest. Two are being treated in hospital.
"One officer is being treated for a suspected dislocated shoulder. The member of police staff is being treated for a cut lip after being struck by an object. The three other officers were assaulted and did not require hospital treatment.
"Officers are aware of criminal damage to the Women's War Memorial in Whitehall and are investigating.
"There are no reported injuries to any members of the public.
"Officers are working to minimise disruption to all road users and members of the public passing through the area."