Police and parents should "move into the private space" of Muslim children to prevent them being brainwashed by extremists such as Islamic State (IS), the country's most senior Muslim police officer has said.
Mak Chishty cited an example of Muslim children as young as five having referred to Christmas as "haram", meaning it was forbidden by Islam.
And he said the country was in "uncharted water" in terms of the risk posed by recruiters from IS, also known as ISIS or ISIL reaching youngsters through social media on mobile phones.
The force revealed last week more than 700 British extremists had travelled to Syria, with around half thought to have returned to the UK.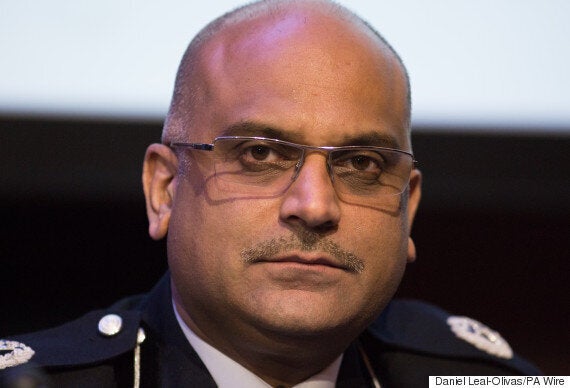 Mak Chishty said people 'needed to be less precious about the private space' when confronting extremism
Chishty, who is the Metropolitan Police's lead for community engagement, said people needed to look out for early warning signs that people were being swayed an extremists, such as proclaiming "hatred" of Marks & Spencer because they believed, wrongly, it to be owned by Jewish people.
He told the Guardian: "We need to be less precious about the private space. This is not about us invading private thoughts, but acknowledging that it is in these private spaces where this (extremism) first germinates.
"The purpose of private space intervention is to engage, explore, explain, educate or eradicate. Hate and extremism is not acceptable in our society and if people cannot be educated then extremism must be eradicated through all lawful measures."
He defined "private space" as "anything from walking down the road, looking at a mobile, to someone in a bedroom surfing the net, to someone in a shisha cafe talking about things".
Chishty added he felt, as a parent himself, that other families should be "extra-vigilant" of signs of extremism in their children.
The Met's statistics also revealed increasing numbers of women and teenagers being taken in by extremism.
They showed that more than one in 10 (11%) of those arrested on suspicion of terror-related crimes in 2014/15 were female while 17% were under 20.
Last week, an apparent plot by a 16 year old to travel to Syria was foiled by police when the girl's older sister tried to persuade an undercover Daily Mail reporter posing online as a 16-year-old girl to accompany the younger sister to Syria, the paper reported.