Spector, who was not terminally ill but was likely to have become paralysed from the neck down due to an inoperable tumour, was one of hundred of Brits who have visited the Swiss clinic to die by assisted suicide. Unlike Spector, many of its patients have months to live choose to end their lives with "dignity" on their own terms.
Lord Falconer, Labour's shadow justice secretary, said it was "completely wrong" that a terminally ill person should not be able to choose the time and nature of their passing, "subject to safeguards".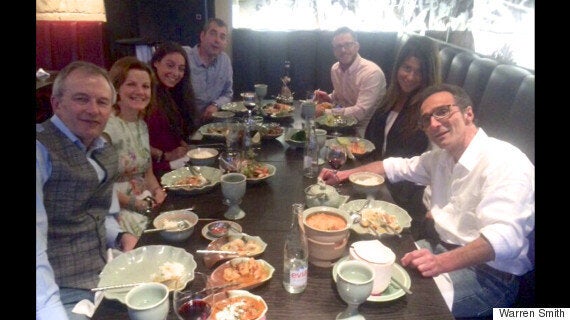 Spector's final meal with his family and friends before taking his own life
Speaking to the BBC's World At One, the opposition frontbencher said: "When I saw the photographs on some of the front page of the newspapers today of [Jeffrey Spector] having his last meal in Switzerland, I think it's completely wrong that when someone is terminally ill they don't have the option - subject to safeguard - in deciding to take their own life, in the context of them dying where they want.
"It's wrong that they have to go to Switzerland to do that."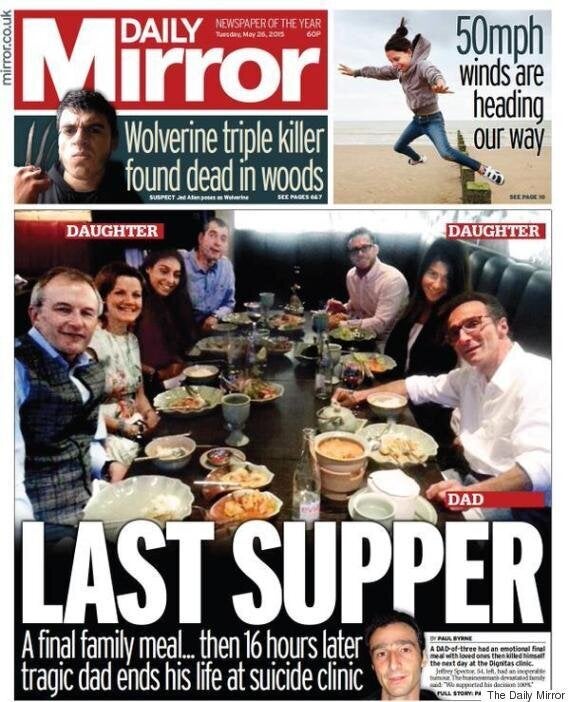 The Daily Mirror's front page on Tuesday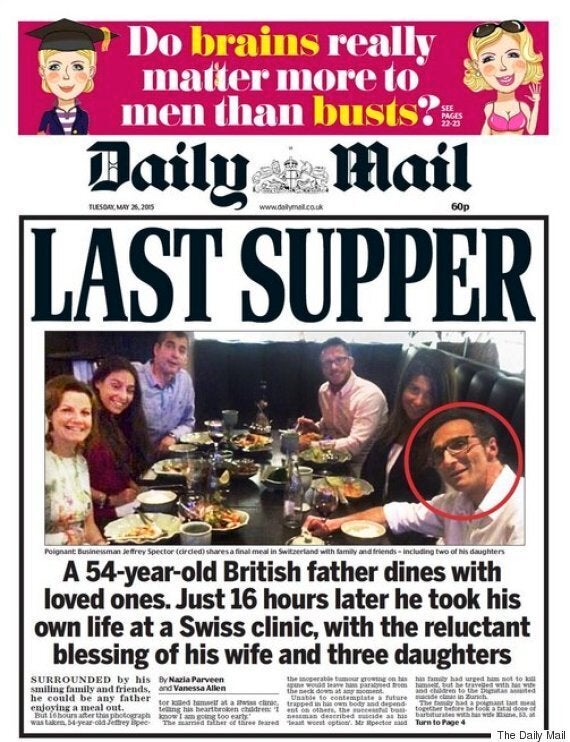 Front page from Tuesday's Daily Mail
Lord Falconer, who was Lord Chancellor under Tony Blair, said he advocated prescription drugs being made available to a person that would end their life - subject, he stressed, to safeguarding from medical and legal professionals.
Under his proposals, two doctors would have to be in agreement that a patient had six months or less to live, and be sure they were of the firm and settled intention to undertake assisted dying. In this case, the rules would not have allowed Jeffrey Spector to end his life in the UK.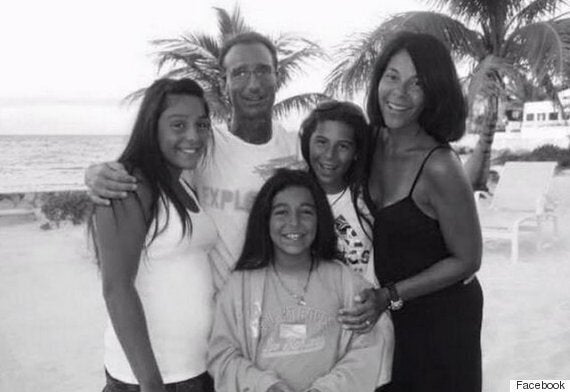 Spector and his family, who said they were in a state of "all-consuming grief" after his death
The decision would then have to be elevated to the High Court's family division, where a judge would approve the application and only allow it to go ahead if he or she was satisfied the criteria had been met.
A previous attempt by Lord Falconer to pass similar legislation, under the coalition government, failed to pass before parliament dissolved in May.
Falconer's support for pioneering new assisted dying legislation was welcomed by veteran Liberal Democrat MP and party leadership-hopeful, Norman Lamb, who has long been an ardent champion of the cause.
Lamb, an assisted dying sceptic-turned-advocate and former Care Minister, had also backed Falconer's original bill in 2014, saying at the time: "Ultimately, should we stand in the way of someone wanting to make their own decision about their life, or should we set the safeguards in place to ensure that there is every chance of avoiding that exploitation?
"I'm very clear in my mind that the individual should be the person who decides, not the state."
Related