Football fans are in such a frenzy to secure a seat at Saturday's FA Cup final between Arsenal and Aston Villa, tickets are selling for close to £10,000 each.
General admission tickets for the match could only be purchased via the clubs, which had each been allocated 25,000 - but they sold out last week. Aston Villa announced they were all out of tickets last Friday, while Arsenal said they had none two days later. The clubs were selling tickets for between £50 and £120.
An additional 20,000 tickets were to be distributed to volunteers through the football family which includes counties, leagues, local clubs and charities, according to Wembley Stadium.

Tickets were being offered for £9,650 each on ticketing site footballticketpad
On ticket selling site, footballticketpad.com, one user had eight tickets for £9,650 each. The cheapest tickets were offered for £725, Club Wembley Gold seats were advertised for £1,777 and Bobby Moore suite hospitality for £2,995.
Ticketbis.com had tickets selling from £972.74 to £4068.51 for VIP Wembley Gold or Executive Box seats.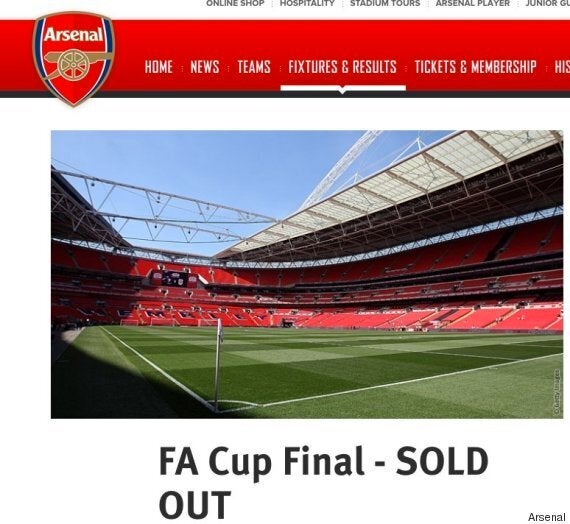 Both Arsenal and Aston Villa had 25,000 tickets to sell, but both ran out last week
Villa beat Blackpool, Bournemouth, Leicester, West Brom and Liverpool to reach the final. They haven't won the cup since 1957. Arsenal beat Hull City 3-2 to claim victory last year and have been victories three times since 2002.
And again this weekend they are hot favorites to claim the silverware. Sky Bet has Aston Villa at 5/1 to win.