Two famous wizards are set to marry each other over the road from the Westboro Baptist Church after the radical group taunted 'Harry Potter' author JK Rowling.
Hogwarts headmaster Albus Dumbledore and Gandalf the White, of 'Lord of the Rings' fame, will publicly wed each other in full view of the widely reviled campaigners on Sunday 7 June.
The Westboro Baptist Church joined the debate after the Republic of Ireland became the first country in the world to pass same-sex marriage by popular vote.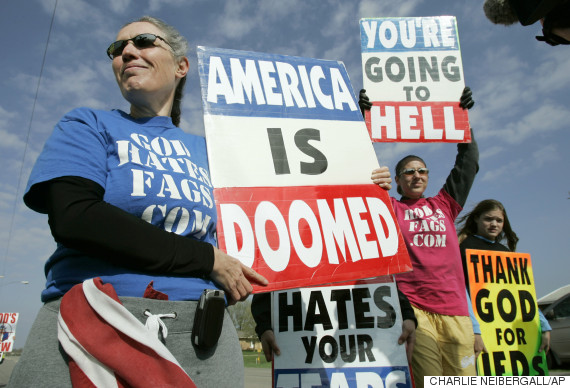 Shirley Phelps-Roper, left, a member of the Westboro Baptist Church, holds a protest sign outside funeral services for Sgt Daniel Sesker
The group weren't deterred when they became a laughing stock for using an Ivorian flag instead of an Irish flag, hitting back after Rowling tweeted in support of Dumbledore and Gandalf getting married, referencing a meme. The WBC vowed to picket the magical union if it ever took place, prompting a local non-profit to chime in.
.@WBCsigns Alas, the sheer awesomeness of such a union in such a place would blow your tiny bigoted minds out of your thick sloping skulls.

— J.K. Rowling (@jk_rowling) May 26, 2015
Planting Peace decided to seize the opportunity and take a stand, enlisting the help of the Equality House, a local organisation based just a few yards from the WBC's Kansas HQ. A mock wedding between two men dressed as Gandalf and Dumbledore will be staged to protest the "God Hates Fags" campaigners.
"It's official! Gandalf and I are getting married," 'Dumbledore' wrote in a Facebook post. "Recently, the Westboro Baptist Church told our dear friend JK Rowling they would picket our wedding if it were ever to come to be, so we decided to bring the wedding to them, the real-life Mordor.
"This Sunday, June 7, at 2 p.m., we are going to celebrate our love at the Equality House, directly in front of the WBC. Our greatest hope is that our wedding will inspire others to stand against hate, even in the shadow of bigotry, and send a message to let all LGBTQ kids know they are loved and valued.
"There are too many groups like the Westboro Baptist Church that spread hate to our LGBTQ youth, making them feel less than. So in lieu of wedding gifts, we invite you to celebrate our love by making a donation to help counter the harmful messages of the Westboro Baptist Church."
Local business flocked to join in the demonstration, offering to provide free decorations and wedding cakes.
SEE ALSO: