The Qatari government's claim that not a single worker has died building facilities for the 2022 World Cup has been slammed by campaigners and experts for obscuring the true picture.
The Gulf state made the claim about the numbers - one of the most controversial aspects of the small Middle Eastern country being awarded the tournament - after a Washington Post graphic showing "the human toll of Fifa's corruption" went viral.
The Post's article claimed 1,200 migrant workers had died in Qatar since it was awarded the World Cup in December 2010, and projected 4,000 would die by the time the games took place.
It compared these to far lower death tolls in the run-up to other major sporting events.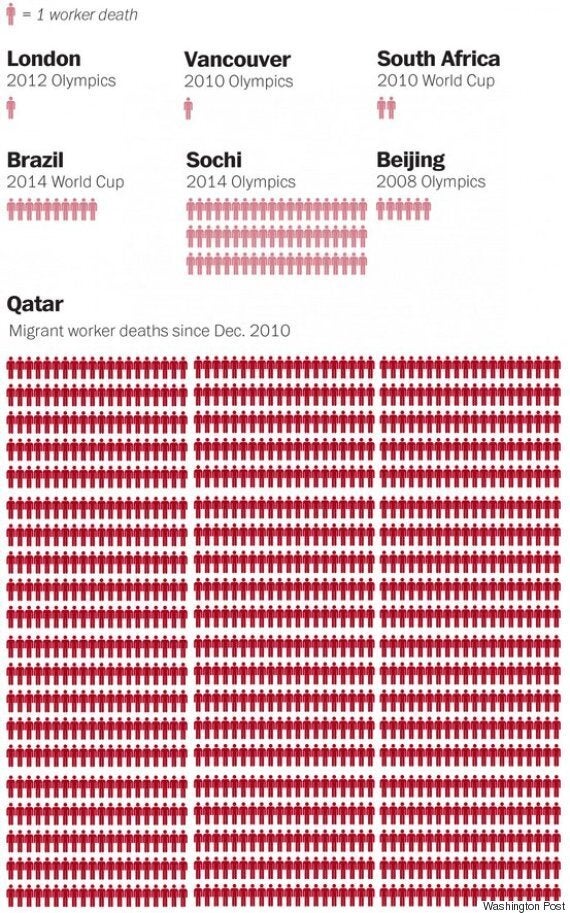 The graphic shows the body counts of workers involved in construction for the last four Olympics and two World Cups
The article received millions of shares on social media as a mounting corruption scandal continued to engulf Fifa.
But the Qatari Government responded that the graphic was "completely untrue" and said the figures included deaths from all causes such as "cardiovascular disease" that was not related to their work.
The Post article has since been amended to "reflect the fact that figures include total migrant worker deaths in Qatar, not just World Cup-related deaths".
The Qatari Government said no one had died while working on a "World Cup construction site", saying: "After almost five million work-hours on World Cup construction sites, not a single worker's life has been lost. Not one."
Amnesty International pointed out that the wording of this was selective and discounted those who died on other construction sites, building things that were not World Cup facilities but were being built to support the games.
Mustafa Qadri, Amnesty's Gulf migrant rights researcher, told The Huffington Post UK: "Given that so much of Qatar's construction boom is World Cup-led and many of these projects, like roads, parks and hotels, will be critical to Qatar's delivery of the tournament, worker deaths should not be limited only to fatalities on, for example, stadium construction sites.
"There is no question that too many migrant workers have died in Qatar, regardless of the cause. Amnesty, the United Nations and an independent review commissioned by the Qatari authorities themselves have all called on Qatar to carry out a thorough, independent investigation into the leading causes of migrant worker deaths and identify key measures to address these.
"As far as we're aware that has not been adequately carried out yet."
But Qadri added that the Qatari Government was right to say some estimates about the death toll were wrong.
"Some references to migrant worker deaths have been misleading. These misrepresentations are counterproductive because the necessary debate about migrant rights in Qatar must be a genuine discussion based on the facts," he added.
"As the wealthiest nation in the world it's simply not good enough to say migrant workers are expected to die simply because many arrive in poor health or because construction sites are dangerous places."
Nicholas McGeehan, Qatar researcher at Human Rights Watch (HRW), told HuffPost UK he had no reason to doubt the Qatari government's claims no one had died while building the stadia, but said this claim did not tell the full picture.
He said: "I've no reason to doubt that figure, stadium construction has only begun in earnest on one site to my knowledge.
"What Qatar has is a very problematic pattern of deaths of young men in its construction sector - much of which is geared towards the 2022 tournament - and it has ignored calls for an investigation into those deaths."
In its rebuttal to the Washington Post, the Qatari government said their article had done "enormous damage has been done to Qatar's image and reputation".
It said: "Readers around the world have now been led to believe that thousands of migrant workers in Qatar have perished, or will perish, building the facilities for World Cup 2022 – a claim that has absolutely no basis in fact."
The Qatari Government did not respond to Amnesty or HRW's comments, despite a HuffPost UK request.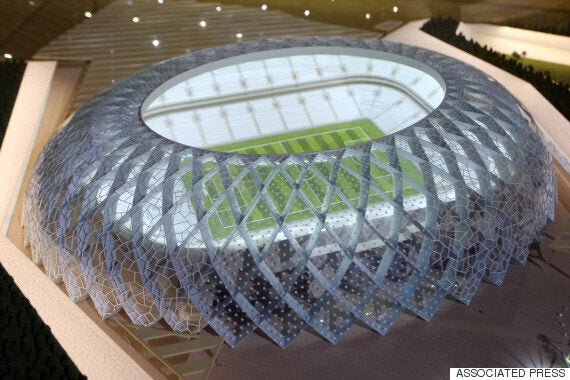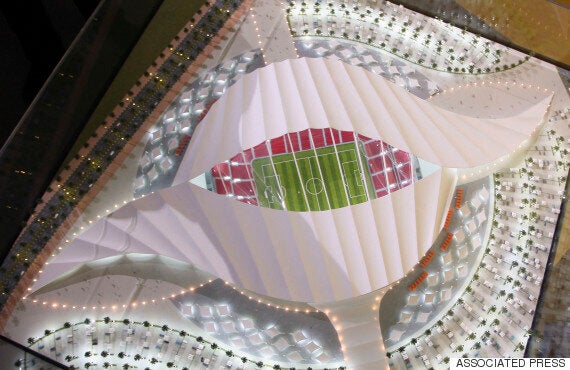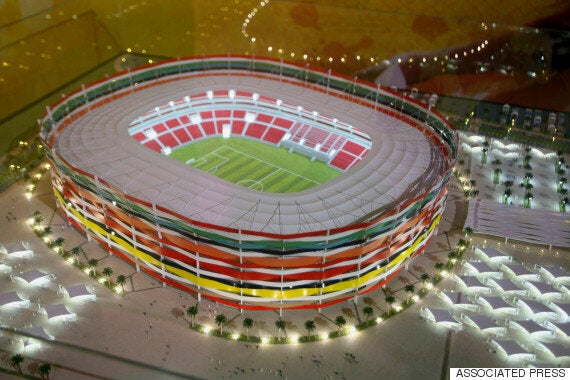 Models of a stadia planned for 2022
In May last year, law firm DLA Piper published a review of immigrant worker conditions in Qatar, commissioned by its government, which found that Qatari authorities failed to keep detailed or specific records of how immigrant workers died or were injured.
It sought to establish the causes of deaths and found that, of 186 Nepalese workers who died in 2012, 107 died suddenly of an unknown cause, 23 died in traffic accidents and 21 died from "intentional self-harm by hanging, strangulation and suffocation and intentional self-harm by sharp object".
A total of 11 were killed by falling objects while the remaining 24 died of "other causes".
The report also noted there were claims people dying of natural causes such as cardiac arrest was due to their poor quality living accommodation and that employers were misclassifying the causes to prevent families claiming on their insurance policies. It noted it found no evidence to refute or support the claims.
The Qatari Government's line was toed by Richard Keys, the ex-Sky News commentator, who was slated last week after he said he had "been doing some checking" and found no one had died building the World Cup stadia.
Keys, who lives in Qatar, tweeted:
The replies were not kind:
Related